Samitivej joins forces with six leading corporations to launch Samitivej Virtual Hospital, a next-generation healthcare service that will propel the industry toward the 5G era. Leveraging latest digital technology, Samitivej Virtual Hospital allows users to consult a doctor anywhere, anytime via smartphone.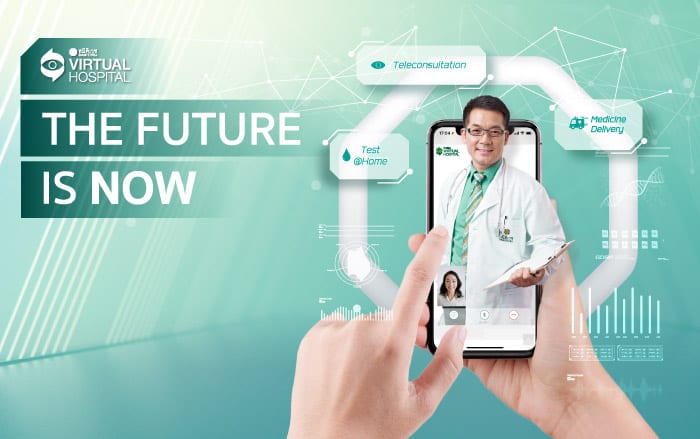 Chairat Panthuraamphorn, M.D., CEO of Samitivej and BNH Hospitals, said that a significant challenge in healthcare industry nowadays is to move beyond digital disruption which is creating a rapid shift in the medical services. Service providers need to keep up with the trends, innovate and develop new service models to continuously meet the needs of consumers in all sectors.
"Samitivej joins hand with our business alliance partners, comprising of six leading corporations, to introduce Samitivej Virtual Hospital, an online solution that provides 24-hour healthcare services, enabling patients to see a doctor without the need to go to a hospital. Developed with telehealth technology that is linked with existing medical services, Samitivej Virtual Hospital can be accessed from anywhere, anytime, even from overseas. Samitivej Virtual Hospital offers patients the easiest way to access healthcare services, thereby reducing travel time and expenses through direct video calling with Samitivej doctors. The concept behind this virtual hospital is aligned with the needs of new generations who give importance to the value of time and prefer speed and fast services. This innovative solution underscores Samitivej's position as a leader of healthcare innovation."
Samitivej Virtual Hospital offers patient the following key service conveniences:
Teleconsultation:A remote telemedicine consultation service that provides 24-hours medical advice via video call with Samitivej doctors and nurses. Initially, the service is available from 8 a.m. to 8 p.m. 24-hour operations start on April 1, 2019.
[email protected]: Offering patients convenient blood sampling service at home, with blood samples being sent to the laboratory immediately.
Medicine Delivery: Conveniently delivering medicine to patients. The service guarantees absolute data security.  Samitivej adheres to the data protection standards mandated by the Health Insurance Portability and Accountability Act (HIPAA).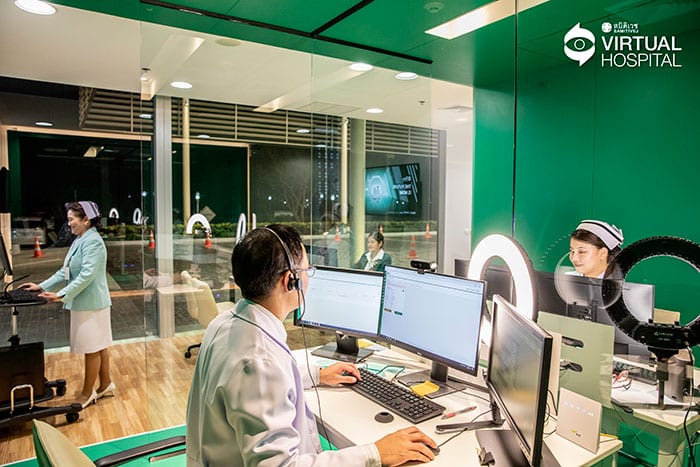 Leading corporations that are joining hands with Samitivej to provide Samitivej Virtual Hospital services are: Advanced Info Service Public Company Limited, LINE Thailand, Muang Thai Life Assurance Public Company Limited, Siam Commercial Bank Public Company Limited, Sansiri Public Company Limited, and SCG Cement – Building Materials Co., Ltd.
Mr. Sara Lamsam, President and Chief Executive Officer of Muang Thai Life Assurance PCL (MTL), said that "this synergy displays a new dimension of the life insurance industry. MTL provides online consultation service for group insurance members via our MTL application, which allows customers to claim medical expenses as if they would receive treatment in a hospital. MTL has conducted the pilot with its employees and now further develops the product to serve group insurance customers. This innovative new service truly meets customer needs in the digital era."
Mr. Weerachai Patcharopartwong Head of Enterprise Sales Department, Advanced Info Service Public Company Limited,said that"AIS, the no. 1 digital platform of Thailand, witnesses the growing trends in healthcare. Thus, we offer our online payment platform to support the virtual hospital program with safe and easy payment services via www.ais.co.th, Twitter, Facebook fan page, AIS LINE Official and my AIS Application. This project reflects a perfect synergy, a collective effort to enhance Thai people's ability to access healthcare services anywhere, anytime."
Mr. Norasit Sitivechvichit, Commercial Director LINE Thailand,said that "Samitivej is the first hospital which has entered into a partnership with LINE. The hospital has created its official LINE account linking API with our platform under the LINE Business Connect feature. Samitivej Hospital quickly and creatively adapts to the digital age by utilizing technologies on our platform to enhance its services to the next level and to well respond to customer needs. LINE, our fast, convenient and reliable platform, is a medium that connects Samitivej medical personnel with patients. With continued collaboration under the Samitivej Virtual Hospital project, LINE provides the platform that connects doctors and patients at a more advanced level. Firstly, we integrate Samitivej Virtual Hospital technology with the LINE platform to give users quick and easy access to the service. Secondly, we offer our O2O (online to offline) solution, such as LINE MAN, to take part in the service with quick and fast delivery of medicines and medical products to patients."
Mr. Orapong Thien-Ngern, President Siam Commercial Bank Public Company Limited,saidthat"last year, SCB and Samitivej Hospital have announced a collaboration under the campaign 'The First Prestige Wealth & Health Experience' campaign. This year, we continue to develop our partnership with a new Samitivej Virtual Hospital customer care experience in three areas: 1) Teleconsultation, offering healthcare advice for SCB Wealth customers; 2) Travel insurance with Teleconsultation as bonus, offered through SCB EASY app; and 3) Health & Home Services, offering SCB Wealth customers' health checkup services at home, provided by the multidisciplinary team and nurses from Samitivej Hospital. Besides, SCB is the main payment channel for the Samitivej Virtual Hospital program. "
 Mr. Apichart Chutrakul, Chief Executive Officer of Sansiri Public company Limited, said that "Sansiri and Samitivej have a long-established partnership with a shared objective to develop healthcare services and utilize technology to fulfill the living and quality of life of Sansiri residents. Recently, Sansiri, together with Tokyu Corporation and Samitivej Hospital, have joined forces to announce the development of 'Wellness Residence', Thailand's first wellness lifestyle condominium with comprehensive health solutions. The project brings 'Virtual Hospital' to serve at the residence along with support from Samitivej Hospital for healthcare programs and solutions that meet international standards, including preventive healthcare services, medical advice, telemedical checkups, [email protected] and Medicine Delivery services. Meanwhile, all residents at Sansiri's residential projects can access Samitivej Virtual Hospital through Sansiri Home Service Application. Samitivej furthermore conducts training for juristic persons under the management of Plus Property, enabling them to provide basic healthcare information to residents, so that they can cope with any health situation that may occur at a property in a timely and accurate manner. These initiatives create a new dimension for the real estate industry."
Mr. Wachirachai Koonamwattana, Head of Living Solution Business of SCG Cement – Building Materials Co.,Ltd., said that "SCG opens a new dimension of healthcare solution for people and patients who need continued care at home after their discharge from hospital. Introduced under a new platform called 'SCG Smart Living Platform'and based on the'Smart Home - Smart Health'concept, the solution complements medical services through the 'DoCare Protect'system, which is a health and safety monitoring technology forpatients and the elderly. All these innovations turn a home into a place that can take care of you and your family, thereby building confidence and comfort for all residents. Through IoT equipment installed at home, health information detected from vital signs such as heart rate, blood pressureandbody temperature, as well as information on daily living activities such as sleep duration or a risk of falling in the bathroom, will be sent to the SCG Care Monitoring Center which is being operated under a supervision of professional nurses. Essential information will be forwarded to the hospital for the use of Teleconsultation to make the virtual hospital a complete system."
Samitivej Virtual Hospital is a turning point for Thailand's health industry. The service provides users in Thailand and overseas easy access to medical services from anywhere. Medical advice provided through the virtual hospital will be based on the information received from the patient. The service does not cover a medical emergency or any illness that requires urgent medical treatment. In case a patient is advised to see a doctor at a hospital, the service can assist by referring the patient to an affiliated or nearby hospital.