Techsauce Global Summit is back! World-basis tech companies, startups, influential leaders, and inspiring individuals will greet the hall of the largest tech conference that has ever been held in Southeast Asia. It is going to be a spectacular and fantastic summit, and we want you to be a part of it.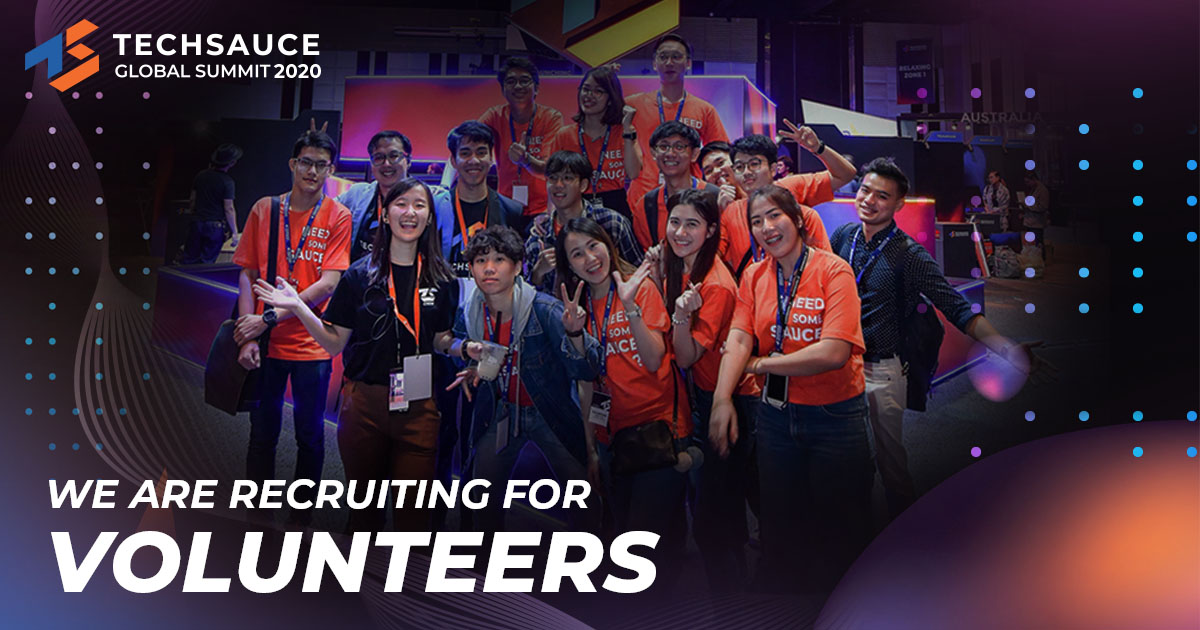 Explore the greatest tech summit from the back side, discover the growth of the tech industry first hand and have real experience of the cutting edge startup ecosystem. We invite you to be a part of our volunteer team.
What is going to happen at TSGS2020?
Great venue which combines hundreds of companies around the world
Conferences and workshops led by world-class speakers
Startup pitching and exhibition zone
Showcase of the latest technology
Business matching between startups and investors
Date and Time
Compulsory Training : 6 June 2020 (TBC)
On-site Final Brief : 17th June 2020
Techsauce Global Summit : 18 - 19 June 2020
Am I Qualified?
Age between 18 - 28 years old
Able to communicate well in both English and Thai
Problem-solving skills, able to provide immediate assistance to speakers and attendees
Well-organized and able to multitask with good problem solving skills
Have good human relations, enthusiastic and a team player
Able to remain calm under pressure
Volunteers will help the team in all areas of the event including Stages, Exhibitions, Workshops, Registration and many more!
Sneak Peak
Care Team : A chance to meet and attend to speakers, judges and VCs along with VIP guests throughout the event
Happiness Team: The name says it all! Stationed at various points within the event, this team ensures that all our attendees, and yourself included, have a great time!
KickOff Team: You are our frontliners and the first point of contact to all attendees
Representing the voices of Techsauce Global Summit Team
Complimentary Goodies
Volunteer Certificate
Workshop
Techsauce Global Summit 2020 Exclusive After-party
Techsauce Global Summit Crew Shirt
Food and beverages provided on premise
Acquiring new skill set
Chance to attend sessions, meet investors and corporations from around the world
Application Deadline
Friday 15th May 2020
Qualified applicants will be notified for further instructions
Experience of a Lifetime? Apply Here!
Fill up the application form over at this link: http://bit.do/TSGS2020-Volunteer
From there, just answer a few simple questions and tell us why you would like to be a volunteer! Selection process will be based on your information provided.
Questions? Talk to Us
If you have any questions regarding volunteering at Techsauce Global Summit, please send us an email to Organizer team: [email protected]