Jarindr (Jar) Thitadilaka, Project Lead & Founder of GuildFi, sat down to interview Jason Brink, President of Blockchain at Gala Games, this past weekend on the Techsauce Global Summit main stage.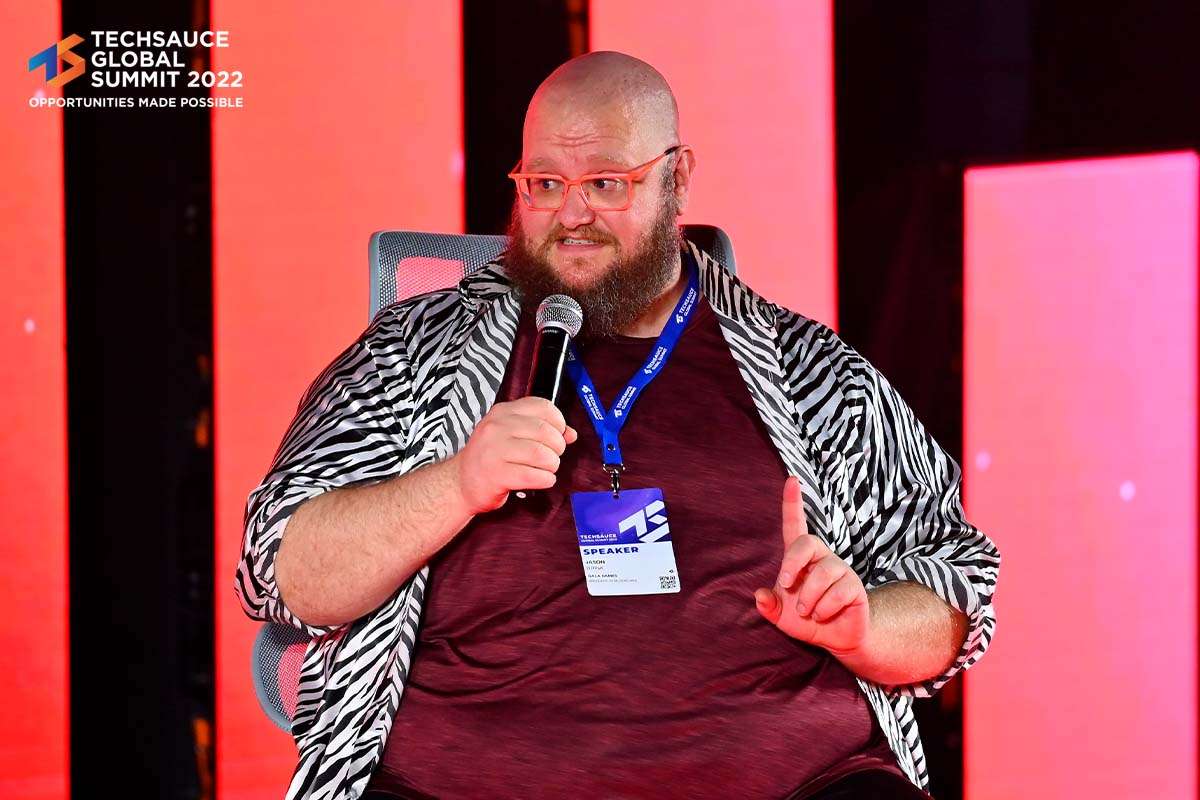 Jar introduced the conversation by mentioning that there has been a rising trend of decentralized gaming and asked Jason, "how can gaming and the decentralized world work together in a good way?" Decentralization of games is pretty new and there is increasing numbers of games with Decentralized Autonomous Organization (DAO).
For Jason, DAOs haven't done much good for the industry so far. "If you're a gamer, Web3 gaming is profoundly embarrassing. The games are mostly awful," he lamented, explaining that there have been many new people who have got into game development. He argued that when they started realizing their games weren't very good, they found decentralization to be a good method to open up to fans and ease the creative process.
At Gala Games, he explained, games are made by game developers. His reasoning being that good games allow the user to play and that "you need play to be a game". At Gala they have experienced game developers from all across the industry putting focus into making a good gaming experience. "Play is so important. If you don't have play, you dont have a game."
In his experience, fully decentralized games haven't been able to work. He said he generally likes the idea of decentralization but it is difficult to find consensus. "First thing when a game is released is that someone will complain about it."
Since the rise of Web3, Jason said, Gala has taken a more democratic path towards rolling out their games. Before, games would be built, then released in a small market to test before going global. Players don't have input into the development of that type of game.
What Gala has done is to bring the community into it every step along the way. When the game art is ready they'll invite users to check it out. The beta will be released with a call for feedback as to what users think is good or not. In this way they're giving users the opportunity to get more involved than ever before, while still maintaining decision making power.
That being said, he said the one of the most exciting things about decentralization means that every decision is given with the perspective, "ultimately at the end of the day, the game belongs to the users. So everything we do is based on this concept." This gives a lot of power to the users, even if it's not quite as direct. He said that it was pretty amazing how, if a community were still enjoy playing a game, one studio or one publisher could not sunset the game as it would be in the hands of the gaming community.
"It can be very rewarding for the user"
Jason, summed up his thoughts on Web3 decentralized games by saying, DAOs are often terrible in practice but good in theory. It's not necessary to have a DAO component to have a decentralized game. He loves the idea of experimenting with it, and as it's so new, everyone in Web3, in crypto, is figuring it out as we go along. There's constant innovation and new ideas. But there's also tons of regulatory uncertainty and so far he hasn't seen much to give him faith that a fully democratic system works. "We all are in very much the wild west right now."
What about playing to earn and in-game assets?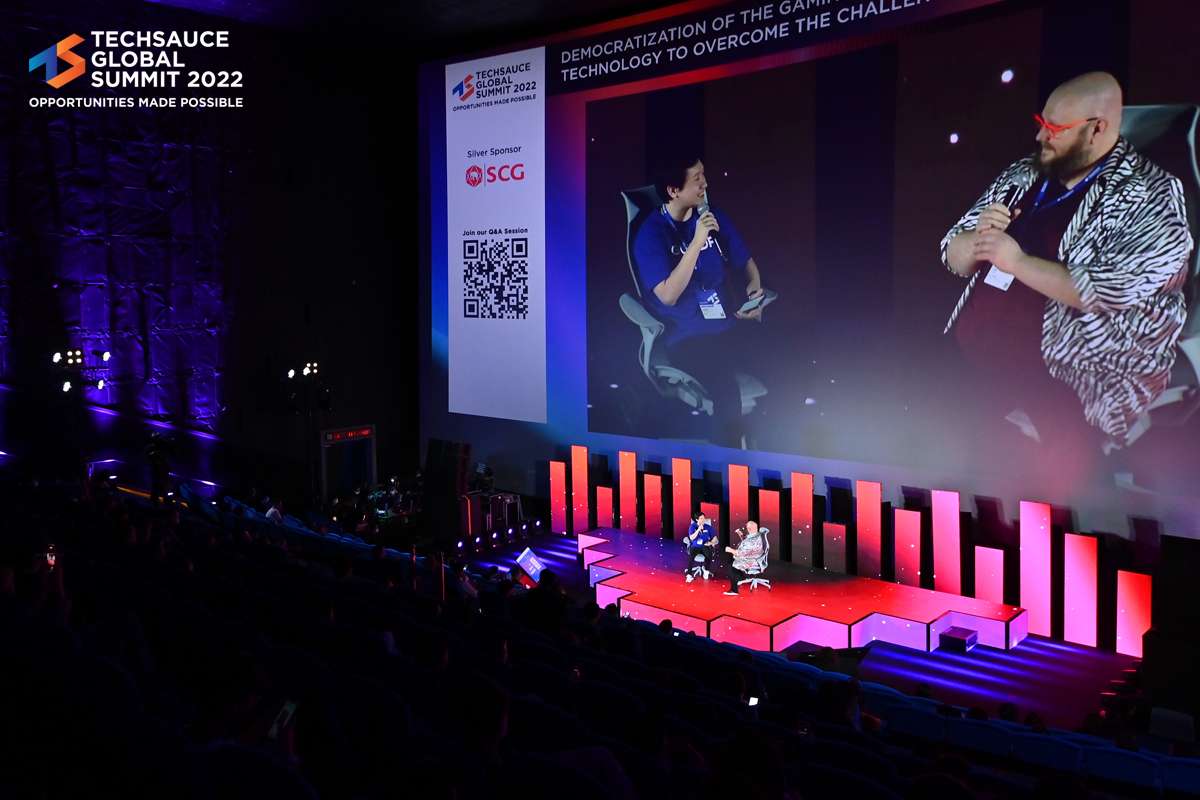 Jar predicted that games would be what brings crypto to mass adoption. Players with experience holding tokens would feel comfortable with regular crypto transactions. With that thought, there has been a recent preponderance of Web3 games that classified as games to earn. Many individuals with experience in the crypto/blockchain world have developed a belief that they can build a game. He asked Jason to delve into the differences between Web2 and Web3 games.
Jason started out by emphasizing a point he really wanted to deliver. "Web3 and crypto is an extremely, extremely impatient industry. Like, constantly win mode, win finance." As a game developer he finds this culture to be frustrating. He shared that at Gala, they're currently working on 28 AA and AAA games. Huge, high-profile, high-budget, games developed over years with tons of developers working on each of them. "This stuff takes time." He gave the example of a game Gala announced in December of last year. Eight months later and he said he is constantly being asked why it hasn't been released yet.
The position that Jason took on the difference between Web2 and Web3 games is he doesn't consider there to be any real, "actual games" that can be classified as Web3 as there's no way for it to have been achieved within the timeline. Many exciting projects are still in the pipeline but are yet to be released.
The inevitability of moving towards Web3 gaming means that it's going to become more subtle. Ownership of in-game assets will be automatic. Blockchain based games that give users ownership of in-game assets will be a seamlessly integrated layer and so users will not have to think about it unless they want to. "A lot of people who are in Web2 gaming will come over to Web3 gaming without realizing thats what's happened. And that's the key, that's what makes this work."
By creating good, fun, and playable games, users will be able to onboard without a massive learning curve. Web3 in-game assets become a simple part of life.
Jason specified that Gala wanted to move away from "play to earn" to "play and earn". His view is that doing something to earn is a job, whereas if you get to play and then also earn, it's much more fun and much more rewarding.
They talked more about onboarding processes and ways to improve the user experience. When it comes to tokens, there was a debate as to whether or not to have the game act as the custodian (which would improve user experience) or to be non-custodial (where users would connect their own wallets).
Jar asked Jason what he thought was the "right way to do things". Jason's answer was simple but showed the outside limitations set on the industry, "it depends largely on jurisdiction". As Gala is based in the U.S., They don't want to be custodians. Holding an asset for the user would classify them as a bank according to U.S. laws. "You're not a bank, you make games." Therefore, their focus has been on non-custodial solutions where users create own their keys. While the current flow isn't optimal they're experimenting with new flows constantly and they're looking for ways to reduce onboarding friction including potential third-party solutions.
He also mentioned that assets locked in a bridge creates a big vault that is vulnerable to hacks so a non-custodial solution appears to be a safer option.
Debate: Gamers V. NFTs
They finished with a question about voices within the gaming community disavowing NFTs. Apparentlyacross social media, there has been backlash against the perceived environmental impact of NFT production. Jason boiled it down neatly by expressing that the biggest challenge when you look at NFTs from an environmental perspective is that those who complain seldom seem to have an understanding of how it works. While the data shows that NFT's environmental impacts are minor, it's still an issue that is of concern to many people.
With that, Gala has taken action to addressing those concerns regardless of their legitimacy. They have an active tree planting program and it's topic on which they want their users to feel heard.
He did say though, that for people who have never been exposed to token ownership, once they've experienced in-game assets, it's a profoundly changing experience.