While in Vienna at Pioneers' 18, CEO & Co-founder of HUBBA and CCO of Techsauce, Mr. Amarit Charoenphan sat down with Philipp Stangl, Managing Director at Pioneers Ventures to gain a better understanding of this visionary and ecosystem building platform.
Background of Pioneers
Pioneers are pioneering a unique model to connect corporates to startups via pre-seed venture investments, match and meeting facilitation and corporate innovation programs.
 As it stands Europe is thriving as a tech hub with a high percentage of VCs, investors and $100M+ companies in the region, giving sustainability to a lot of young, budding entrepreneurs in the continent.
Corporations are extremely keen to work with startups as they are the keys and tools to become more innovative, inventive and productive. In Particular, Vienna and Austria have a lot to offer investors looking to meet deep tech startup companies. Each area of Europe has different strengths and weaknesses but Vienna is poised to be one of the most influential hubs, partly through pioneers but also through extensive government support. Europe is certainly under a lot of pressure from other ecosystems in the world such as China and is underexposed to what's going on in Asia, however with Techsauce's presence, commitment and collaboration with Pioneers we are definitely strengthening the ties between the two continents.
Pioneers is an inspiring platform that has built the entire ecosystem from the ground up and has created a strong network which has a very similar ethos and vision to the Techsauce Global Summit held at the end of June in Bangkok.
How is the event going so far?
People are making meaningful business connections. This is crucial when building a startup and it's been very successful so far. This event has become more professional and people are focusing more on making valid, worthwhile connections as the ecosystem grows and stabilizes so does the Pioneers event. People are spending less time on purely imaginative and explorative talks and more on concrete connections and meaningful business meetings. We have moved away from marketing ourselves as a 'festival' and taken it more in a serious direction. The people are the most important thing, curating a strong platform for them to network with others.
Can you explain the whole journey so far?
We started 9 years ago as a university project to support and promote entrepreneurship, specifically in Vienna. After we became more established, we decided to incorporate the consulting aspect to the project as more corporate startups were attending who started to benefit from the consulting aspect and we also created this into our business model/strategy.
This allowed us to become shareholders in these companies and support them financially.
As we grew up and emerged past being students the company grew with us which incorporates serious events all year round and consult with up to 90 clients. Our aim is to connect all the local ecosystems and connect into one super ecosystem for the country and Europe.
What makes Pioneers unique?
Firstly, the venue is a 500-year-old Colosseum which has been one of the main reasons why Pioneers has sold out every year. We could have moved location, expanded and grown, however, we decided to keep this unique venue and turn the concept around, making it more exclusive and invite only. We made it free for startups, they don't pay but we select 500 of the best startups to attend which we carefully select to keep the quality of the startups high. We want to have a high percentage of investors, corporate executives and meaningful startups. This curated approach of quality over quantity is what makes Pioneers a success.
What is Pioneers 500 and how can startups in Asia become a part of it?
Its open globally so we do get a lot of applications from Europe specifically but we encourage startups in Asia to apply. The earlier you apply the higher your chances of being accepted goes up. We check for your USP, the strength of your team and your product/service to convey and match you to the top VC's in Europe.
What can we expect from Pioneers ventures?
We are focusing on getting traction and they have reached more than 20 million euros in their rounds of investment. We are very proud of that and want to focus on encouraging and facilitating key investments.
Why should people take financial help from Pioneers ventures?
Its all about tapping into the resources we provide. We connect you to the top advisory boards globally for your industry and key investors.
Europe and Asia are very similar in a lot of ways in the fact that they have large domestic markets in each country. Of course, Europe is more affluent, however, there is definitely potential for both markets to merge, connect and succeed.
What is your take on the Austria and Vienna Tech Ecosystem?
The big tech hot spots such as London have a sheer amount of talent and if you network right you can become a respected part of the ecosystem quickly. The advantage that a second tier hotspot has is that it's very easy to get to the top. If you play your cards smart you can become a respected part of the ecosystem quickly which is of course harder in a larger and more established ecosystem.
For expansion into Europe, for Asian Tech Startups, where do you think they should go?
There are a lot of Vienna institutes that have resources for startups that show support. We have resources for Biotech and Vienna's health hub for startups to access health-related institutes which help with their tech-related businesses. In Vienna specifically, the relevant institutes for a broad spectrum of industries are well aware that they need to provide support and access for startups.
What are some of the challenges for the European ecosystem both on the investor and startup side?
One of the challenges is that we have a lot of corporate law to get through which is costly along with high tech systems. Yes, you can get a lot of grants but it's still quite difficult. Compared with Asia, western Europeans are not as hungry as Asians and don't work as hard in general.
Eastern Europe, however, is very tech savvy and forward thinking, for example, cybersecurity specialists in the Check Republic or web developers in Romania including product developer in Hungary have a lot of innovators. Unfortunately, they lack commercial drive and putting the talent into products to sell. They are much more on the tech side rather than the customers and taking them into account.
For Germany, there are a lot of ex-consultants turning into entrepreneurs but are they willing to do the nitty-gritty operational stuff? This is what Asia is particularly good at.
If foreign Investors want to get exposure into Europe what advice do you have?
It's a great opportunity for investors to come into the European market and can act as a bridge for markets with the potential for lucrative deals and is perfect exposure. There are a lot of networking events and startups that need the financial help so investors are extremely welcomed.
In Asia, Corporate innovation is all the rage. What are Pioneers doing differently that Thai and Southeast Asian corporates should take note of?
We have really strong connections to the startups and we have an eye to eye level with them. We actually know them and have a relationship. That is our USP with working with Corporates.
We try to truly understand what the startup is conveying and how the technology will benefit the industry. The deeper the relationship, the better. That is really important not just a high-level buzzword.
2018, what can we expect for Europe and Pioneers?
We will move into a new space in Vienna, and we will be innovating new formats which will be more streamlined for people to connect with the Pioneers brand. We have another chapter in health coming out soon which is our ongoing focus on transforming and making strides in the digital health sector.
Bio of Philipp Stangl
Managing Director of Pioneers Venture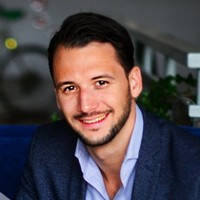 In my role at Pioneers Ventures, I invest in outstanding entrepreneurs when their companies are still pre-seed stage, particularly in the fields of Productivity, Artificial Intelligence, MedTech, and FinTech. I have an entrepreneurial background and I involve myself strongly with the companies I have invested in. 
For more information on our very own ecosystem building platform in Bangkok, The Techsauce Global Summit is at the end of June 22/23rd.
For all the information on how to be part of this unique event click the link below.
https://summit.techsauce.co/