TopDocs, a platform to helps you find the top doctors abroad, was a winner of Seedstar World 2015 competition in Bangkok. The team is representing Thailand in Seedstar World global stage in Switzerland this March. 
We've had a meeting with Cassandra Italia, a passionate co-founder, who comes to share her personal story and the story of her startup. We believe this interview is a great case study if you're interested in healthcare tech.
What inspired her to jump into medical tourism industry?
It's all started from the impression of Thailand's healthcare system
Cassandra: I arrived in Thailand 12 years ago and I was living in a province called Prachinburi. I was surprised about the health care system here in Thailand, as I was working as a volunteer. There was one time that I got sick and my travel insurance had expired. I was scared and apprehensive about going into Thai's hospital but I was just blown away by how the whole experience from the moment I walked into the hospital. There was no waiting time and the cares that I received was better than any cares that I ever received in Australia. They all had good doctors and world class hospitals here.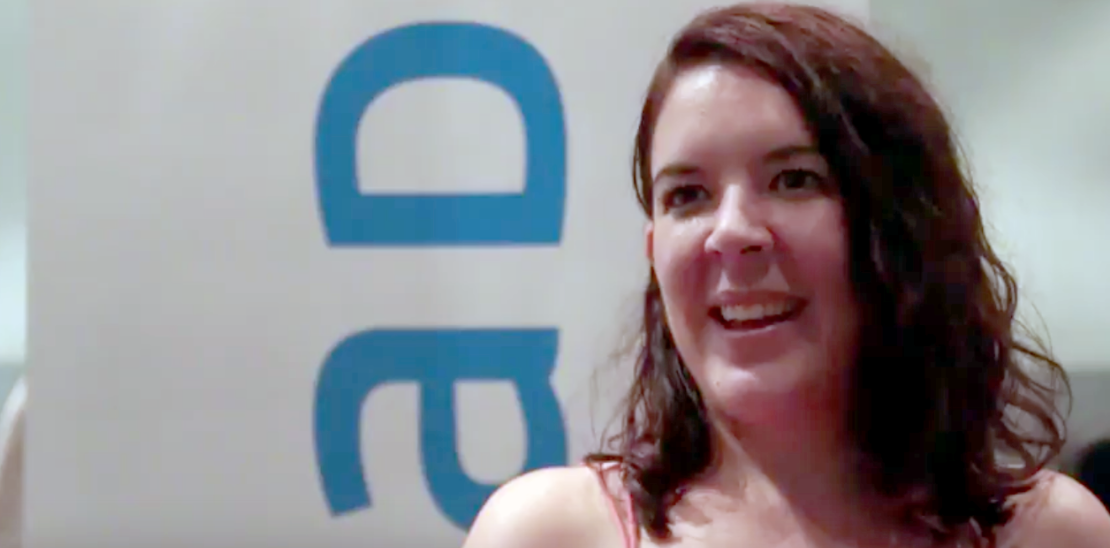 Cassandra Italia - Co-founder of TopDocs
Then she saw the business opportunity
After that, I went back to Australia as I actually was studying forensic science at a university in Melbourne. But I just had this desire to come back to Thailand, so I started thinking about that experience that I had when I got sick and about the health care in Thailand. I then started researching about industry called "medical tourism". I found that in Australia, the market was dominated by mostly agencies selling plastic surgery abroad. I saw that there was a demand for other treatments and procedures such as dental treatment, so I started global health travel company back in 2007. I felt really successful with global health travel facilitating more than 5,000 patients from Australia to hospitals in Thailand, Malaysia, Singapore and South Korea.
From traditional company to tech-startup
What happened in 2013 was I got involved with an insurance company in Australia. We were in due diligence because they were interested to acquire my company. Once the big company got what they wanted, they pursued without me. They had my business model, contacts, connections and everything so I had to reinvent myself and figured out what I am going to do now. I was really scared and panic at the time. Then I started talking to users again and talking to customers, finding out what's missing in the medical tourism market. Then I created Heathcare Hands. What I saw was that there are 2.4 millions medical tourists came to Thailand, and nobody was looking after them. Holding their hands and help them when they here. So health care hands helps medical tourists by providing cares and nursing cares. That includes picking them up from the airport, taking them to the hospital for their appointment, also visiting them at the hotel after their surgery. I was very happy that the business works here in Thailand, but I still have the desire that I could create a bigger impact on the medical tourism market. So that is when I start explore and research about technology because, global health travel and health care hands relied only on me and my team. They were a traditional business, so they weren't scalable businesses. I started to talk with the customers again, about what are some of the problems that they have now with the current agent facilitate. And that is when I started Topdocs.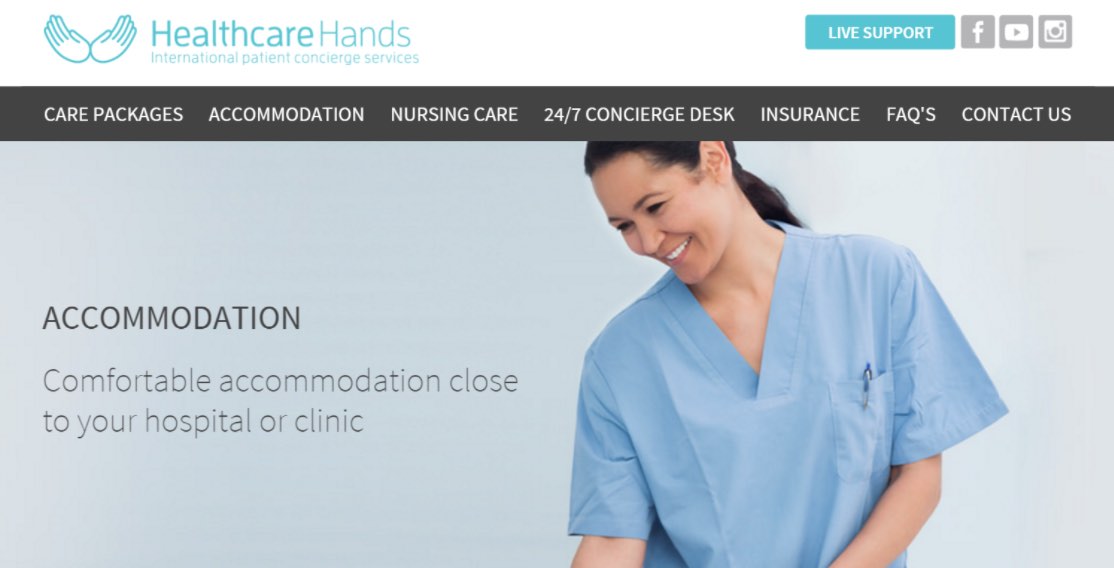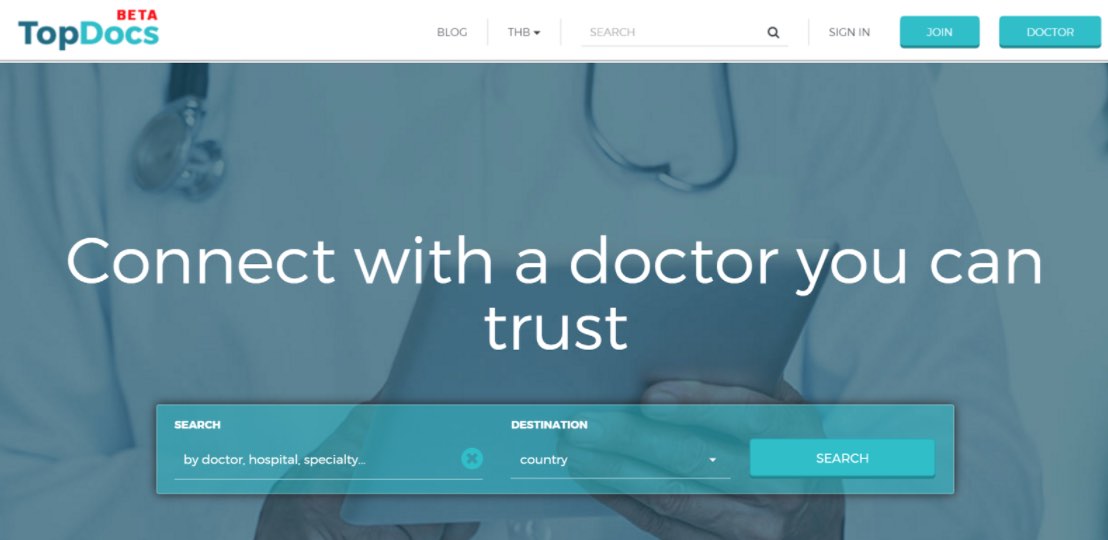 What's special about TopDocs?
Community
Topdocs is different from other platforms like DocDoc or MEDIGO where it's a marketplace just for doctors. Our trust comes from wisdom of the crowds. When you're looking for a doctor, you get that trust from engaging with other people who have experience with that doctor because the most powerful form of recommendation is by word of mouth. If you're looking for a doctor, the first thing will be you asking you friends and family. Asking for a recommendation of a good doctor. That is what we're doing with Topdocs, we're actually digitizing word of mouth. It's not just a marketplace where you see the review, recommendation and price of the doctor. Topdocs allows you to engage people that have had experience before, so you can ask question in the platform. Topdocs is like a community, a kind of tripadvisor for you.

Patient-Doctor connection: Free assessment and consultation
The platform is free for medical tourists to get an assessment and consult with doctors, booking an appointment is also free. It's free for doctors as well to join the platform. The users pay for the hospital and doctor directly. Each doctor and hospital have different price rate for each procedures. The revenue comes from the commission share from hospitals.
Why important? For example, patients might fly to Thailand, but they didn't know any doctors to consult with. They might find 2 or 3 doctors to consult with, and whoever they feel more comfortable with. They will choose that doctor and fly back home and come back to have treatment with this doctor. So this allows the patient to get to the know the doctor better, and set some expectation for both sides. This procedure will avoid the disappointment for the patients. More importantly, if the patients went back home and something's wrong happen. Topdocs allow the medical tourists to get follow up cares when they get home. If something does go wrong, they can schedule online video call with the doctor. Because the doctor who perform the surgery is really the first point of contact. The plastic surgery doctor, they want to know the outcome of this surgery afterward. They want to stay in touch with the patients. Some people came to have surgery, went back home and the doctor never hear from them again. So these doctors really like the platform because it enable doctor to keep in touch with the patients.
Online to Offline Services
TopDocs is an online platform supporting pre-procedure and post-procedure while Healthcare Hands support during-procedure taking care of the tourists at the moment they're visiting the country.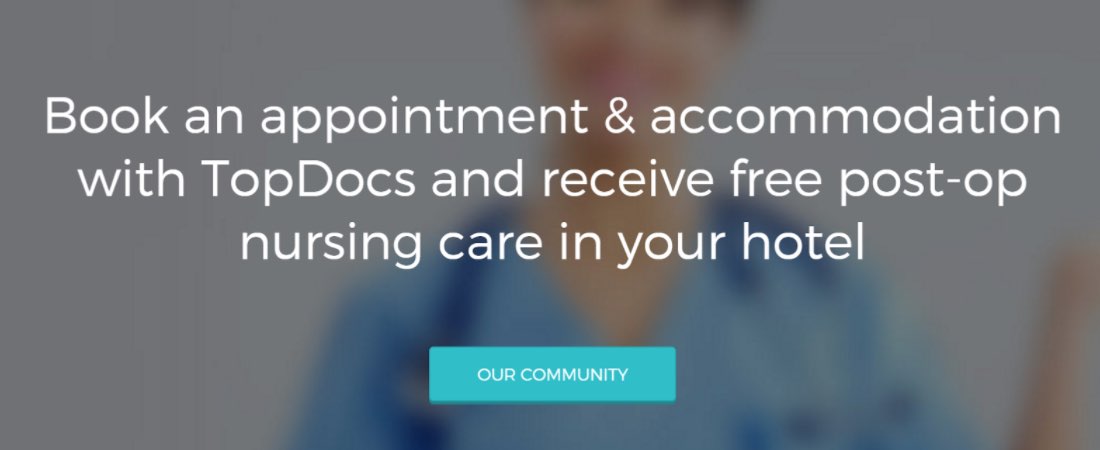 Focus
It seems that you focus only on cosmetic surgery. Is that right?
Yes, We do now. Our competitors DocDoc and Medigo they offer for all specialties. But we are going to focus on plastic surgery especially cosmetic surgery and be the best in the world. We've chosen a niche of plastic surgery in the whole medical tourism market.
The global medical tourism market were predicted to be around 35 billions and plastic surgery is expect to be 20 billions by 2019. The plastic surgery used to be only for celebrities back in the times, but now it seem to be for everyone. It seems to be a normal thing these days
Business Model
It's an interesting model because the doctors is our customers, the patients is also our customers but the hospital is the one who actually pays. We receive a revenue shares from the hospital for the procedures. The hospital wants to attract medical tourists. Essentially they are paying us a marketing fees, for us to promote their doctors on platform.
We only partner with JCI accredited international hospitals like Bamrungrad and Samitivej because they are capable of taking care international patients. Some of the small local hospitals are very good as well, but there could be a communication barrier with the administration staff then the patients might not have a good experience.
For the procedures, the patients can book appointment for example you might want to do a certain surgery. It may cost around 150,000 bahts for the procedure. So we will receive a revenue shares of 10% for the cost of surgery. The patients pay the hospital and doctor directly, we won't be receiving any money from them. The medical tourists can book flight and accommodation through the platform as well. We have partnered with Amadeus which is the world's largest GDS and we also partner with local travel agencies in each countries.
"My plan is to build an amazing product that users love. Then scale it world wide, I want Topdocs to be the go-to place, the trusted source online for anyone who wants to book an appointment with a plastic surgeon abroad. Just to provide an amazing product for people who want to have surgery abroad." Cassandra shares about her vision.