KASIKORN Business-Technology Group (KBTG) will organize KBTG Techtopia under the "Across the AI-Verse" theme, scheduled for September 1-2, at KBTG Muang Thong Thani Building. The event will provide a multifaceted view of artificial intelligence (AI) knowledge and various exciting activities wherein the tech community will gain insights and hands-on experience from top-notch tech gurus. This event reinforces KBTG's determination to be at the forefront in AI innovations of Thailand. In alignment with the organization's ESG policy, the proceeds earned from this event will be donated to Thailand Environment Institute (TEI). KBTG Techtopia is expected to attract a great number of tech enthusiasts. Tickets to the event are on sale starting today.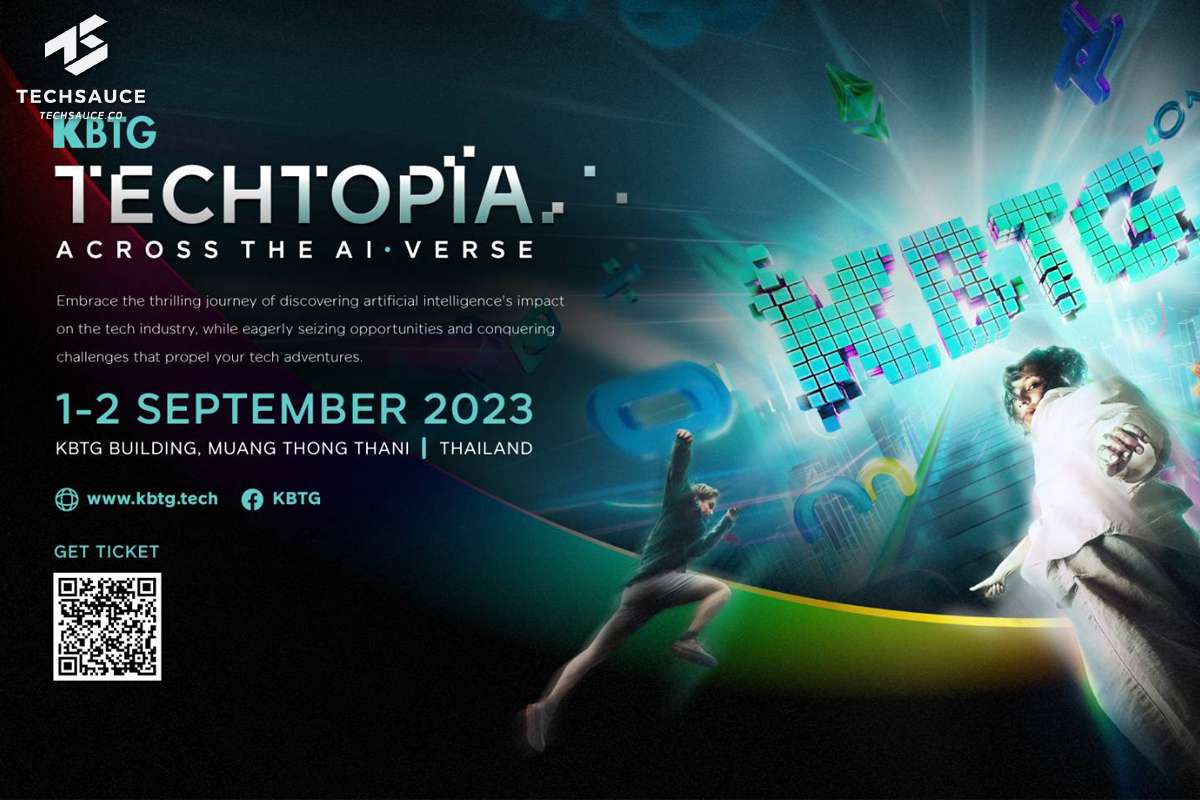 Mr. Ruangroj Poonpol, Group Chairman of KASIKORN Business-Technology Group (KBTG) invites the public to visit KBTG Techtopia, which will be held September 1-2, 2023, at KBTG Building, Muang Thong Thani, Chaeng Watthana Road, with the aim of serving as a forum for knowledge exchange among people in the IT field. Participants will journey into a city filled with technological advancement to explore the hottest trends of this year. This year's event is themed, "Across the AI-Verse", with a compilation of interesting issues on AI evolution and diverse changes in different dimensions that will prepare tech-savvy people in Thailand for new opportunities of growth and challenges through various learning platforms and activities. A number of executives and experts in AI from leading institutes and organizations in Thailand and worldwide will join to share their knowledge and experiences with the event participants, for example:
Tana Pothikamjorn, CEO, KASIKORN LINE (LINE BK)
Arpaporn Skunkittiyut, Lead Data Scientist, Microsoft Thailand
Axel Winter, Chief Digital Officer, Siam Piwat Group
Louis Hur, CEO, StealthMole
Rafi Katanasho, APAC Chief Technical Officer and VP of Solution Sales, Dynatrace
Jenny Chong, Non-Executive Director on the Board of Medway NHS Hospital, UK
Ben Mumby-Croft, Director of Entrepreneurship, Imperial College London
Nadhem AlFardan, Principal Security Architect, Cisco
The event is packed with various activities offering knowledge, entertainment and opportunity to get to know people in the AI community, as follows:
The Conference Stage: A seminar at K Stadium that brings together over 20 executives and AI experts from KBTG and leading organizations worldwide. The topics feature four AI cores:
AI Trends and Outlook: Experience the influence of AI through emerging trends and innovations.
AI Transformation: Step up your organizational transformation in numerous dimensions with AI.
AI x Human: Delve into factors that will support and enhance coexistence between humans and AI.
AI Ecosystem: Explore future businesses driven by AI and open doors to new opportunities.
Showcase Exhibition: Participants can rub shoulders with representatives from Thailand's leading tech companies, such as Slack, Dynatrace and GitHub, which will set up booths to showcase their products. Participants can also view projects undertaken by KBTG Labs and its subsidiaries, including KX and Kubix.
Playground Workshop: A series of workshop designed by experts from leading organizations, including Google Cloud, Microsoft, Splunk and KBTG's Beacon Interface, to help the participants improve their AI skills in various dimensions.
KBTG FinFest: A networking party for the participants to chat and indulge themselves with food, drinks and cool music from DJ Tob of the Bangkok Invaders/Southside at the end of each day of the event.
Interested persons can view more details and purchase tickets at zipevent's website: https://www.zipeventapp.com/e/TECHTOPIA-ACROSS-THE-AI-VERSE.
Tickets are 1,500 Baht for general admission and 500 Baht for students. In response to KBank's business strategies based on ESG principles in the drive towards sustainable growth, KBTG will donate all proceeds from ticket sales to Thailand Environment Institute (TEI) in support of their work in research and policy implementation, while promoting activities at the local level, in relation to climate change, biodiversity, waste management and pollution reduction, as well as environmental management for communities and cities to obtain a green label certification. Additionally, TEI is involved in projects of the Thailand Business Council for Sustainable Development (TBCSD) and collaborates with various sectors.