Ricult is a Social Impact Agriculture Tech founded by MIT alums that creates a digital platform to help make agricultural value chain in developing countries more efficient, helping lift smallholder farmers out of poverty. Ricult has already launched in Thailand and Pakistan. Ricult's vision is to give smallholder farmers the tools they need to control their destiny.
Ricult has just landed a $1.85 in seed funding round led by Chanwanich Group ( Thailand's leading Corporate), Wavemaker (Crossborder early stage VC firm, dual-headquartered in LA/Singapore), 500 Tuktuks (Thailand-focused micro fund of 500 Startups), and Dtac (Thai telecommunication company part of Telenor Group).
Ricult was established at the Massachusetts Institute of Technology (MIT) and began initial pilots in 2016 as part of the prestigious MIT Delta V accelerator program. Ricult was founded by 4 MIT alums, coming in from Microsoft, Google, Accenture, and Telenor
Ricult previously raised $600k in earlier seed funding including a $100K grant from the Bill & Melinda Gates Foundation. This brings the company's total funding to date close to the US $2.5Million.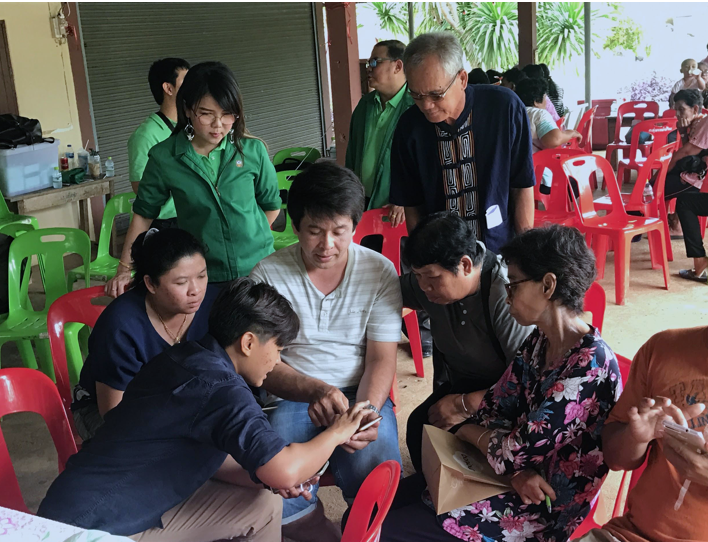 Ricult uses machine learning to analyze satellite imagery and microclimate weather data to make farming more profitable for smallholder farmers, giving insights to key farming factors such as potential crop yield, pest attack prevention, proper fertilization, key harvesting time, and optimal crop rotation. Using the same robust data, we help other supply chain actors, such as input suppliers and food processors, to accurately target their sales and sourcing, pointing them to the most fruitful regions of production and allowing them to manage price and supply fluctuation. This predictability helps everyone in planning and growing their operations. Finally, our data also helps banks to accurately score and price credit, increasing their willingness to lend and decreasing the risk of default, helping farmers to overcome capital constraints to business growth. Our data solutions and actionable recommendations are all available to farmers, banks, and supply chain partners through affordable, scalable digital technology such as smart-phone and feature phone.
Plans: Ricult is operational in Thailand and Pakistan where it plans to use the funding round proceeds to scale up its market share and expand the team with key talents. The startup is now targeting June 2019 to plan a Series A funding round.
Competitive Landscape: Ricult has the only technology-based solution using machine learning and predictive analytics to solve agricultural challenges in Thailand and Pakistan. While there are many companies which focus on one part of the value chain, there is no single, integrated digital platform that uses cutting-edge technology to provide such a full range of services to farmers
Vision: Ricult's ultimate vision is to be an agricultural data company, providing the tools and information that corrects the market asymmetries inherent to the agricultural system. Information in the agricultural sector, particularly in developing countries, is currently inaccurate, uncoordinated, and unavailable to those who need it most for decision-making.
While others focus on one point of the chain or one aspect of the asymmetry, Ricult is going further in finding integrated data applications across the supply chain, from farm to fork. This vision is bold because it addresses the core needs of 500 million farmers languishing in poverty worldwide and will help them to break the cycle.
Ricult is bringing first world technology to emerging markets, localizing the solutions and providing access at a price point which is affordable for those who need it most, all while maintaining a sustainable business model.
Aukrit Unahalekhaka (Co-Founder/CEO - Thailand): "Ricult is a double-bottom line startup where we don't only care only about the financial profitability of the company, but also the social impact that we can create to the smallholder farmers and their community. We want to make sure that our technology can really help make the farmer's lives better and make the agricultural value chain more efficient. We are delighted to find investors who share the same vision and value as us."
Usman Javaid (Co-Founder/CEO - Pakistan): "If you analyze the whole situation of why the farmers are trapped in the cycle of poverty, one of the root causes comes from the farmers' inability to access capital or have enough of it at sowing time due to the fact that he doesn't get paid on time when he sells his crop and the middlemen will stagger payment over many months by design. This forces the farmer to go back to him for next cycle and that keeps him trapped. Ricult is here to solve that problem"
Bio: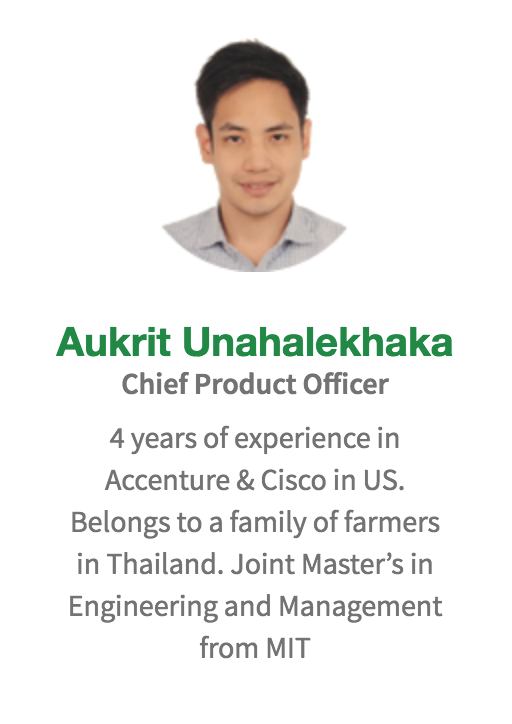 Aukrit Unahalekhaka is the Co-Founder & CEO (Thailand) of Ricult, a venture-backed social enterprise that leverages machine learning and satellite imagery to help farmers in Thailand and Pakistan increase farm productivity and access affordable loan, helping lift them out of poverty. Ricult has been named the best Social Enterprise in Southeast Asia and Oceania in the Global Social Venture Competition, won the Fintech Disrupt Challenge organized by Bill & Melinda Gates Foundation, and awarded Innovative Agribusiness by United Nations Industrial Developmental Organization.
For more information on Ricult follow the link below: