Walking the tightrope of satisfying all stakeholders during the crucial process of venture building has always been the universal challenge for every organization.
Today on Techsauce Global Podcast, Techsauce Global Content Editor Chaowarat Yongjiranon speaks to Moon Creative Lab Chief Creative Officer Mike Peng on how venture building has evolved and how companies can do it right.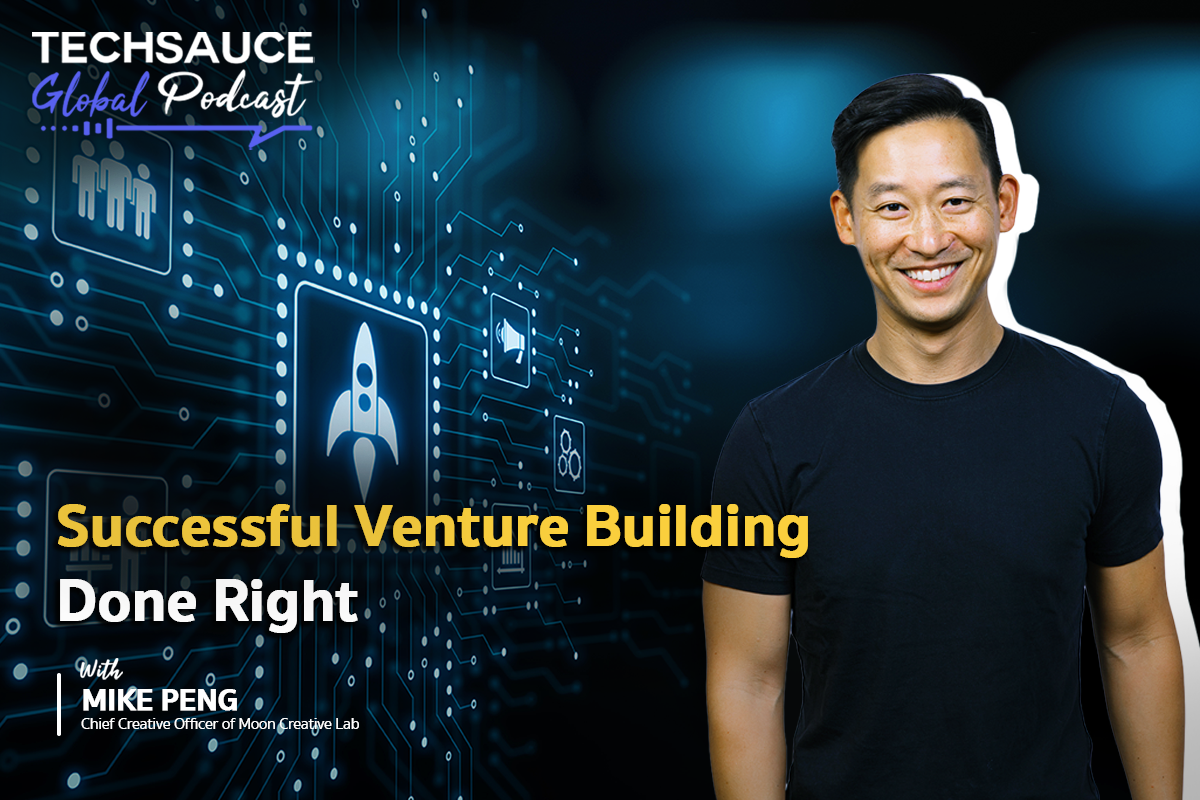 From IDEO, Tokyo to Moon Creative Lab
Much has happened with Peng since the COVID-19 pandemic started. After playing the role as partner and co-founder at IDEO, Tokyo, a well known designing innovation consulting firm that helps companies design new products and services, Peng found a new calling with Moon Creative Lab.
Moon Creative Lab is a venture studio that powers new businesses for Mitsui & Co., the largest Japanese trading and investment firm with a diverse portfolio, from ramen to rockets. The company wanted to expand their good connections for partnerships and joint ventures to create new businesses.
"The creation of new businesses is very different from just the connecting of businesses."
New skill sets, new mindsets, creativity, and innovation was required so Moon Creative Lab was created in 2018. Its unique beginnings during the pandemic provides insight as to how the company was able to build new businesses in such challenging times. The lab helps create new businesses by supporting anyone of the 45,000 people working with Mitsui around the world or any one of Mitsui's 16 business units that has a good business idea.
Venture Builders are for Those Who Look to the Future
When it comes to venture builders or venture labs, Peng says it is not about the quick wins. Venture builders are not about pulling in leading hackers from around the world, but leveraging from folks that have been in the organization for decades, who have not had a chance to start a great idea yet.
"I think these organizations are really looking forward to the future."
According to Peng, organizations need to embrace experimentation, celebrate failures, and have a growth mindset. Venture builders are a lot about time and talent, taking longer than your average incubators or accelerators. It is about supporting ideas with talent and teams of experts to support strong growth.
Venture Builders Vs. Accelerators
What is the difference between venture builders and accelerators? Peng says it is all about at what stage startups are at.
Accelerators are all about companies that already have an idea with a prototype and are looking for accelerated growth within three to six months. Venture builders on the other hand are involved much earlier in the process.
"I think of venture building as being much more holistic."
At Mitsui, Peng says more time is spent on refining initial ideas and developing the ideas to where they can radically be accelerated.
Which one best suits you?
It all goes back to what type of company you are. Tech oriented companies may choose an incubator/accelerator model because they are innately involved in technology and they are already moving quite fast. For organizations like Mitsui on the other hand which are more traditional, a venture studio would make more sense because it would give more time and support for the company to develop great ideas.
What are the key factors for a successful venture builder?
The first thing Peng says companies need to do is define what success is.
"Success comes in many different shapes and sizes."
Mitsui has a portfolio of 15-20 ventures, each different in their own way so there are different ways to achieve success.
The second thing is you need a diverse portfolio because some ventures might take longer than others to succeed. Each has its own timeline.
Lastly, it is important to not overlook the resources you already have in hand with the large organization you are working with. Peng says every venture studio should utilize the assets of the larger organization in order to get a competitive advantage. Do not build a venture studio that is doing something opposition to what the larger organization is doing.
"What you need to do is really understand the power of the organization."
You need to look at the assets, partnerships, and other advantages the mother company has. You have to be able to walk the tightrope between innovating and at the same time making sure goals are aligned.
It's not one size fits all.
Peng's mantra is, "Small times many, equals big." Everyone is looking for a playbook that will spell success. Everyone wants to be disruptive and the one company to stand out. However, Peng says sometimes things do not have to look so "sexy".
What works for another company may not work for you. What works for Silicon Valley may not work for Asia. In fact, Asia itself has its unique strengths that should not be overlooked.
"We don't need a map. If we have a compass and are moving in the right direction, there will be small wins along the way."
Peng says once there is momentum, bigger wins will come along.
Celebrate Failures
Just as you showcase your successes, you also need to celebrate your failures as well. Peng assures us that not everything is going to go right. To pretend it never happened would be to counter the innovative and free culture you want to create.
"By celebrating failures, you are saying failure is ok."
We need to be able to use our failures to fuel us to the next step. If you are able to do this, you will have a better chance of success.
You can listen to the entire conversations by checking out Techsauce Global Podcasts.