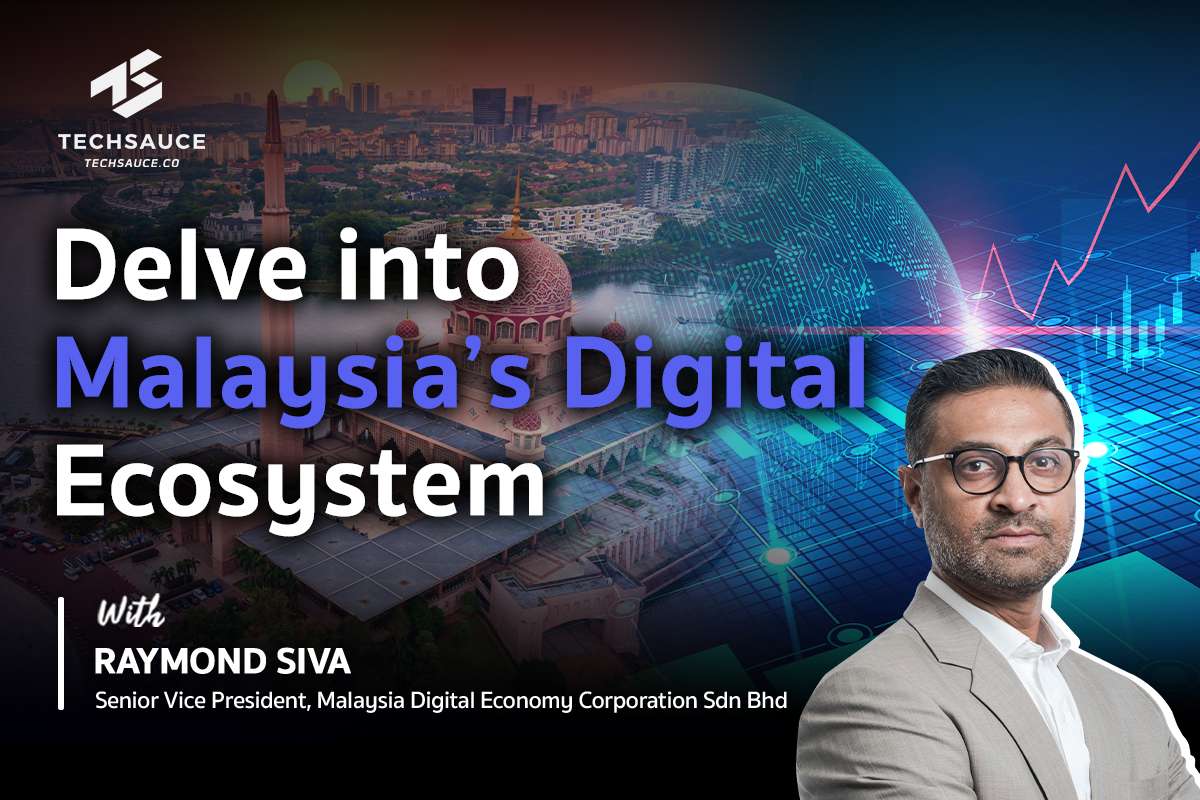 In this Techsauce Global podcast, we have talked with Raymond Siva, the Senior Vice President and Chief Digital Investment Officer of Malaysia Digital Economy Corporation (MDEC), and he shared with us the latest updates and trends in Malaysia's digital ecosystem and economy.
About MDEC
The Malaysia Digital Economy Corporation (MDEC), formerly known as Multimedia Super Corridor (MSC) was reformed and established as a multimedia development corporation in 1996 with the mandate to drive the ICT ecosystem and knowledge economy. Currently, MDEC focuses on pushing the development of the digital economy, looking into the development of startups, and investment, and ensuring sufficient digital talents to fill the growing ecosystem in Malaysia.
What's been going on in Malaysia?
Three years of the pandemic have brought a lot of challenges across the globe, especially in the tech industry. However, most recently in Malaysia, the country has been brewing exciting developments to its digital ecosystem and its backbone infrastructure as Siva stated.
"The ecosystem has evolved over the last 36 months to account for or build on the infrastructure. We've seen a really nice conjunction of ideas, as well as regulatory framework as well as access to infrastructure right in Malaysia at the moment."
Since last year July, the country has been revamping its digital economy, enhancing its corridor to promote the local tech ecosystem and attract investors to the country. From removing certain barriers and tax exemptions on digital investment to enhancing its online infrastructure like 4G through the government's JENDELA program. The country's push for a digital economy has consequently given rise to local digital solutions from Fintech, E-commerce, Logistics, E-education, and various others.
With the pandemic and MDEC's initiatives, the digital economy is now becoming one of Malaysia's major economic drivers with E-Commerce as the key player, crossing over 1 trillion transactions since last year, Siva shared.
"We have crossed the 1 trillion transaction mark already in Malaysia last year and we see that to continuously expanding, bringing in more new ideas and innovation, and companies right to solve the ever-evolving needs and problems in that space."
Malaysian Unicorns and the valuation game
One of the things that Malaysia has been successful at as well as having emerging unicorns. Unicorns are good and must-needed as a symbol of a booming tech ecosystem, but Siva offers another perspective to its valuation, seeing a shift in focus toward profitability and scalability in B2B companies, rather than looking at a high burn rate. It's an interesting shift in focus that raises the question of whether unicorns or soonicorn (soon-to-be-unicorns) should still be held to the same $1 billion valuation in the current economic climate.
"Fundamentally, we're not looking at the burn rate so much right now. We're looking at whether you're running a solid business that can be invested in, and get an IRR of, say, 5% to 25%, or 10 to 25% in the next seven to 10 years. So that goes back to running businesses"
With pouring optimism and bullishness in ASEAN, Siva pointed out that whether if you plan to invest that money into a unicorn or soonicorn, conservation has evolved to say investing in good businesses is the way to go.
What industries have piqued the most interest in the country?
Kicking off the post-pandemic recovery, people are more focused on creating scalable businesses with stability and longevity in response to the possibility of a global recession. Siva sees that the consumer space is going to be in the spotlight. This wave is led by Carsome, Malaysia's unicorn in the automotive space that deals with secondhand auto motors. Other companies in the space include Air Asia's digital Super App and local players in the crypto and e-commerce industries are also catching up.
The growth in the consumer sector has also led to an increase in related industries such as FinTech, logistics, and mobility. A trend on the rise is the green space, specifically in sustainability and ESG initiatives, with a growing interest in companies that can successfully embed these principles into their operations.
Potential Global Recession?
Siva also discussed that economists are predicting slower growth for the ASEAN region, but not a recession. He suggests that if inflation is brought under control, consumer spending will at least stay at its current level. Domestic spending and direct foreign investment will play a critical role in the economy, so a platform or "super app" that can aggregate and serve the needs of consumers may do well in this economic climate, Siva added.
There's also the possibility of pouring demand from China despite the recession, some companies may be looking to expand into China during the times too.
The pent-up demand from China is going to be very significant. There's going to be a lot of benefit to all countries in ASEAN if the tourists land in ASEAN first
How has the government in Malaysia supported the tech ecosystem?
MDEC and other agencies in Malaysia have implemented several measures to support tech companies during the pandemic. Siva shared that the first step was to ensure that essential sectors such as logistics, business process outsourcing, and global business services could continue operating with strict measures in place. Additionally, digitalization grants and other programs were provided to help companies adapt to remote work and improve their infrastructure.
Furthermore, MDEC has been instrumental in connecting startups with corporate-sponsored innovation programs, mentoring the cohort of founders to accelerate corporate digitalization and support the growth of startups. The agency also works to open market access and introduce Malaysian companies to opportunities in neighboring countries such as Indonesia, the Philippines, Thailand, and Singapore, ensuring that these companies can continue to grow and succeed in the region.
Siva also mentioned that VC investors are quite active in the region too. There are many venture capital firms that are actively investing in the ecosystem, including Gobi partners, 500 startups, Vertex, Phoenix, and more. There is a growing interest in ASEAN, particularly in Malaysia, due to the favorable currency conversion rate and the quality of Malaysian companies.
What are the main challenges Malaysia is facing right now?
Siva shared shares that Malaysia, like many other countries in ASEAN, is facing a major challenge in terms of access to the right talent. The rapid growth of the digital economy is putting a strain on the availability of skilled workers in areas such as digital marketing, software development, and cybersecurity. Additionally, the shift towards remote work and freelance models has made it even more difficult for companies to acquire the talent they need.
"When we come out of COVID, a lot more demand for services and products in the digital side"
Both the private and government sectors are working to address this issue, for example, PETRONAS has set up a digital learning center and companies like General Assembly are providing training programs. However, this is a long-term problem that will not be solved overnight. The COVID-19 pandemic has increased the demand for digital services and products, but the supply of skilled workers has not yet caught up. This includes Digital marketers, software developers, and Cybersecurity. These workers not only have to be experienced but also have to be updated with the latest technologies, As the world is moving to low-code and the cloud, it's important to have developers who are up to date with the latest technologies and developments.
Advice for everyone looking for opportunities in Malaysia
For Siva, Malaysia can be a great opportunity for anyone as the country offers a stable and consistent environment for investment. The current administration has emphasized that foreign investment is critical and welcome in the country, both in terms of capital expenditures and operating expenses.
One major advantage for foreign businesses in Malaysia is the availability of a multilingual and diverse talent pool. The country boasts a population that speaks multiple languages, including Mandarin, Bahasa Indonesia, Malay, Hindi, Tamil, and English, and has a young and digitally-savvy workforce. Additionally, Malaysia's location at the center of ASEAN makes it easy to connect with other countries in the region, with Singapore, Thailand, and Indonesia all within a short flight away.
Another benefit for foreign businesses in Malaysia is the value of doing business in the country, Savi added. The exchange rate of the Malaysian ringgit to the dollar is favorable, making it more affordable to do business in Malaysia than in other countries. With strong infrastructure including digital, banking, and financial infrastructure, Malaysia offers a value proposition that is hard to beat. Overall with MDEC decade long support, Siva is firm that Malaysia is a great place for business expansion.
2023 for Malaysia and the future
Mentioning the industry experts, Siva sees a positive outlook for Malaysia's economy and its digital and startup ecosystem. The country itself is expected to see significant growth in 2023, with its GDP projected to be between 3.5-4% and its digital economy expected to continue growing at a CAGR of 6-8%. This presents a significant opportunity for entrepreneurs in the e-commerce sector and related industries such as logistics, warehousing, FinTech, and Cybersecurity. Siva sees the increasing demand for apps and solutions in the field of education, learning, and social enterprise - this will likely attract more investment to the area. Environmental, social, and governance (ESG) initiatives are also expected to be a focus, especially in areas such as climate change and governance.
Furthermore, Malaysia is part of ASEAN, a region with a collective GDP of $2.6 trillion and a population of 660 million, which is projected to grow 4-5% over the next two years. This presents a huge opportunity for domestic companies as well as for companies looking to expand within ASEAN. Overall, the outlook for the startup ecosystem in Malaysia in 2023 is positive, and with the right approach, Siva said that hopefully "companies can look forward to conquering the world."
For more insight, tune in and listen to our podcast