After the roller coaster rides of 2020-2021, the one thing on everyone's mind is the question, "What's next?" for 2022. With the pandemic, the climate crisis, economic regression, political turmoil and more issues, the stakes are ever so higher now in the business world. Companies can no longer afford to solely care about shareholders, but now need to play an active role in solving humanity's collective issues. Businesses must not only change their strategies but adopt a whole new positive approach towards creating a sustainable future.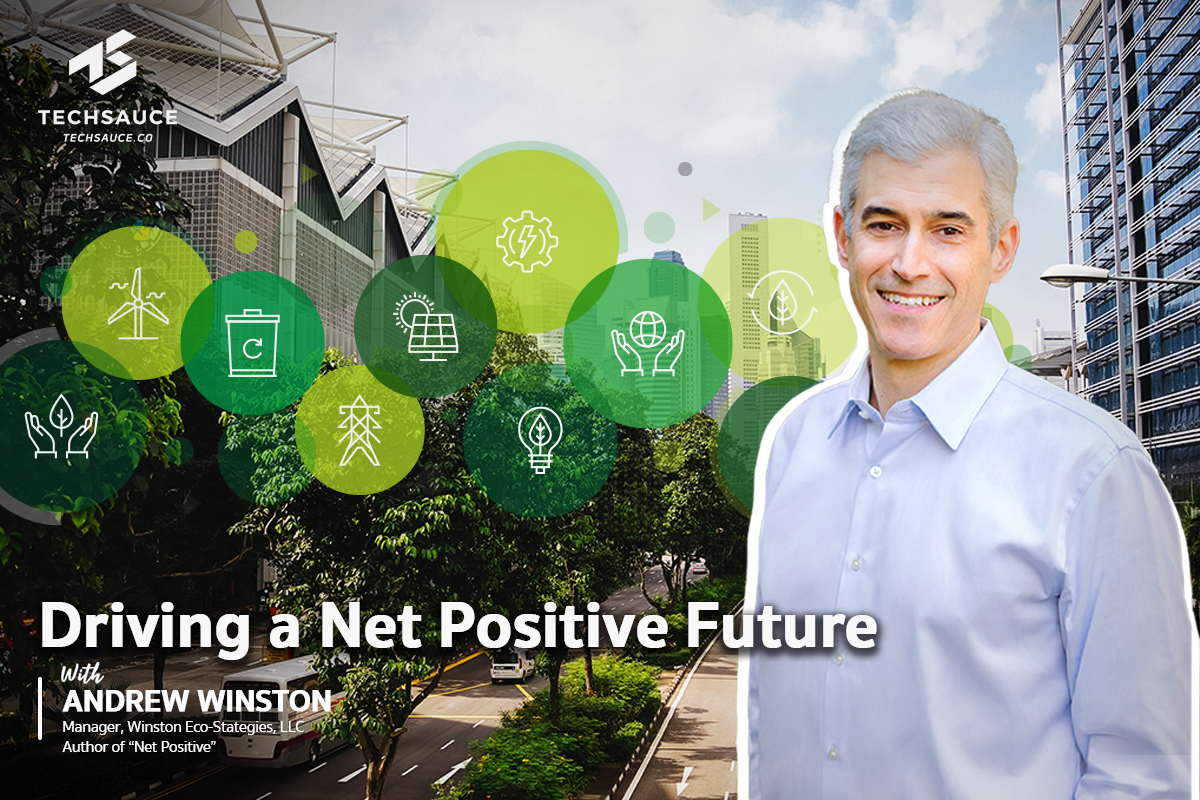 Techsauce addresses this issue with Andrew Winston, Manager at Winston Eco-Strategies, LLC, an expert on megatrends and co-author of "Net Positive: How Courageous Companies Thrive by Giving More Than They Take" in a special Techsauce Global Podcast. He shares the concept of the Net Positive Approach, along with his view on how leaders and companies can serve the world by solving problems, not causing them.
The Current State of the World's Consumerism
Despite the noticeable shift of consumerism towards being more environmentally and humanitarian concerns in the past decades, Winston still has mixed emotions about how fast industries are transforming the way they work. Winston says the speed is not fast enough to catch up with the complications of global dilemmas.
Change Must Come with a Purpose
There are pros and cons to having a big company with scale and an immense amount of resources. The cons to having a mammoth operation is that it can slow you down as it is hard to change the processes that have already been established for a long period of time. On the other hand, the small size of startups affords them the flexibility to make innovative changes. Corporates can do the same and pivote for a more positive change. They can do this through acquiring or funding startups to support changes. However, executives must acknowledge that business models cannot be changed overnight by just innovation and change must come with a purpose.
"The underlying problem is that for over the past 40-50 years, we have been told the purpose of business had to be clear about shareholder value."
Winston says it is unquestionable that businesses have become accustomed to the idea of putting profit first, focusing solely on the growth at all costs and convincing people to overconsume. The incentivization of short-term gains has disconnected companies from the natural order of the world. This has brought about the need for a cleaner circular economy.
The Constant Evolution of Corporate Responsibility
Presently, people are now calling things ESG, or environmental, social, and governance. Winston does not believe this is a helpful acronym. He believes there is much more to traditional CRS or philanthropy. It is not just about donating to charities or planting trees once a year. It is about companies creating a business model with real value that contributes to the solving of global problems.
"It's really about what the company does, where its resources come from, and how it spends its money."
Is the World Better Off with Your Business?
The net positive approach involves asking the fundamental question of whether the world is better off because your business is in it. If the answer is "yes", then you are doing the right thing.
"A net positive business is one that improves the wellbeing of everyone it touches. This means every stakeholder, every employee, every consumer, every consumer, every community and so on. A business needs to do it through everything they do, whether it be their products, services, factories, or countries they operate in."
Winston says it might be a kind of North Star mission where nobody has arrived at the destination yet, but there are a lot of companies on their way and they have already adapted their business practices.
How Can Companies Afford Sustainability?
The fact that companies have to commit to spending a significant amount of money to achieve a purposeful and sustainable business has caused many companies to stray from the path toward net positivity. Traditionally sustainability has been given a bad rep for being an expense.
However Winston invites people to look at it differently. He says it should be viewed as an investment.
"The reality is everything in business is an investment; the time, the talent, and the resources – all of these we must make the best decisions that give back the best return."
What businesses and companies have tended to do so far is make short-term investments rather than long-term investments that can lead to sustainability. Winston sustainability can save money, make business more efficient, and innovative. Overall it adds value to the overall business. Sustainability is not an expense, but a positive contribution to the economy, environment, and society.
Net Positive Leaders are Humans
Among the cadre of best leaders out there, there are those who can strike a balance between various interests, whether it be short term or long term. Winston believes the core of net positive leaders revolves around being humane, having empathy, compassion, humility and most importantly, courage.
"They have regard for the needs of others, the guts to stand against the currents of pressure, as well as the courage to be kind and do the right thing for business and the world."
Fostering a Net Positive Approach in Southeast Asia
Oftentimes companies face pressure from customers, banks, investors, and shareholders. Winston encourages companies to think of those pressures as being driven by the natural world. Problems such as climate change and societal needs are not bound to just within a country's border or culture.
"It's not about solving problems just for ourselves, but everyone else's as well."
This might be difficult as setting a big goal without knowing exactly how to get there can be tough emotionally and culturally. One thing to consider is taking the problem out of the context, figuring out what the world needs and taking solutions to the local level.
Collaboration is Key
Winston says companies should simply ask the question, "Is this world better with our business in it?" Once you understand your footprint, you can work on how to achieve net positiveness.
At the most fundamental level, it is about asking ourselves, "Do we care?". Do we care about the megatrends like climate change and inequality? If we do care, how do we cultivate more caring, empathy, and courage to do what is right? It is no simple task as there is no one, company, or country big enough to to tackle the issues alone.
"Ultimately, it takes collective courage among peers and competitors, and a global effort to tackle a purposeful mission together that would unlock the road to a net positive future."
----------------------------------------------------------------------------------
Andrew Winston is one of the world's leading thinkers on sustainable business, you can read more about his works and take readiness assessment for net positive journey here: Link
Listen to podcasts another platform at