Soon after AIS announced its cooperation with Microsoft Thailand as a Strategic Partner, the partnership is now expanding its technology solutions to startups as another critical base to grow the digital economy, under the program "AIS x Microsoft for Startups". AIS is currently Microsoft's first and only partner in Thailand. Together, they will level up and unlock the potential of Thai startups. They have a core goal of supporting startups with opportunities to access essential technology and mentoring them with expert advice, as well as critical information in depth. There are also opportunities to fast-track business growth through connections to customers and partners.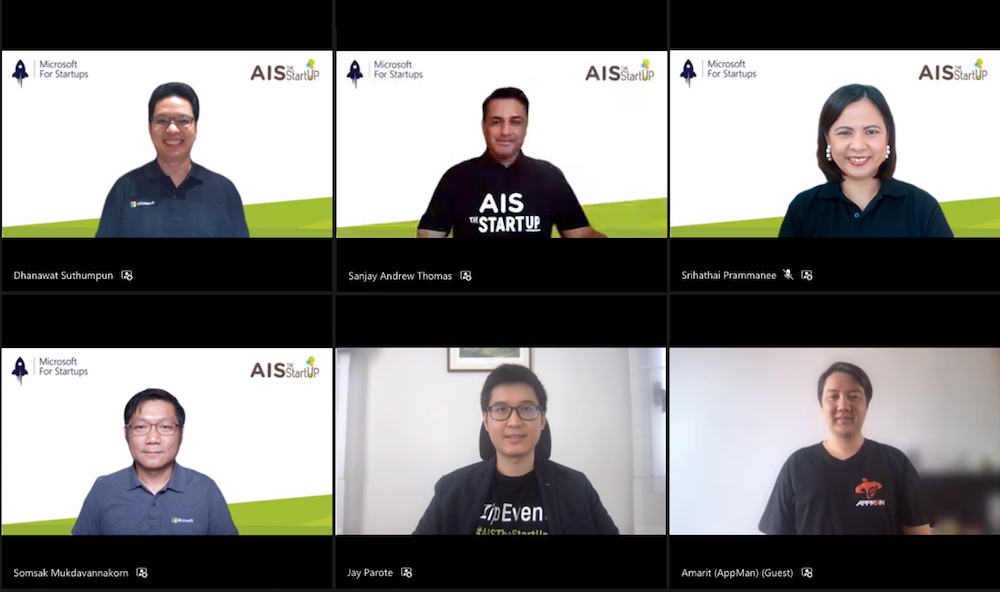 Sanjay Andrew Thomas, Chief Information Officer at AIS explained, "In the big picture of national development, at every level of both state and private sectors, the vital mechanism today is a new and different business model which can address pain points in startup operations with digital tools and innovation. Thus, for the last 10 years, AIS has been the first telecom operator in Thailand with the vision of giving support and a voice to startups. It has been proven that ideas from startups are another important key to innovating new services which clearly meet the needs of modern lifestyles.
"AIS has had a clear attitude about working with startups since the beginning. This is leveraging the power of digital partnership to support them to work on their own. However, we unlock our internal potential including tech platforms, specialized knowledge and the customer base of both AIS and Singtel group, which numbers over 750 million customers worldwide. This includes connections to external partners and investors for sustainable growth opportunities.
"On this occasion, we have been honored by the trust shown in us by a global entity such as Microsoft, to be our strategic partner. As well as supporting the industrial sector, they have fully joined up to enhance startups' capabilities in IT infrastructure under our project, "AIS x Microsoft for Startups". This will give startups a sustainable competitive edge in a constantly changing market, and be another source of power for Thai startups to overcome this crisis."
Dhanawat Suthumpun, Managing Director, Microsoft Thailand noted, "Every entrepreneur and enterprise has had to face volatility and uncertainty in the current situation. As a result, we see a demand for the application of technology enabling companies to survive and grow. This cooperation with AIS to support Thai startups is empowering them to be part of repairing the economy and society. Giving startups access to tech resources to find solutions for customers directly with us will make this mission a mutual success. With this goal, Microsoft is dedicated to enhancing the growth of Thai startups to reach their full potential. As such, they will be another cogwheel helping to efficiently overcome challenges and develop business for further progress, and power the Thai digital economy. Combining the expertise of these two leading companies makes us confident that we can unlock the potential of Thai startups to be fully productive. This helps Thai people and businesses to adapt, cope with the situation and make progress."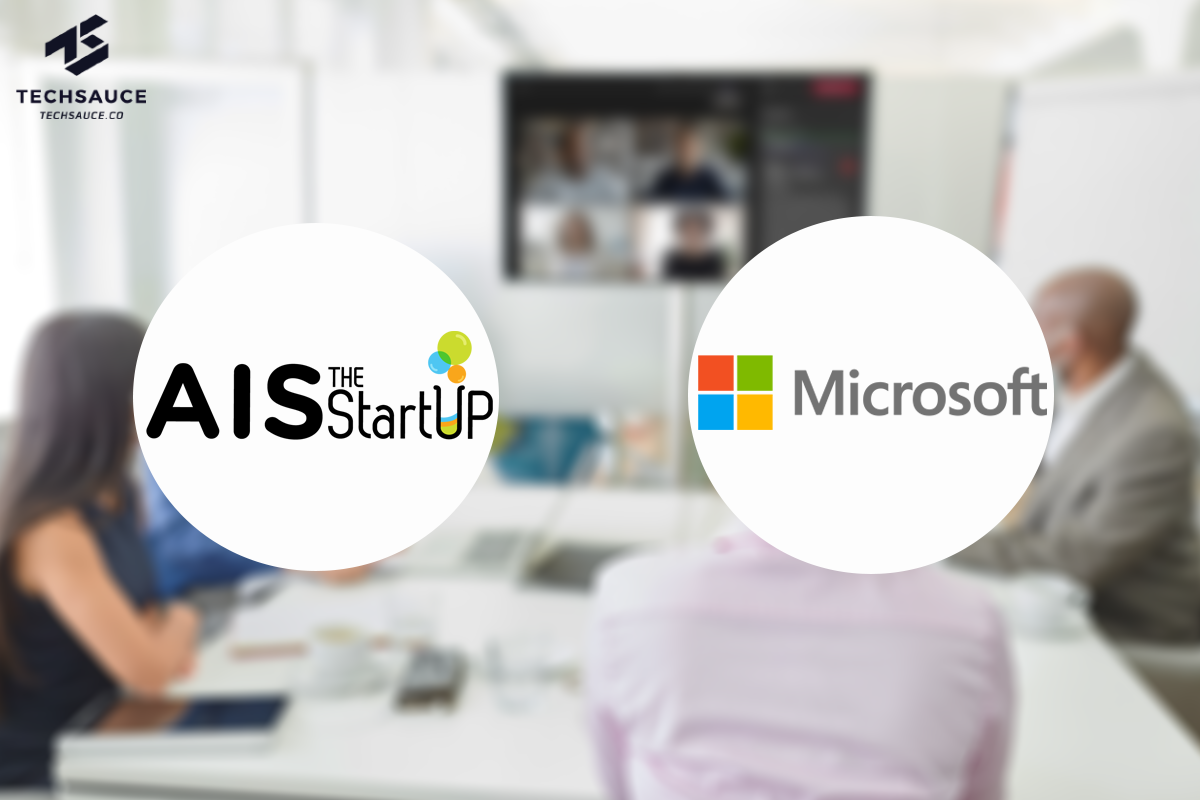 Startups participating in "AIS x Microsoft for Startup" receive support in the form of technological resources and access to different startup communities, as well as techniques to be ready for the market as follows:
Creating business in the Cloud which has the greatest connectivity and the best infrastructure. Startups can benefit from the built-in security of Azure which has the best standards certification in the industry. They also connect with the most trustworthy 5G fiber optic network from AIS.

They can sell solutions to enterprise customers and SMEs, connecting to AIS' and Microsoft's hundreds of sellers and partners. Startups can seek opportunities to sell solutions to Thailand's leading companies.

Tools can be deployed for development in any language, for easy connections to applications, data and devices. Over 150 tools include Azure Logic Apps for Salesforce, Microsoft 365, Twitter, Dropbox and many others.

Connections to the Thai startup community to share and learn with other startups, including devs and engineers from projects such as Microsoft for Startups, AIS The StartUp, and scores of independent software developers.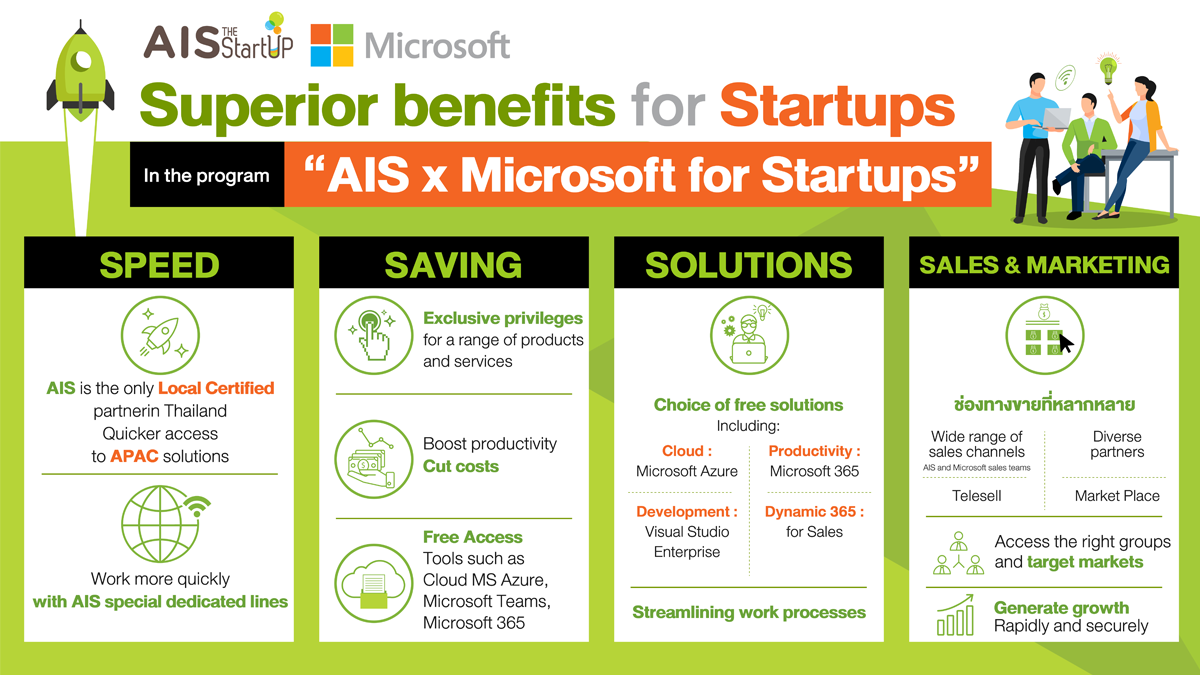 This collaboration between AIS and Microsoft also has the goal of enabling startups to grow on target in every aspect. These include:
Speed: The strong partnership enables startups participating in "AIS x Microsoft for Startup" to go through APAC, a significant reduction in procedures enabling quicker access to Microsoft services. AIS is a Local Certified partner and the sole program licenser in Thailand, while startups can work on AIS' special networks to work faster.
Saving: Privileges from using products and services to enhance startups' productivity at special prices with excellent value, such as using Cloud Microsoft Azure for free and other free tools added such as Microsoft Teams, Microsoft 365.
Solutions: Participating startups can select many solutions for free such as Cloud: Microsoft Azure, Development: Visual Studio Enterprise, Productivity: Microsoft 365, and Dynamic 365: for Sales. This will streamline work processes for rapid and secure revenue growth.
Sales & Marketing: Lastly is the crucial goal of creating sales growth, in which the program has a range of sales channels for startups, giving them direct access to customers with both AIS and Microsoft sales teams giving their full support. There is Telesell and offers through a number of partners, or even on the Market Place, where there are many investors.
In the "AIS x Microsoft for Startup" program, startups can use Azure for developing products, which opens up opportunities with open source technology, with support for every language and any kind of work scope. There is also built-in security support. At this stage, startups can seek one-on-one advice from Microsoft experts on Business Development and marketing in Thailand. Once they have developed their solution, startups can participate in opportunities to launch their product through Microsoft's Commercial Marketplace, a vital tool in selling solutions to enterprise customers. The Commercial Marketplace is also a sales and marketing channel undergoing continuous development, helping startups to access new markets and new groups of customers, and a large number of Microsoft Cloud users to generate sales.
Interested startups can join "AIS x Microsoft for Startups" at https://thestartup.ais.co.th/register