As the saying goes, "money makes the world go around". While it might not be true for everyone all of the time, money is certainly at the heart of people's day-to-day and drives personal decisions big and small, good and bad. Aside from Tweeting about K-pop, sport, entertainment and what's happening; the topic of money, and in particular personal finance, is also regularly discussed on Twitter with hashtags such as #เก็บเงิน, #ออมเงิน, #การเก็บเงิน and #การออมเงิน.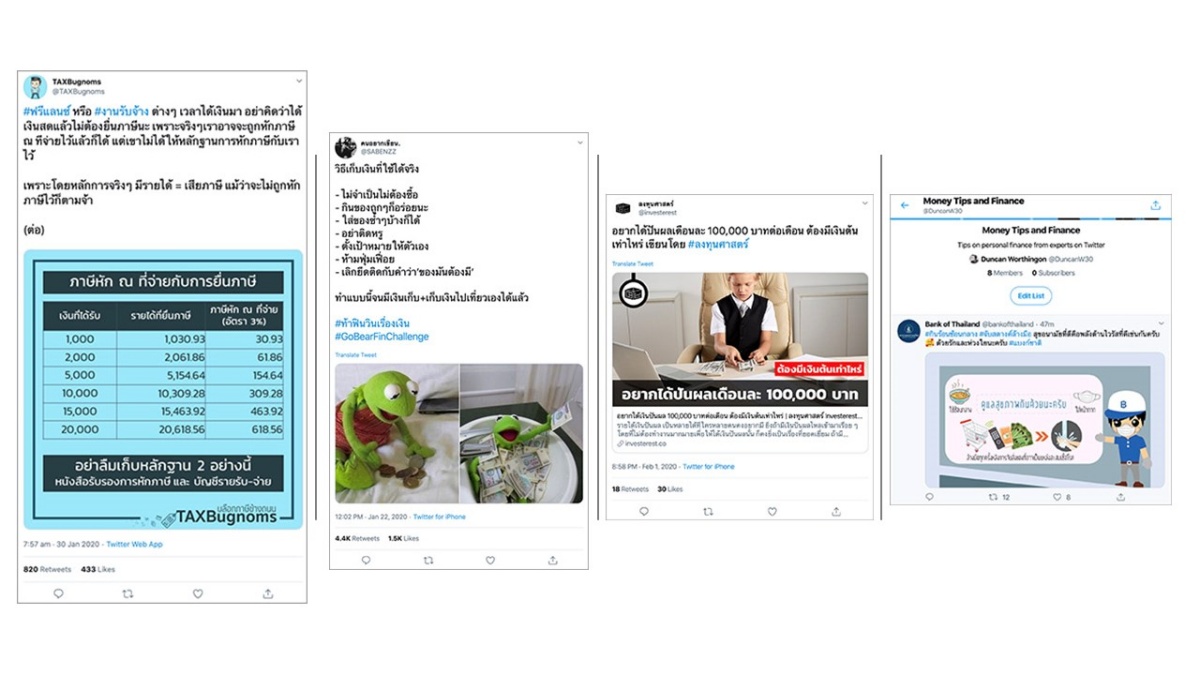 Hashtags from financial influencers such as #ลงทุนแมน, #ลงทุนศาสตร์ and #EaaawInvestment are also driving increased engagement as conversations around money on Twitter in Thailand have increased more than 80% in 2019 (when compared to 2018). This shows the power of Twitter's conversational platform and the importance of the top to Twitter's diverse audience.
We live in a fast-paced, inter-connected world where one action can have an immediate impact on someone, somewhere else in the world. And where personal finance has become small talk in the bar, restaurant, at home and on Twitter. Here are 5 simple tips on Twitter from experts which can help you with your money woes.
1. Tips on how to save money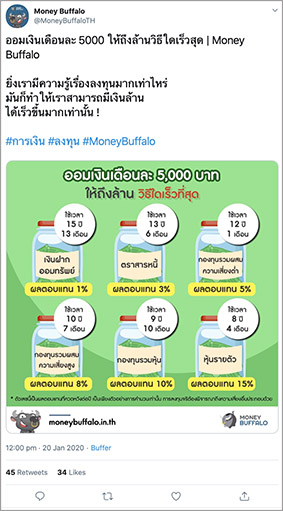 Embeddable Tweet: https://twitter.com/MoneyBuffaloTH/status/1219122392573861890
Ever wondered why you have no money left at the end of each month, but others do? Ever wanted to learn how you can save more? Whether you're money-savvy or a newbie and keen to learn more, the Thai Twitter community has you covered. Insight from Money Buffalo (@MoneyBuffaloTH) illustrates how being a prudent long-term saver, putting away just 5,000THB each month, can build up over time to become one million baht.
2. Investment insights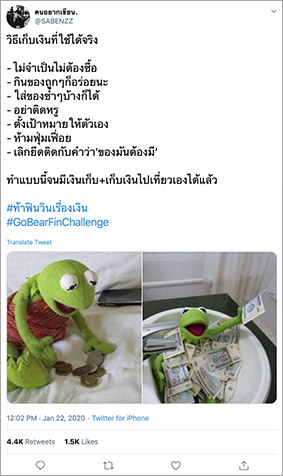 Embeddable Tweet: https://twitter.com/SABENZZ/status/1219847711886729216
It's not all about saving money, however. Twitter is also a popular resource for people looking for the latest investment tips and ideas, and for beginners looking for advice on how to start investing. The Money Coach (@moneycoach4thai) not only shares tips, but also inspires through success stories of those who followed their advice, while ลงทุนศาสตร์ (@investerest) Tweets about the capital you need to deliver a monthly dividend of 100,000THB.
3. Personal accounting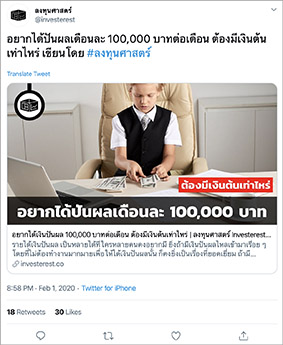 Embeddable Tweet: https://twitter.com/investerest/status/1223606536108306432?s=06
Nobody really likes accounting and personal taxation is something most would prefer never to think about. It is, however, an essential part of everyday life and sourcing helpful and practical information from people who know, can be hard. TaxBugnoms (@TAXBugnoms) is a passionate Tweeter on the topic sharing everything from basic tax advice to tips on tax deductions and provident funds. Having recently started a new calendar year, one of the hottest money topics on Twitter in Thailand right now is annual personal tax filing and there's advice readily available from the Twitter community.
4. Safe and secure mobile banking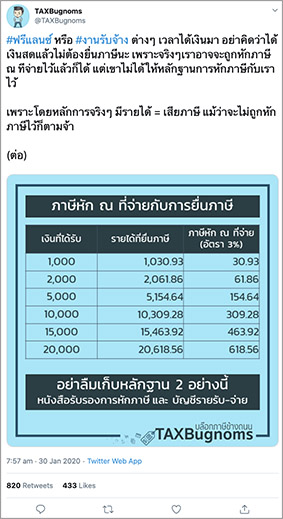 Embeddable Tweet: https://twitter.com/TAXBugnoms/status/1222685213676859392?s=06
We live in a mobile-first world where financial transactions are just a few touches on your smartphone away. Banking on the go is becoming standard yet for some it can be daunting, and security is of paramount importance. Many of Thailand's leading banks provide advice on their Twitter accounts about how to use mobile banking safely and wisely; from how to set your password to checking your bank statement for accuracy and what you should do if you lose your smartphone.
5. Personalize your financial advisor Twitter list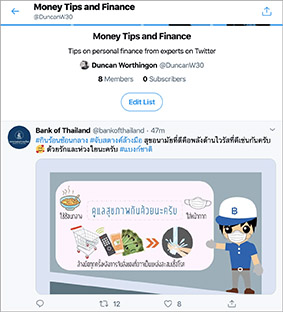 Embeddable Tweet: https://twitter.com/bankofthailand/status/1229247277845204995?s=06
Bemused by money? Too much to take in all at once? Let Twitter do the work for you; log into your account and create a List, add those accounts you find most interesting, trustworthy and useful. You can make the list private or public so others can also see and follow it. Personal money management can be fun and Twitter is a great place to start and engage with others.