Thailand's most popular messaging platform LINE has selected aCommerce, Southeast Asia's leading ecommerce solutions provider, as its official [email protected] Agency. As part of this strategic partnership, aCommerce will leverage the [email protected] platform to onboard businesses and help them grow their followers and boost ecommerce sales among over 33 million users of LINE in Thailand.
This is not the first time that LINE has engaged the Bangkok-based ecommerce enabler to help drive sales for its merchants. LINE's first foray into ecommerce was made possible by aCommerce in 2013 when it launched LINE Flash Sale, selling LINE merchandise and L'Oreal products, pulling in over millions of mobile shoppers and selling out in as little as few minutes. This success was followed by the launch of LINE Groceries in 2015 where aCommerce handled all the merchandising, order fulfillment and last mile delivery to bring on demand groceries to Thais.
LINE Flash Sale powered by aCommerce launched in 2013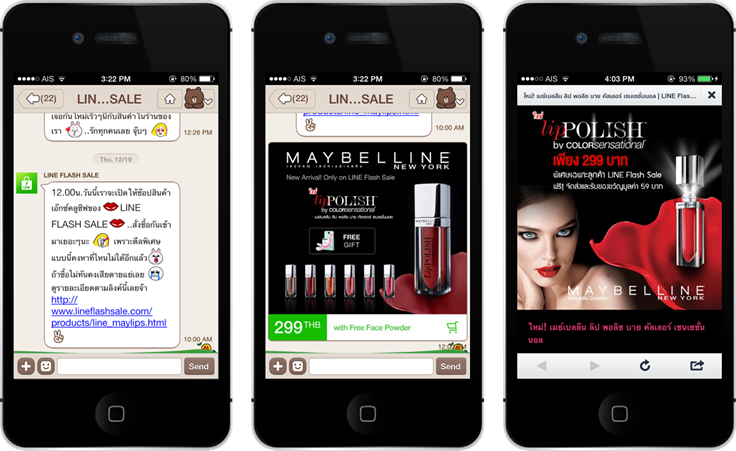 [email protected]: A cost-effective solution to enable social commerce for Thai businesses
Social commerce has been a unique and growing phenomenon in Thailand, where an estimated third of total ecommerce GMV is being transacted on Facebook, Instagram and LINE. Prior to the launch of [email protected], businesses had to use their personal LINE accounts to communicate and transact with buyers (see below image).
One third of total ecommerce GMV in Thailand happens via LINE chat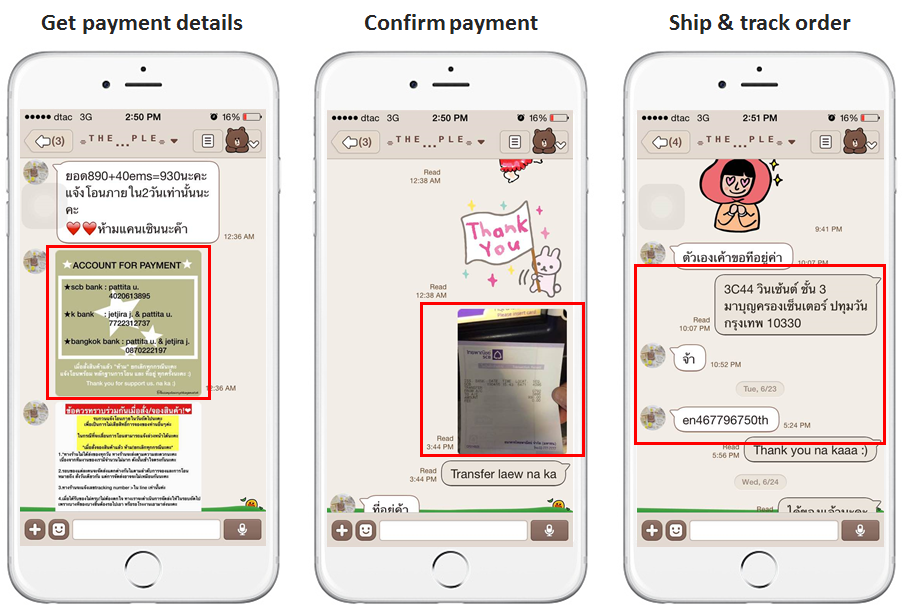 For big brands with deep pockets, there are also LINE Official Accounts (OAs) which are great for blasting one-to-many ads to followers -- often enticed with free sticker downloads -- but don't offer a viable solution for one-on-one conversations that have characterized the unique nature of social commerce in Thailand.
[email protected] brings the power of social commerce to a much wider audience. Pricing starts at $26.99 per month for the basic business profile package and can be upgraded to the Pro and Pro+ packages that allow for up to 300,000 followers. [email protected] accounts can have up to 100 admins which enable merchants to scale their operations and deal with larger volumes of customer queries and transactions.
How aCommerce helps businesses get the most out of social commerce and [email protected]
As a full service ecommerce enabler with a history of working with LINE on ecommerce initiatives, aCommerce can help businesses get the most out of [email protected] Whether it's marketing campaigns to grow the amount of [email protected] followers for a business, managing [email protected] accounts on a day-to-day basis (incl. answering incoming messages and pushing out targeted promotions), or back-end order fulfillment and last-mile delivery, aCommerce has over 1,300 experienced staff who can help with this.
"LINE is the single biggest communication platform for customers in Thailand when they engage in social commerce shopping. It's what CRM is to emails in the West. aCommerce knows how to make this channel efficient and cost-effective for merchants to directly engage with prospective customers and increase chances of ultimately making the online transaction," said Ten Chantaramungkorn, aCommerce Director of Internet Marketing.
[email protected] success story with aCommerce: MShopping
Selling over 100 brands, MShopping is one of Thailand's most popular online shopping destinations with a focus on cosmetics, beauty and health products.
In a highly competitive ecommerce field, MShopping's biggest challenge was to differentiate itself from competitors and to acquire quality shoppers cost-efficiently. To achieve their goals, MShopping partnered with aCommerce in 2015 to drive its online marketing initiatives across multiple channels to boost brand awareness and attract consumers to drive sales.
To strengthen MShopping's marketing programs beyond Facebook and Google, aCommerce helped MShopping set up their [email protected] account in June 2016 and launch [email protected] specific marketing and promotions.
Over a period of 2 months aCommerce drove 4 optimized promotion campaigns, with the following results:
Increased MShopping's [email protected] followers from 3,000 to over 10,000, a 233% increase
Improved blended conversion rate on MShopping by 20%
Targeted promotions through [email protected] were key in boosting sales performance for MShopping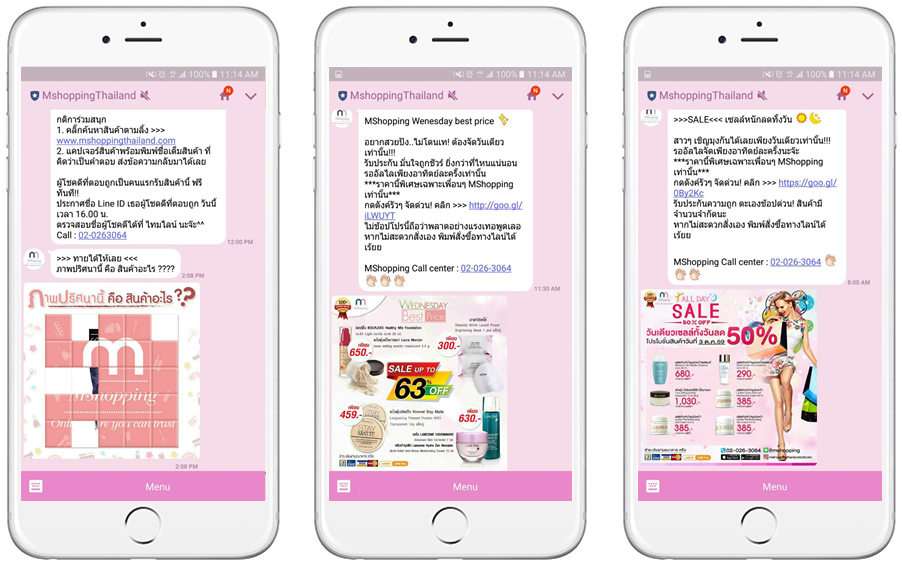 Secure a premium and easy to remember brand name ID instead of default alphabets and numbers (e.g. @mshopping instead of @rdz7217y)
Automated welcome message when a customer follows your company
Automated and keyword specific replies for immediate response to customers
Ability to continue a one-on-one chat just like LINE to increase personalized service
Ability to create surveys and polls to make sure customers are satisfied and to learn about their interests
Opportunity to get featured in [email protected] 'Success Story'
Updates on relevant business trends and personalized access to industry experts through [email protected]
Advice on online marketing and exclusive insights on how to boost sales by aCommerce
Exclusive opportunity to attend courses on how to navigate [email protected] and other marketing strategies through aCommerce Academy
Find out more about [email protected] and aCommerce
Email: [email protected]
Website: http://line.acommerce.asia
[email protected]: @acommerce