WHA Corporation PCL. (WHA Group), Thailand's leader in fully-integrated logistics and industrial facilities solutions, recently welcomed TD Tawandang Co., Ltd., as its new customer during the contract signing ceremony for TD Tawandang's two new warehouses. The facilities will be used as a tactical base for storage and distribution of retail goods for its growing chain of TOOKDEE (TD) retail stores, with more than 5,000 branches nationwide.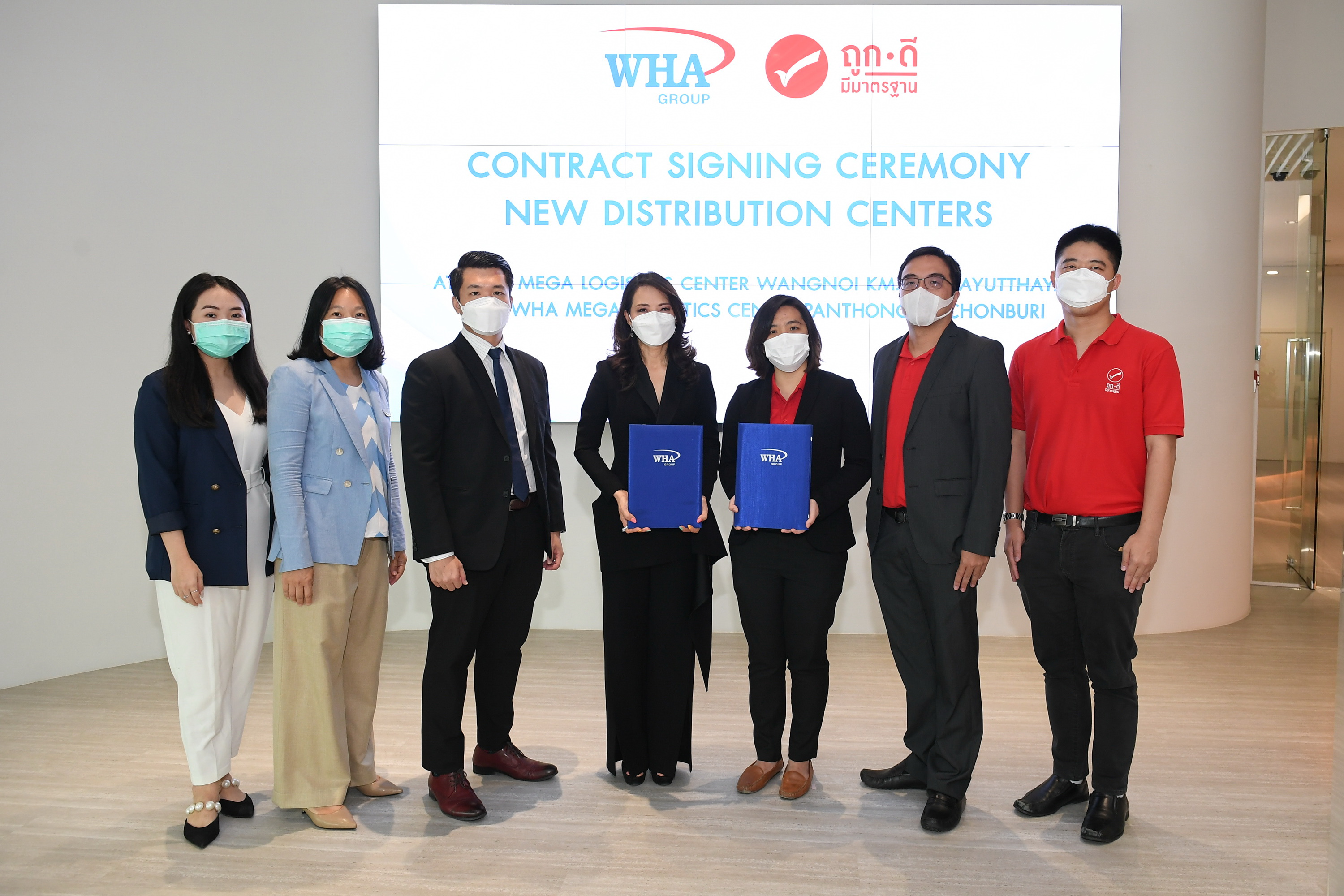 Shown in Photo: Ms Jareeporn Jarukornsakul (center), Chairman and Group CEO of WHA Corporation PCL., and Ms Tientham Setthasit (3rd from right), Executive Director, TD Tawandang, sign a contract for new warehouses at WHA Mega Logistics Center, in the presence of executives from both companies, during the recent signing ceremony held at WHA Tower.
With 9,645 sq m in WHA Mega Logistics Center Wangnoi 62 in Ayutthaya Province and 25,011 sq m in WHA Mega Logistics Center Panthong in Chonburi Province, the distribution centers are strategically located due to their easy access to Bangkok and its vicinity. TookDee has become a household name in recent years thanks to its mission to be the "community store for the community, by the community."
Ms Tientham Setthasit, Executive Director, TD Tawandang, expressed her desire to modernize traditional convenience stores and create business opportunities for more people, including local entrepreneurs in different communities. "With the warehouse facilities at WHA, we hope to streamline our operations so we can continue providing good quality products at affordable prices. This will also enable us to also create employment, support small businesses and entrepreneurs, and bring back confidence."
"We are deeply honored that TD Tawandang has placed its trust in our world-class services and logistics facilities to accompany its business expansion," said Ms Jareeporn Jarukornsakul, Chairman and Group CEO of WHA Corporation PCL. "It brings us great pride to provide secure, efficient and strategically-located bases for TD's operations as it strives to uplift the local community network and revitalize the country's grassroots economy. We laud TD Tawandang for its exemplary efforts to improve the lives of Thai people."
This year, there are more than 3,000 TD stores nationwide, with plans to expand to 30,000 shops in 2022. The company is focusing on making its stores and services accessible to more people, including those at the most remote villages in the country.
###
About WHA Group
WHA Corporation Pcl. (WHA Group) is Thailand's leader in fully-integrated logistics and industrial facilities solutions. WHA's operations consist of 4 business areas in Logistics, Industrial Development, Utilities & Power and Digital Platform with an integrated service offering that enables it to provide customers with turn-key solutions:
Logistics – Customers can avail of built

-

to

-

suit factories, logistics facilities and distribution centers.

This innovative concept was pioneered in the market since 2003 by WHA Corporation Pcl

.

, with more than 2.

4

9 million sq

.

m

.

in leasable area under owned and managed assets at 20 strategic locations nationwide to date

.

Industrial Development – As a world-class industrial estate developer, WHA offers strong and efficient infrastructure, utilities, industrial clusters including automotive and petrochemical clusters, and comprehensive industrial services. Today, WHA Industrial Development Plc. has 12+ operating industrial estates, covering over 68,900 rai, mostly located in Rayong, Chonburi (in the EEC) and in Saraburi. The EEC Management Committee has designated 10 WHA IEs as special industrial zones for targeted industries, in line with WHA Group's commitment to support the development of 10 target industries in the country. WHA is also developing an industrial estate, WHA Industrial Zone - Nghe An, in Vietnam.
Utilities and Power – As the sole supplier of water and other utilities infrastructures, WHA Utilities and Power Plc

.

offers total security to industrial estate customers while enjoying strong partnerships with leading power operators

.

It supplies approximately 150

mm m3 of water per year and 596

operational equity MW

.

Digital Platform – In order to support its customers in their business intelligence operations, WHA Infonite Co., Ltd. actively provides comprehensive data solutions and platforms through its 4 data centers and FTTx covering 10 WHA Industrial Estates. The company has also acquired some shares in Supernap Thailand and continuously invests in digital infrastructure to serve leading multi-national and Thai companies.