Dtac accelerated startup, ZmyHome, a home listing portal in Thailand that helps owners to sell houses directly to buyers, received $400,000 funding from the KKFund, a seed-round leading VC in Southeast Asia. This investment was aimed to improve the portal system and expand users covering all locations and segments in Thailand. ZmyHome is also the first trustworthy property platform, ensuring no duplicate listings, faked properties or outdated posts; all of which help in supporting the fastest transactions possible.  Since the website was launched two years ago the company has grown, on average, around 18% per month and there were 10,000 listings sold or rents reported.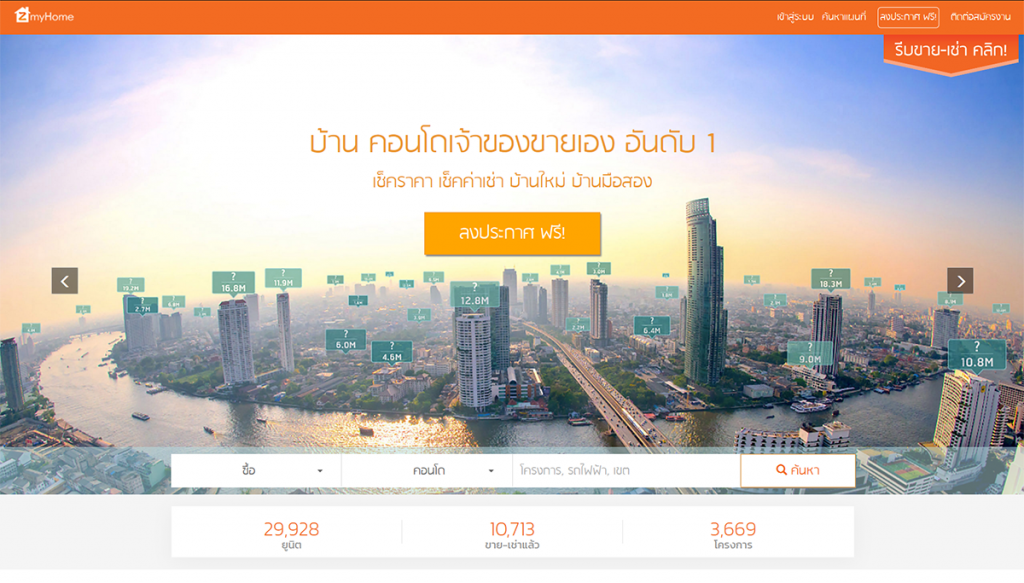 Buying & selling successfully because ZmyHome helps users understand prices.
Only property developers or home owners are allowed to post on ZmyHome, therefore, buyers are guaranteed the best prices, since commission and listing fees are not charged to users. We are the only portal in Thailand that requires developers to promote their work on a listing basis, which benefits buyers as they can compare properties and prices before visiting projects, while most developers on other platforms are not required to give actual prices. One of our buyers saved 500,000 Thai Baht when buying a river-view condominium after only a 15-minute search on our platform on which there are currently almost 30,000 new and second-hand houses listed.
Since platforms usually serve multi-sides of users, ZmyHome helps developers and homeowners to sell faster by offering market data and advertising tools directly to potential buyers. Home sellers can not only study 'sold prices' on listings at ZmyHome, but they are also updated through Facebook messenger, both when there are potential or successful transactions in the neighborhoods; similar to using a personal advisor to make successful transactions.
For owners who want to sell quickly, ZmyHome have developed and promoted a tool to identify buyers who plan to purchase within three months in their own neighborhood. We charge per ad impression, meaning sellers won't have any costs if potential buyers don't see their properties. Property developers such as LPN, Riche Place, CPLand, Real Asset, etc. also sell their property through our system, recently having sold condominiums to buyers from ZmyHome with a total value of over a 100 million Thai Baht. "We sold almost a hundred units to ZmyHome buyers with over 10% conversion, the highest rate when compared to all sources" said Suwattana Tang, Director of LPN Development PCL.
Passionate and creative teams attract investors.
Koichi Saito shared that, "We invested in ZmyHome because they are an improving real estate platform, standard in Thailand, but as it should be in similar developing countries. In all developed countries, a reliable platform is necessary to increase market liquidity. In countries like Australia, USA or UK, homeowners take only 1-3 months on average to sell their houses. That's why ZmyHome is dedicated to making sure their platform is clean; it does not have duplicate, outdated or faked listings - this is of paramount importance for buyers to study supply and prices.
ZmyHome understands the cause of the problem and is dedicated to solving it, having initiated very creative solutions to suit the local markets, such as direct marketing via a messenger bot. They are well accepted and gained over a million page views per month and even though there are many existing big players, ZmyHome is completely different, always focusing on achieving the right solution"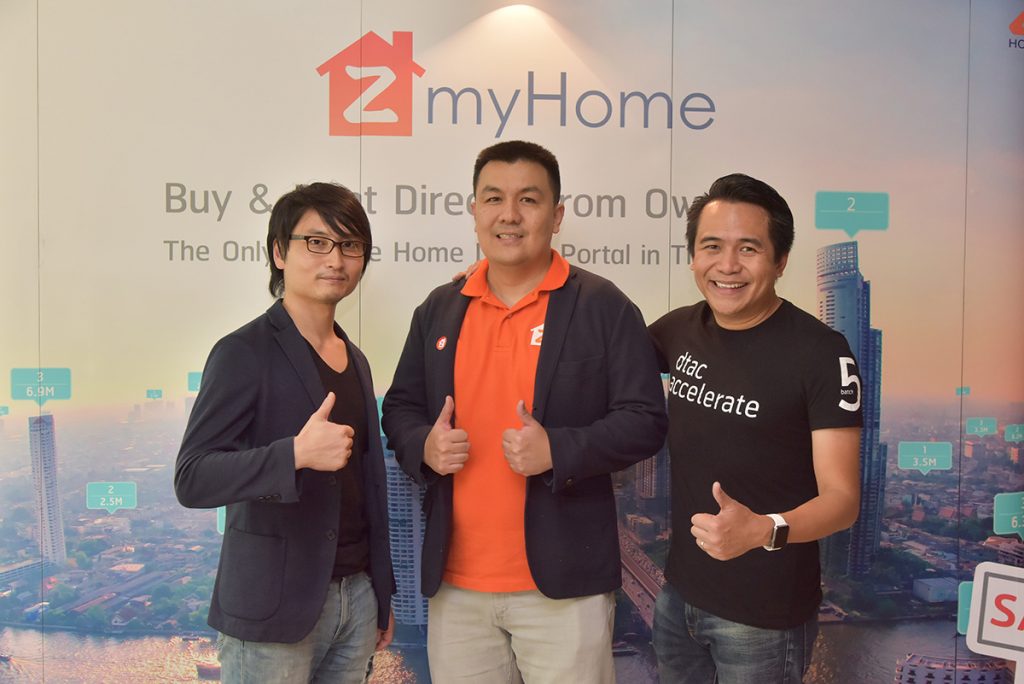 Mission: Helping homeowners to sell within three months.
The purpose of this round of investment is expanding the platform to cover other types of users, including developers, banks and foreign owners. ZmyHome is a free reliable platform for all owners and buyers, enabling them to find their best house or research prices before making a final decision. In addition, ZmyHome is planning to develop a price suggestion system, an advertising tool to ensure all sellers are able to sell their property within three months, however, to accomplish this mission, we need other mechanisms to kick-in after this first successful stage.
Properties situated in high demand locations and priced correctly should be able to sell within three months, but some listings on ZmyHome can sell within the week while others remain on our site for over a year. We know that this is our next solvable problem and it is already included in our long-term plans. We welcome all partners in helping us to improve the Thai property market, such as real estate related associations, banks, research centers, government agencies and investor who will join the next round.
KKFund is a startup venture from Singapore, which invested in several real estate platforms in Southeast Asia, such as Malaysia, Philippines and Indonesia, as platforms in these countries follow what has happened in the developed nations. Those countries are talking about how to make online real estate transaction platforms which will be necessary to provide trustworthy data in a fast developing field.
This investment will strengthen our real estate platform portfolio in Southeast Asia. The founders clearly understand the market structure and know how to help the Thai people, enabling them to sell their properties within three months, at a time when most transactions are unpredictable.
Dtac Accelerate plans to support more property tech startups.
Sompoat Chansomboon, M.D. of Dtac Accelerate, revealed that ZmyHome would attract most homeowners and buyers in Thailand after receiving this investment. Reliability is the issue that this startup tackles, which is a problem in most developing markets. "The real estate market in Thailand is worth over USD 20 billion a year, but is impossible to control without a reliable platform. Within two years, they gained 30,000 listings and over 10,000 properties were reported to have been sold or rented. Successful transactions are necessary for owners and buyers to learn and fasten transaction." Sompoat also said, "We are launching batch 6 in a few months and property tech startups are still what we have our eyes on; with KK Fund one of the best seed-round ventures in Southeast-Asia, proven by most of their expanding portfolio. Dtac Accelerate and KK Fund invested in Giztix and they were delighted recently to receive the 'Series A' from the renowned Siam Cement Group.