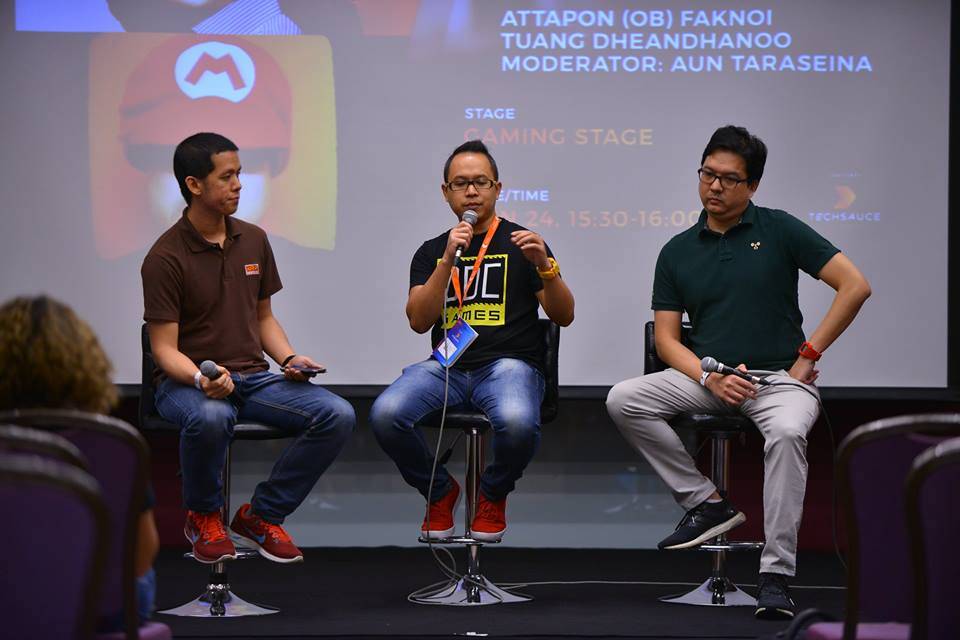 When Attapon Faknoi - CEO of Dev Design Center - released his very first app, a creation all his own, he expected the difficult part to be over. Now that the app is out there, all he had to do was kick back and wait for the hundreds of thousands of users to download his app, and he would be set. Unfortunately, that was not the case.
"I didn't have the know-how on how to actually 'sell' my app," said the CEO, who - six years later - no longer spends any money in promoting his apps, many of which have achieved millions of downloads.
Joined by Tuang Dheandhanoo, instructor at the Innovative Digital Design Department of Thammasat University (and MC'ed by Aun Taraseina of Kiragames), Attapon entered Techsauce Summit's Gaming Stage to discuss the virtues of Growth Hacking - utilizing creative solutions to achieve growth in the mobile market, for small developers with small marketing budgets.
Apple Search Optimization
Mobile market today is flooded with apps. Most ideas already exist, which means that your app can easily get lost amidst the thousands competing with it.

As technology makes the development process faster and simpler, achieving a marketable product is no longer the hardest challenge; visibility is.

Recently, big-name developers and publishers like Nintendo have also started having a presence in the mobile market with products like Pokemon Go

Promotional costs for advertising increase every day, so it is no longer the most viable choice for smaller businesses that must compete in the same space as larger competitors,

Dev Design Center no longer spends any money thanks to ASO, which is a method of optimizing keywords within apps to make them appear on the top pages of searches more often.

The app store's search algorithm takes into account a variety of factors to determine whether your app will appear near the top when a keyword-related search is made.

Keywords (even names for in-app purchase items), icons, screenshots and app descriptions are all.

By optimizing the searches, it could lead to organic traffic and growth, as users tend to load the apps that appear first the most.

The same principles can be applied to both Google Play Store and Apple App Store.

The Google Play store actually has a function that allows you to release your app with different descriptions, icons, screen-shots, etc. to see which one does best.
Indies VS. Big Companies
Indies have the advantage over bigger companies in the mobile market due to several reasons:

Small size means more maneuverability and adaptability, as there are less moving parts to worry about.

Indies can also do unconventional things without having to fret too much over achieving as many users to be profitable.

Indies who try to use the same methods as big companies will lose, as they can't possibly compete in terms of budget.

There are many methods of achieving the same marketing results without having to invest as much, and indies who still allocate substantial amounts towards marketing are doing something wrong.

Should focus on delivering the best user experience in order to achieve organic growth through word of mouth.

Creative methods may not always work if the quality of the product really isn't up to standards. For example, good apps will profit greatly from AOS, while incompetent apps will struggle to make effective use of AOS.

 
Parting thoughts
Indie development can fail easily and quickly, but it is also just as easy to get started again.

Look for connections and knowledge, especially those outside your immediate specialty.