Digital transformation is the process of using digital technologies to create new or modify existing business processes, culture, and customer experiences to meet changing business and market requirements. This reimagining of business in the digital age is digital transformation. With the advanced technology we have now, how far can we change and improvise this world? Or the better question is, how important is it that we continue moving on with what we already have?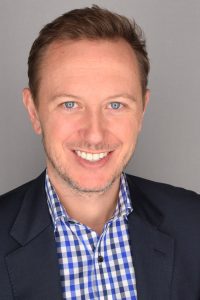 Techsauce team sat with Matthew Zwolenski, Vice President of Commercial Pre-Sales Dell to talk about the data and digital transformation trend of the future, and how important it is to build a digitalized world.
Please introduce yourself.
I am Matthew Zwolenski, Vice President of Commercial Pre-Sales Dell. I lead the presale and technology team and work with customers across Japan. The goal is to understand customer business and the solutions they need from me from a multi-cloud from the perspective. So I spend a lot of time traveling around the region meeting customers, partners, team members, understanding what is going on.
Clearly, everyone knows that bi data is really important, it's not password anymore. It is coming back, because of the AI.
Particularly in Thailand, we have got a lot of projects, more so than any other regions lately, we call the bi data, AI, projects using data for insides. With phenomenal, consulting engagement where the customers ask to help me explore some use cases around how am I use analytic so I got this idea to tell me if this is feasible so we will run some consulting engagements to come out with a feasibility plan and decide to see if they are going to roll them out or not. Then they invest in cloud infrastructure to bring the data together to do something with it.
How do you measure in terms of the KPI, intermediate investment, and the recommendations, you give to the customers? (As they give different objectives and different projects that they have to implement on bi data) So what are the key main ideas you will give?
So we run a mini-workshop. Customers have 20 ideas so we bring in people who understand data and data science and we build up a quadrant matrix. If the quadrant is half feasible, is the project easy to implement or is it very hard? What are the potential returns? So we help them map out some things that this is a great idea and easy but the return is very low. Another thing might be easy and the returns will be high. So we map this out. Once we see 10 or 20 projects. It is easy to say this is what projects because I can get it done easy and quickly and the return is very high. So it is less of the head of KPI but is the processes that help to establish their priorities and whether they invest.
It's different for industries. Like telecommunications, they are investing a lot in their "How do I improve my quality service for networks" and "Drop-out" as customers satisfaction is what they are trying to raise. There are also different ones in finance going on in customers engagement, mostly consist of the banks. The shifts towards engaging the customers without them having to go to the branch. And so, how do engage customers online in mobile app? A lot of analytic measurements around, what features use more, more regularly when they call the feature, how well it is received. So there is a lot of analytics going on in the app. There are different controlled airline in your region going around different digital transformation around the world.
So during the implementation, what is your biggest challenge that you have seen or common mistakes that happened?
It's often really hard for companies to get to the data that they want to get to and so we are trying to find ways to break down the system. I can think of some ways they got so much data and they got 4 or 5 systems that aren't in the same broadband as customers.
Getting to the data and pulling it together and coordinating it once you get to the airline in the project. Thats the big one.
What is one of the challenges that you have for this region? (like in Thailand not many people understand this data well) So what is the solution you gave to people as advice?
So we have our own skills that we bring in, the consulting engagement help to fill the gaps. We are working with partners that have engagements as well. There is one gap that when it comes to delivering projects, we will do something well one off. But what we really want is the customers to do better for the next thing and the next thing. The problem that needs to be solved is how did the customers get their skills developed. I was in Vietnam, the other day, and what I realised is that if Vietnam wants to be successful in the future, they need to enable this rich skills around technology.
I think more countries around Southeast Asia should be thinking about implementing programs through high school and university to encourage that technology should be a core subject.
Ultimately, it's essential that we have a strong set of partners - hundreds of partners that also have their own skills. If in Southeast Asia, we can find a good partner to deliver, we will always work with that partner. If there is a gap where the customers don't have the skills, the partners then will use that consulting to deliver. Consulting is essential.
Do you also work with the government?
Yes, absolutely. There are conversations around in the Asia Pacific race, currently, we have 50 targets of Government cities. They themselves want to become a digital city and we are helping them to look at everything.
For example, in Singapore, emergency services is a huge investment in analytic data. The city of Singapore capture the information today and we think in the next 3 years it will be an enormous amount of data. The city capture all from the IoT, video streaming and they are solving crimes through this. This hot bet for digital cities is in the southeast Asia region and now it's slowly making its way to the US, Australia, and places but Southeast Asia and the Middle East region have been leading in the digital cities aspect.
Do you also partner with any startups? Providing solutions to the customers?
Well, I just heard that we are about to announce the global partnership with the company who is focused on digital cities. We will provide the infrastructure to capture the data to help with customer store, then we will work with many partners depending on the customer's need for video capturing. The problem sometimes lies on the IoT capture, so it is probably hundreds and thousands of partners that we work with for almost all the initiatives.
So you taking care of many Asia Pacific countries. Singapore is very advanced compared to other countries. But for Thailand, Indonesia, even like Vietnam, they are also immersing markets. So, what is the advice if you want to give to the corporate government side if they want to start to implement Big data and AI?
We actually did a study on digital transformation about customers around the world. In the Asia region, the two countries leading right now are India and Thailand. Most customers have established IT systems and legacy business, currently transforming the fastest and investing the most. For digital transformation, Thailand and India are leading in that. As for digital cities, Vietnam seems to have the most appetite to invest. Singapore is doing a lot of good things in that aspect, but Singapore has a lot of businesses that have a lot of legacies, and they are not transforming as fast as some of the other countries around Southeast Asia.
I think the two things to think about is the skill challenge and culture change. Businesses and Government need to think about internally how they reshape in the culture, how their people go about thinking of paper-based processes and manual processes to how to add technology into everything that they do. Some companies set aside programs to teach everyone individually on coding. Even for business people, on how to develop software so they get the mindset of what is software and how you create it. I think the culture change is the big one to think about.
"What should your initiative drive towards culture? How does it change the digital future?"
What will happen in 2020 with the overload of the digital transformation? What is the big change that is coming to the Southeast Asia market?
The cloud discussion is kicking off in Southeast Asia now. It's still an immerging discussion now, but by next year it will become something mainstream in the society. Next year will be the big one. It is just starting now, but by next year, customers will move their entire operation to cloud computing. Next year, the real Deep II projects will kick in again. There will be deep machine learning where you start to use really specialised core to go to the next level of artificial intelligence. And I think that's what next year will be about, the big one.
"But starting to automate all the processes to have all the machines make decisions for you, that's starting next year for the run in Southeast Asia"