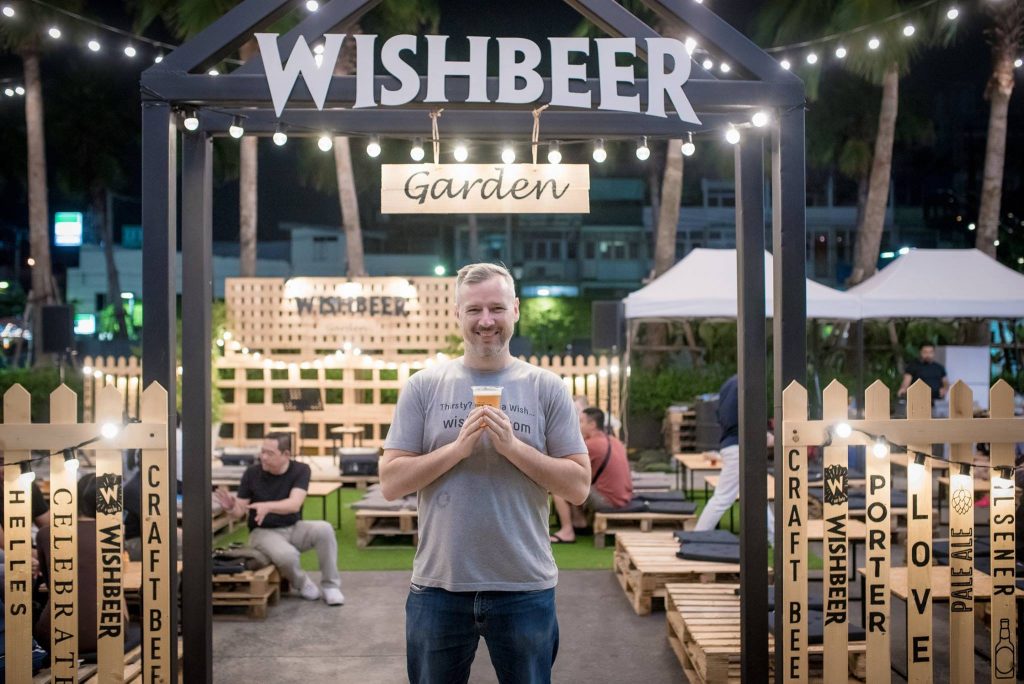 TechSauce recently sat down with the CEO of Wishbeer, Jerome to pick his brains about how his company ran a successful crowdfunding facebook ad campaign, raising 10M THB.
Tell us a bit about Wishbeer...
Wishbeer will be 5 years old this February, which started as an e-commerce site delivering beer around Thailand. After two years WishBeer opened its own store with the help of seed funding from 500 startups and 500 Tuk Tuk.
We successfully ran one pop-up bar at The Lofts Ekkamai for 9 months in collaboration with Raimon Land. In 2016, we moved our office, warehouse, and bar to our current head office location on Sukhumvit Soi 67, so customers can visit one of the largest beer bars in Bangkok and also walk-in our e-commerce warehouse which operates as well as a bottle shop.
At the moment Wishbeer only delivers to Thailand and focuses on premium beers with a move into launching wine and spirits. As it stands Wishbeer has around 8000 items combining all our products on offer. We work closely with local importers to run our business at an optimal level.
What challenges do you face within the market and the company?
There are competitors but our strength is that we operate bricks and mortar stores/bars and have a large online database of people who buy from us. We have a very wide audience within Thailand. Our business model is quite different as it focuses on the technical side bridging the gap between consumers and products. We have created an free online mobile app as well for iOS and Android (The Wishbeer App - https://itunes.apple.com/th/app/wishbeer/id1225847424?mt=8) which is a direct line to our online store. We have a unique staff management system which collects data on customers.
What level of investment do you have or would like to receive?
3 years ago we were purely an e-commerce site but with successful Seed funding from 500 Tuk-Tuks, we then launched our first store. To increase our funding we realised that the fastest way was through crowdfunding.  We had sought out locations across the city to open new bars, which we wanted to involve our customers in the company.
It is difficult to generate crowdfunding in Thailand, however, we decided to create a simple Facebook campaign encouraging people to be part of Wishbeer and to be integrated within the brand. We offered 20 million baht for 30% of the company. 1000 people gave us their names and details which transpired into 20 investors which generated 10 million baht. 
We want to be a startup that keeps innovating and create new ways of funding. Through this successful Pr and Marketing impact, we have been able to open a bar in Rachada and a beer garden in Charanakon. Last Saturday we opened a bar in Thong Lor. We have gone from 1 bar in one location to 4 locations in the past 4 months. Our goal is to keep growing the locations over the next 2 years. 
We still need to raise the next 10 million Baht which we hope to do through innovative ways such as word of mouth investors. We do hope to attract the more traditional forms of investment such as Series A funding which will help us to grow further.
What do you offer that is different from your competitors?
We educate the market by offering courses, classes and teach people what they are drinking with a focus on Craft beer which is new to people. People are interested in the different Craft Beers out there and we aim to provide a good experience.
Do you have any advice for Startups in Thailand?
It's difficult to raise funding in South-East Asia, however, it's always a matter of trial and error. 
Try to find new ways, be innovative in the way you want to raise investment. The VCs and seed funding is quite limited in Thailand and at the seed stage, it's quite challenging but crucial for companies to grow. 
Take risks and try to not need so much money in the begining
What are your future plans/hopes for Wishbeer?
Our mission is to disrupt beer commerce. We want to expand into the rest of South East Asia and eventually globally. We want drinkers to have a new and unique experience. We are focusing a lot on promoting Thai craft beers. We have over 500 craft beers and with the growing middle class in Thailand, we have seen a substantial intrigue into premium beers and less attraction to the commercial beers. 
2018 is going to be an exciting year with new locations opening across Bangkok. 
For more information on Wishbeer please visit their e-commerce site: