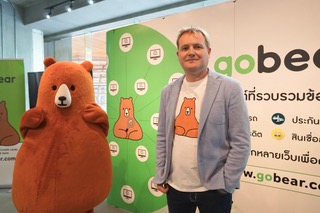 Recently TechSauce interviewed the CEO of GoBear, Andre Hesselink. This successful startup, financial services comparison platform has some useful tips and advice on how to push forward into emerging markets.  
As a successful startup, you have already expanded into six countries which are impressive. What advice would you give other startups that are looking to expand?
Its always hard to know where you want to go in the beginning. We knew we wanted to go to multiple countries. It's important that the technical setup is scalable and ready for expansion. It's not bound to one product or language.  You should keep on evolving and adapt for your users and clients.
What was the initial trigger that made you want to develop this particular comparison website?
We want to be the trip advisor for financial products. the products are sold by the banks or providers but nobody seems to buy financial products. We wanted to be unbiased and not owned by a broker which most comparison websites are formed around that sell the products. We want to educate people and give them the right content to enable them to make the right decision.
How will you make money out of this model?
We have the same model as Google. It's a click model or we capture the leads so we get paid for the clicks but no commission. In that sense, it doesn't matter which products they use it's more about the click-throughs. We have almost 4 million users a month. we have added more products and more companies with massive growth and has gone faster than we have expected.
Currently, are there any countries that you are particularly aiming for?
We are about to launch in Indonesia which will go live in 6 - 8 months, also for Hong Kong and Taiwan. In the future, we want to rise to over 60 countries. if that works out we will have 8 or 9 vertigo's of Go Bear live in every country. This will enable us to be the TripAdvisor of our sector. Its a lot of work but it will be worth it.
What is the criteria or measurement for stepping into a new country?
There are a couple of things. We cant just copy and paste for each country. the technology can stay the same, however, we need to localize. we need to create content that is geared towards the country and local people.
What would be your advice for startups working with different cultures?
It starts with being open-minded and being in the country. you have to be present all the time. It's good to have local leaders on the ground with international experience so there is a strong local team, which not a lot of countries use this framework or model, however, its known to be more productive for us anyway as it serves and provides customers with localized information specific to their needs.
Are there any ambitious goals to expand across the world into other markets?
Of course, eventually we want to be world renowned, however, at the moment the south-east Asian markets are our comfort zone. but we definitely have that ambition.
Since the inception of the company, 2 and half years ago, how has the consumer changed?
The big companies like grab and Lazada really helped people get online and buy online. E-commerce and the number of searches have tripled online which is an interesting trend for us. Extremely developing countries such as Vietnam and Thailand are very open and receptive to our platform. If you look at financial banking and Fintech in particular, less than 10% is sold online or direct. Where I'm from it's 60- 70%. It will rise by at least 30% in the next year so it's just starting in that sense. People want to be independent and make their own choices, however when it comes to financial services it is difficult to navigate the products. Our platform helps people to gain the knowledge of the products and to make their own decisions.
We write more than 100 articles a month, all centered around financial education, there is a big gap in knowing how to use the products. so its all about education. our content strategy is the most important thing for us.
Any last advice for startups in Thailand?
Just follow your dreams, you make your own life and make things happen. Create your own happiness.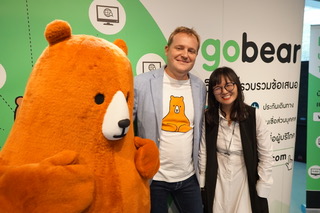 About GoBear:
In a nutshell, GoBear makes it simple for you to compare insurance plans and financial products to find the one that's right for you. We take all the complicated and, let's face it, boring information from banks and insurance providers, make it easy-to-understand and put it on your computer screen, tablet or phone in a way that makes it easy for you to compare apples with apples. That's it. No trick or surprises from us. (Except the good kind of surprises. We like those.)