Despite the chaos brought on by the COVID-19 outbreak, Southeast Asia is expected to see more positives than negatives in 2021 according to leading venture capital firm, Monk's Hill Ventures (MHV).
MHV Co-Founder and Managing Partner Kuo-Yi Lim and Partner Justin Nguyen recently revealed the MHV 1H Southeast Asia VC Outlook for the new year, which apparently seems somewhat bright. The two gave details on what sectors are receiving the strongest deal flows, the continued interest from institutional investors in the region, the lessons learnt in 2020, and the three key themes for 2021.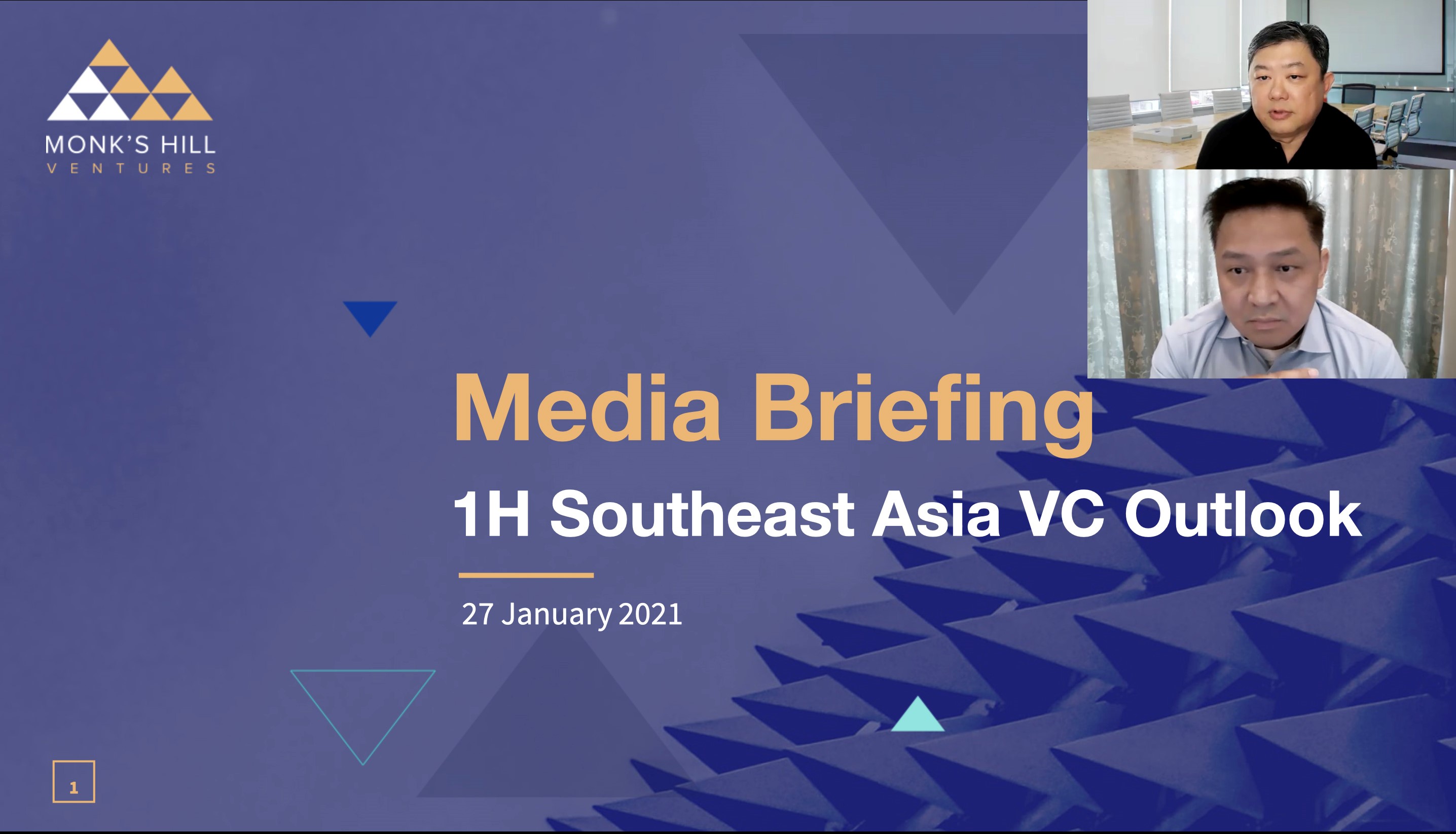 More Positives than Negatives
You would think that there was not a lot to be happy about in 2020, but apparently MHV said most of the companies in their portfolio were able to weather through and even grow amidst the pandemic. The areas that saw growth was digital health, logistics, EdTech, and SaaS. On the other hand, the future of travel is still uncertain.
Digital Health boomed in quarters 3 and 4 as there was more adoption of digital tech to manage medical care.
Logistics was down in the first quarter of 2020 due to the pandemic, largely due to supply constraints caused by lockdowns around the world. However, towards the end of 2020, there was a rebound and uptick as countries reopened.
EdTech growth was initially seen in the United States as schools were forced to move online. However during holiday breaks, the demand went down. This was offset by other countries in the Middle East and Asia that were not on holiday to use the technology. Once school was back in the United States in quarter 3, the sector recovered. This showed the potential of EdTech becoming a significant part in the education system post COVID-19.
SaaS and cybersecurity at the beginning of 2020 dropped due to economic uncertainty causing companies and people to spend less. However after the situation somewhat stabilized and people needed to work from home, there was more adoption in this sector.
Tourism undoubtedly suffered as growth went close to zero. There has been a slight comeback within regions that are reopening such as in China and Hong Kong. The future of this sector is still expected to be extremely uncertain until leisure travel is 100% possible.
Consistent Strong Deal Flow Across SEA in 2021
Overall the growing importance of technology in our lives during the pandemic has supported the mentioned sectors. There has been sustained momentum in deal flow in Southeast Asia as the number of deals jumped between 2019 and 2020. Most growth was in Singapore, Indonesia, and Vietnam. This underlines that some of the best founders emerge in difficult times. Companies with co-founders who have shown passion to create solutions during difficult economic times draw in investment.
The majority of the MHV deal flow in 2020 has gone to FinTech and IT sectors where emphasis has been put on software and e-commerce. Logistics remains a strong contender. This movement will not change much in 2021 because the sectors truly reflect the needs of the region for healthcare and financial services.
Lessons Leant in 2020 in Investing in the New Reality
Ultimately the lessons learnt in 2020 were influenced by the COVID-19 outbreak.
Adapting to remote due diligence: The shift to remote working brought about more robust and critical due diligence processes. This meant more reference to checks and increased conversations within the industry networks.
Founder Quality and Conviction Amplified: The crisis really filtered out founders who may not have had true conviction in their work. This allowed higher quality founders with solid fundamentals and higher convictions to shine in 2020.
Local Connections Matter: Given the travel restrictions, MHV took advantage of their teams being on the ground in 5 markets across Southeast Asia to build trust and longstanding relationships.
Strong Institutional Investor and SPAC Interest
Despite travel restrictions and economic uncertainty, strong interests remain from institutional investors in Southeast Asia. Participation ranges from primaries, secondaries, to co-investments. Meanwhile with the rising interest in SPACs or special purpose acquisition companies, MHV has seen enquiries about SPACs pick up significantly in the fourth quarter of 2020 and going into 2021. Despite SPACs being in the spotlight, MHV says, the firm is interested to see how companies continue in the longterm.
Three Key Themes for 2021
Digital-first challengers will be "attacking" service sectors that have attractive incumbent margins. Examples of these sectors are distribution channels for insurance and real estate. These "old school" sectors have the potential of being more open to digital first experiences.
New e-commerce platforms and brand drivers are appearing. This is literally "e-commerce 2.0" as sellers diversify beyond large e-commerce platforms such as Lazada and Shopee. The reason behind the migration from big e-commerce players is the huge influx of vendors and people shopping online. Social media will be used more to create new believers in non-traditional markets who are more willing to try new brands.
SaaS and enterprise application adoption is accelerating due to digitalization in Southeast Asia and the rest of the world. Locally grown businesses are coming up with SME solutions that have the potential to rival global brands. Progress has already been made in Vietnam, the Philippines, and Singapore.