As the Covid-19 Pandemic impacts the global economy and the way businesses have to operate, startups in Thailand and the region have to re-evaluate their priorities and decide what matters for their survival.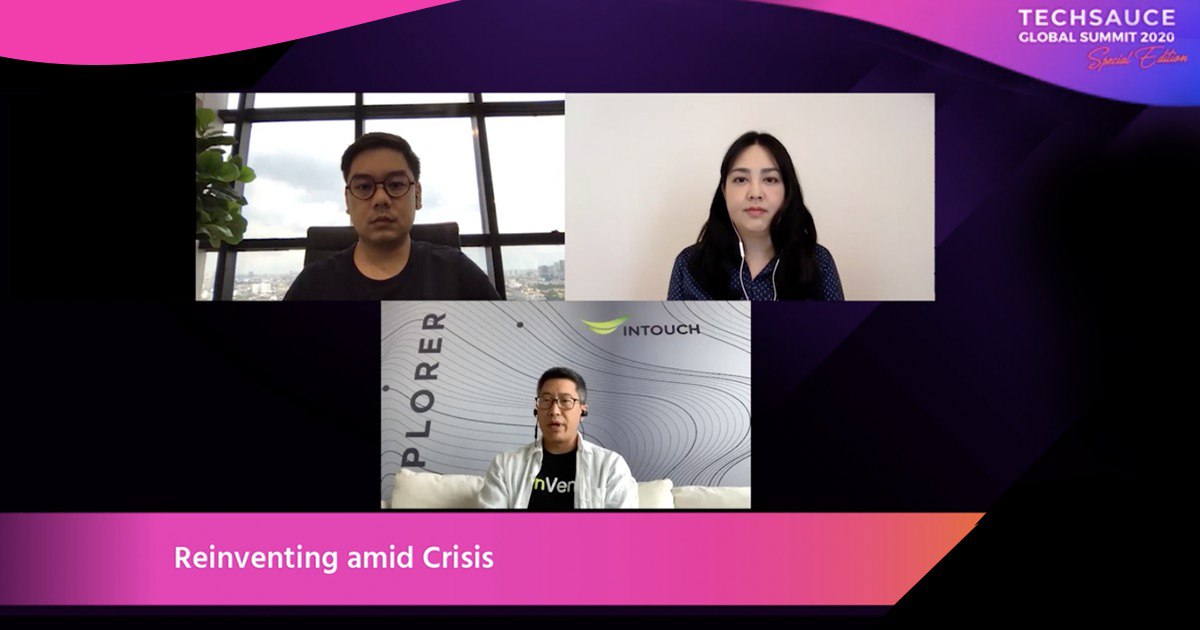 How startups and CVC work together through crisis? The pandemic is beyond anyone's expectation. On a basis of 'now or never', it requires startups and CVC to re-evaluate and prioritize what matters to survive and sustain going forward. Based on the true story from Eventpop and InVent, show how to rescue your business amid crisis. This is work in progress for building resilience.
The Speakers and Their Firms:
Mr. Ted P. Thirapatana is the Deputy CEO of Intouch Holdings. During this discussion, he speaks on behalf of InVent, the Corporate Venture Capital (CVC) division of Intouch holdings. InVent, founded in 2012, focuses on strategic investments in early to growth-stage tech startups in Thailand and overseas. InVent aims to work closely with the founders of its portfolio companies and utilize its resources, infrastructure, and network to help the startups access markets, scale their business and disrupt digital inclusion in Thai society.
Mr. Max Pattaraporn Bodhisuwan is the CEO of Eventpop, an end-to-end event management platform that offers a number of technology-oriented services; from ticketing and on-site control to cashless payment solutions and CRM suits. Eventpop aims to provide the best possible experience for both event-goers and event organizers through their end-to-end platform. The startup, founded in 2015, is a portfolio company of InVent.
What were the initial reactions to the Covid-19 Crisis?
InVent:
With over 20 companies from Thailand and around the region in their portfolio, InTouch has to keep close tabs on their portfolio companies, ensuring they know what every company is doing at every point in time, constantly reassessing, reflecting and reinventing whenever possible.
Mr. Ted Thirapatana mentioned that they were always in touch with their portfolio companies to try and figure out how to support them and help them through the crisis. InTouch and their portfolio companies, the discussions became one that primarily focused on how they would support the companies, what they would provide, and when they would provide it.
Eventpop:
As Eventpop is in the event space, they were one of the first industries to be affected by the Covid-19 pandemic. The startup saw a decline in their revenues as early as January, when Chinese attendees who typically join the Thailand events during the holiday season were starting to have travel restrictions. By February/March, when a lot of the public understood that the pandemic will be a long-term issue, Eventpop saw even more decline in their ticket sales along with a decrease in demand for event hosting.
Eventpop's first reactions were primarily about continuity and damage control. From February onwards, the management team tried to make it so that the company can continue to operate and not give in to the pandemic. To achieve this, Eventpop had reduced its burn rate (rate at which the venture capital is spent/cash spent per month) by 40%.
Mr.Max Bodhisuwan said that "the main goal for us was to work out what was missing". Apart from revenue, the startup had to consider what kind of support they need, whether it be capital/funding support, connections, exploration opportunities, or other support forms. The startup had to think outside of the box and figure out what other industries outside of events would their technology be useful and valuable for to create another revenue stream.
How did Eventpop Reinvent their Business? How Will The CVC's Relationship with Startups Change Going Forward
Prior to the Covid-19 crisis, Eventpop, as the name suggests, was primarily focused on working within the event space. As social distancing and lockdown rules were introduced events have not been able to take place on the same scale. This means that Eventpop has had to pivot and reinvent themselves and their business to survive during these times.
The startup had to go back to the drawing board and figure out, as a team, where their forte lies and what their strengths and weaknesses are, the company then explored new opportunities that they could pursue based on that strength. They found that they were very good at developing tech, and producing things with a fast turnaround time and that the company is also very efficient and professional in the O-to-O space (offline to online, online to offline). The company shifted their business from things like ecommerce, and providing ecommerce solutions to online booking for different kinds of services, restaurants, spas, and zoos (once they opened after the lockdown). Mr.Max believes that working from the team's core strengths and trying to find different ways to make revenue was a key part in transforming the company.
Finally, Max mentions that one of the most important things for them was setting internal goals and milestones. Instead of having KPI milestones such as how they could scale to 10 countries or bring another 100 merchants onboard, the company mainly focused on breaking even. This goal brought the various teams within the company together to try innovate and come up with new ways to create revenue, the goal became the main purpose for everyone who was at Eventpop during the period of lockdown.
Invent as an investor of EventPop were doing their best to support how Evenpop decided to reinvent themselves, test new ideas, and try new business models. The CVC would try to connect Eventpop with partners and businesses that they believe would result in a mutually beneficial relationship.
Mr. Ted says that the relationship between Invent and it's portfolio companies have definitely evolved into a more involved. The CVC is consistently doing bimonthly assessments and reassessments of their investments. Furthermore, Invent looks to help out their portfolio companies wherever they can, whether it be in governance, legal, financial, or business connecting as we have seen them do with Eventpop. Mr.Ted says that CVCs themselves have to learn new skills (upskill) and evolve to be a more high-value strategic investor.
What Will The Reactions be if There is a Second Wave of Covid-19?
Eventpop has transformed significantly and is currently surviving on revenues that are generated outside of the event industry. Mr.Max believes that the second wave would allow the company to explore outside of the event industry even further. Overall, Mr. Max believes that the company and its employees will be much more prepared for skills and adaptability, and more resilient against how things will be if there were to be a second wave.
As for Invent, Mr.Ted believes that whether you're a startup or a large corporation, you will have to recreate and reinvent their system to work with the second wave of Covid-19. He believes that it is essential to build a framework and shift processes to work around the challenges that will come with the second wave of Covid-19 by basing them on the first wave's challenges. Overall, Mr.Ted emphasizes that companies within all industries must be ready to reinvent themselves at all times.
What is The Thai Startup Ecosystem Like Right Now?
According to Mr.Ted, the Thai ecosystem, including the stakeholders, leaders, and players, is very young, especially in Silicon Valley. Mr.Ted states that continuity is the key to the evolution of the startup ecosystem, and so those involved in the Thai startup ecosystem must continue to develop, grow, and help buildup the ecosystem to survive through the pandemic and come back stronger. Mr.Ted states that "everyone has a role in helping build the ecosystem, whether you are the talent, the startup, corporation, public sector, or consultant/financial advisor. The key is to understand your role in it, and contribute (to the ecosystem)".
This is just a sampling of the great content you'll find at the Techsauce Global Summit 2020. Check out all the sessions here http://summit.techsauce.co