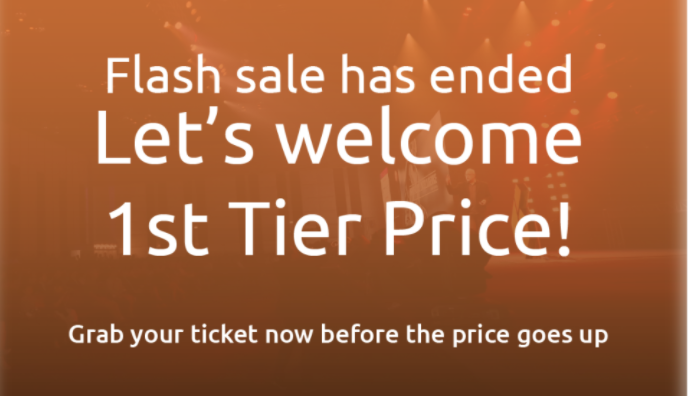 TechSauce global Summit will kick off again from June 22- 23 2018 at the Bangkok Centara Grand Hotel.
The Tier 1 tickets are on sale now and now is the cheapest time to buy them!! The options are as follows:
Grand NOW 3,900 THB (from 13,500 THB) includes meal, workshop and after party
Premium NOW 2,900 THB (from 12,000 THB) includes 2 day conference - no meal + after party
Standard NOW 2,500 THB (from 11,500 THB) includes 2 day conference + no meal
This price will only be available until the end of November 2017! Hurry Up! Grab it before it's gone!
Welcome back to the greatest and most successful tech conference in Southeast Asia! We're back and bigger than ever with the 'Techsauce Global Summit 2018' which will be held at the Centara Grand, Bangkok on 22-23 June 2018.
Grab the 1st Tier Price from today until the end of November 2017 for the best prices. We have the biggest collection of tech talent from thousands of global startups, venture capitalists, angel investors and large corporations. Mingle with fun, enthusiastic people for the perfect networking environment.
This year we have a focus on deep-tech with world-class speakers including international & Thai startups that will help all aspects of business technologies expand, integrate and build a stronger ecosystem for Thailand as a whole.
Buying one of our tier tickets will enable you to have access to the whole event, learn about what each and every industry will look like as we progress into the future of technology.What changes, enhancements and dynamics will be shaping our societies, cities, daily and working lives?
Support Asian and intwtech staiartups as they pitch to investors to seal lucrative deals that can push the business, economic and technological structures of Thailand into the global arena. Attract foreign investors, inventors, inspiring tech influencers and help integrate the rest of the world with  Thailand.
For more information on the event and where to buy tickets click below to gain access to the website.