With the Techsauce Global Summit 2022 under the theme of "Opportunities Made Possible" has come to pass, out of the 300 global tech experts joined were five Polish startup companies brought together by the Polish Investment Trade Agency (PAIH). Representing a different sector but sharing the same goal to promote economic development and international Investment between Poland and Thailand.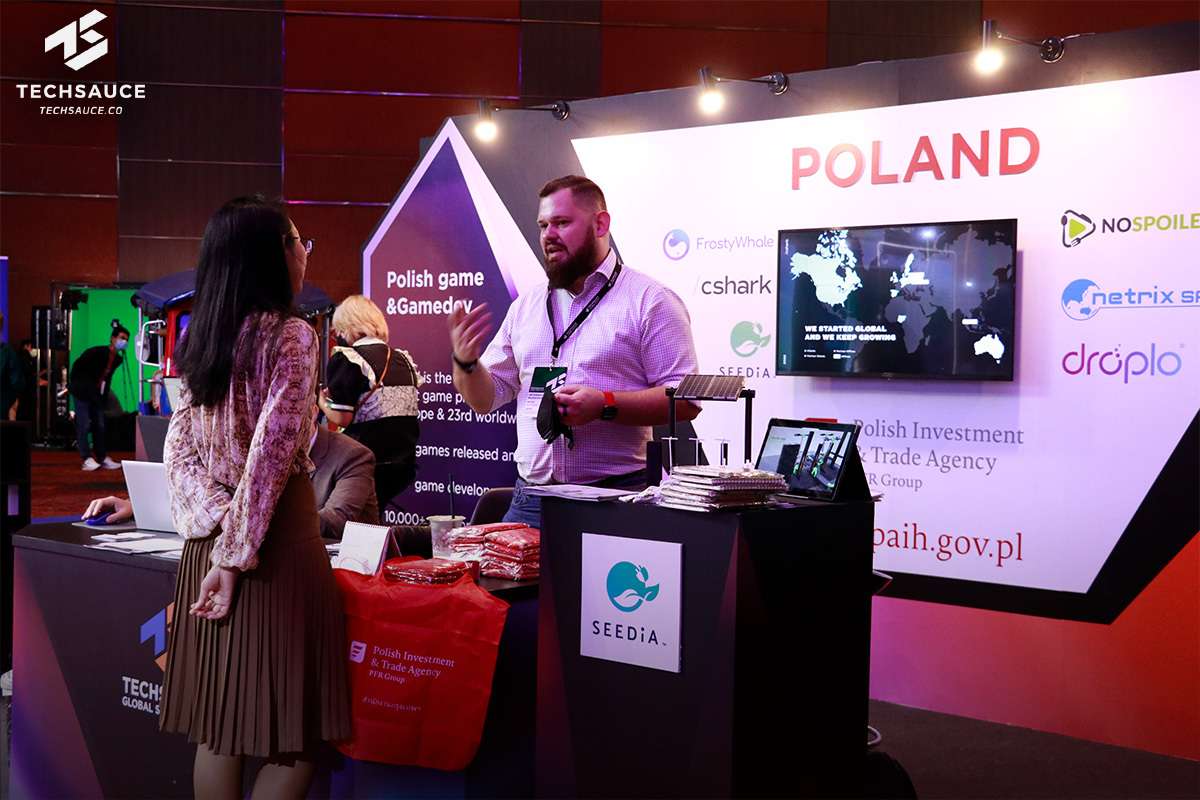 Here are some of the excerpts from three of the five representing company from the Poland Pavilion in the TSGS2022
FrostyWhale: Bringing Originality to the Virtual World
Amidst the Pavilion booth is Frosty Whale, led by its co-founder and CEO Paulina Bialek, a platform that aims to build a much closer connection between fans and influencers online by bringing the funds to them.
"What we do is work with influencers very closely to identify their most loyal fans, helping them monetize their connections"
Frostywhale enables a shift for influencers from selling traditional merchandise to selling digital assets like NFTs. This fan to become owners of the Digital Originals (digital assets) created by their favorite influencers and be recognized and appreciated for their support which overall will strengthen the relationship between them.
For Polina, FrostyWhale is currently on the lookout for potential investors to join on its goal
"We are looking for investors as we are raising our next funding round. But also, as we started in Thailand, this was our first market for this platform and our service. We are also looking for some media partners, influencer agencies, and potential partners connected to the entertainment gaming industry.
Throughout the summit, she is positive about Thailand as a market with huge growth potential and stressed that the startup will look to focus and expand here.
cshark: Builds digital products that people love
Next to FrostyWhale is its digital maritime relative, cshark with its Head of Design, Martyna Mrozek. A globally hailed software house with over 300 members has been offering solutions to help enterprises with digital transformation and start-ups translate ideas into products since 2014.
Specializing in full-range digital product and product design, as of 2022 Cshark has helped the industry deliver solutions across sectors from Fintech, Med-tech, biotech, gaming, and IoT, to climate. With its service and quality customs, the startup is currently ranked among the 1000 fastest-growing companies in Europe.
"Our unique knowledge is that we know how to range from startup to enterprise, from scratch to finish"
For Martyna, joining TGS202 as Head of Design of Cshark Poland's office is more than just networking with potential clients. With cshark most recent office opened in Singapore, coming to Thailand is another step toward understanding culture, communication, expectation in product design, and the plan to what build next in this regional market.
For those interested in cshark's work, be it in product discovery to service design branding, Martyna invited all to look at the company's portfolio on Behance.
dropLo: B2B Wholesale Platform for E-commerce
Another exhibitor from the pavilion is droplo with its co-founder Thomas Ginger, representing a European e-commerce platform and marketplace for producers, suppliers, and wholesalers.
With e-commerce sales projected to hit $6.5 trillion by 2023, droplo aims to let its users take a slice of the pie by making the dropshipping process much more convenient.
With its platform, online retailers can connect with wholesales, manufacturers, and suppliers of goods to stock their stores and make sales – strengthening the supply chain ecosystem and better customer relationship management practices.
Joining in at TSGS2022, droplo is looking to take the first step on its global expansion, by connecting with suppliers and partners from Asia that offers a ready-made product to sell in Europe. Thomas shares his hope,
"We are here because we've got a lot of questions from Thailand, from producers to manufacturers. At droplo, we have over 30 warehouses across Europe and could offer direct shipping and fulfillment from front to end for the customer. It's a complex solution that we are trying to offer, and that's why we are here".
He also has expressed his excitement for droplo in the opportunity to connect, and exchange knowledge and experience with potential partners with expertise in e-commerce and looks forward to cooperating with some of the companies here from Thailand after the conclusion of the event.
Representing the Pavilion: Polish Investment and Trade Agency (PAIH)
Lastly, leading the Poland Pavilion, Robert Bak from Polish Investment and Trade Agency (PAIH), represents Poland's ingenuity as an innovative country with new technologies and the biggest startup scene in Central Eastern Europe. Most recently, the country was voted the seven friendliest country for startups in the world, as Bak stated.
"In Thailand, not many people know about this yet, so we try to spread the word. We want Thai people to be aware that companies from Poland are very innovative, also at a competitive price. And that's important nowadays. So yes, this is the idea why we are here"
With the post-pandemic recovery commencing and the world's tech scene on its way toward full-speed throttle comeback, he invited Thai investors, potential partners, and others who desire to explore and connect with the Poland Tech scene to enquire through PAIH's Bangkok Office.
More about the five companies
Frosty Whale is a platform that connects fans with their favorite influencers. Fans can become official owners of Digital Originals created by influencers and be recognized and rewarded for their support.
cshark – a company with making purpose-fit software solutions & helping organizations boost their business with IT outsourcing, consulting & product design. It's a custom software development partner that helps enterprises with digital transformation and start-ups with translating ideas into successful products.
dropLo – a B2B e-commerce platform for online sellers to connect with wholesalers, manufacturers, and others to find ready-made items from all over Europe and make sales. Following a drop shipping-focused model with access to over a million finished, semi-finished products allow sellers to easily operate a fully functional online store.
SEEDiA – From designing smart benches to E-Scooter chargers, SEEDiA is on the mission to design for Smart Cities modern and innovative usable objects of small architecture powered by solar energy
No Spoilers – a cloud-based platform with the mission to make hospitality more efficient through automating tedious tasks, reducing losses, optimizing labor costs, and preventing food waste with its inventory management system.