We're at a turning point where ecology becomes economy. The links between the economy and the environment are manifold and yet we have not been making much progress on reducing the damage business does to the world. Many companies are now taking the lead in environmental matters and in this panel, three panelists talk about their views on 'The Economic Case of Sustainability'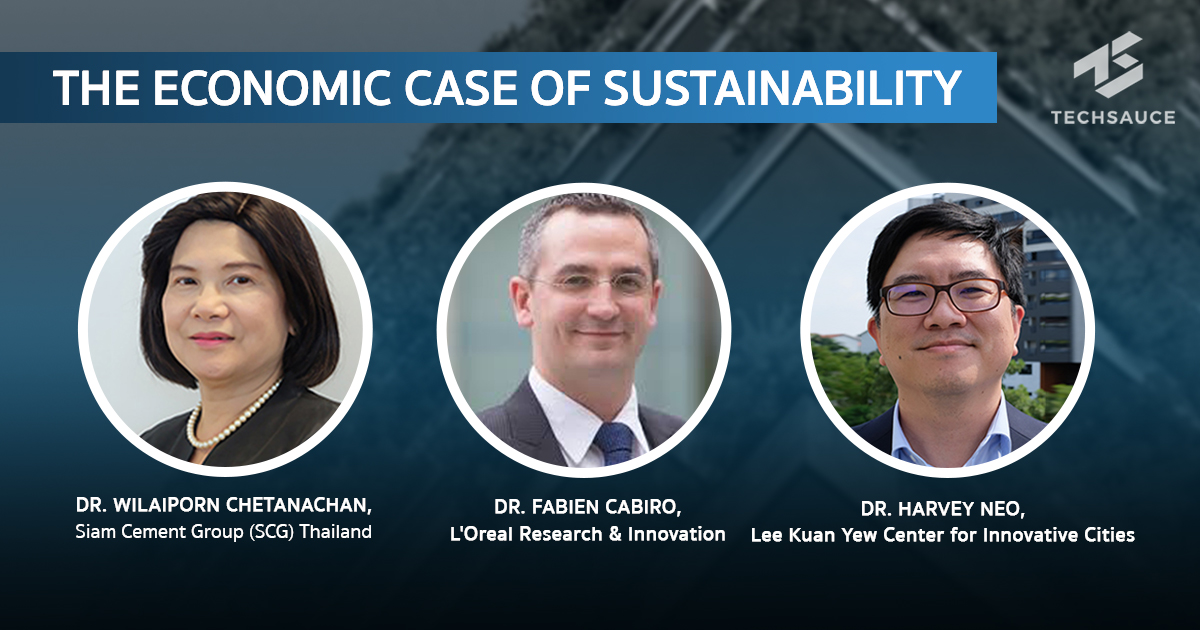 The three panelists on the panel:
Dr. Wilaiporn Chetanachan, Siam Cement Group (SCG) Thailand
Dr. Fabien Cabirol, L'Oreal Research & Innovation
Dr. Harvey Neo, Lee Kuan Yew Center for Innovative Cities
The pursuit of sustainability can bring about many benefits. The panelists discuss sustainability to businesses.
Dr. Wilaiporn mentions that SCG is trying to focus on promoting the use of reusable products. Especially in Thailand, consumer trends are changing. People are willing to purchase sustainable products even though they are more expensive. For instance, many businesses in Thailand now use paper for packaging instead of foam or plastic. She further notes that sustainability starts with what businesses try to promote. When sustainability is promoted, it can make more people realize that they should be more environmentally friendly.
Dr. Fabien shares about how L'Oréal integrate sustainability in their business. L'Oréal has 4 pillars to its sustainability commitment.
Innovate Sustainability. Any innovation in the market needs to add something to sustainability.
Produce Sustainability. This means to commit to quality. Improving the production and manufacturing of products is also working towards sustainability.
Live Sustainably. Allow consumers to use products in a more sustainable way. For example, shampoo that allows consumers to use less water when rinsing their hair.
Develop sustainability. Through social engagement by supporting groups like minorities and underprivileged. This also means to have their products to be traceable.
Taking these 4 pillars into account, consumers' conscious choice to purchase products is affected by trust. Communication towards consumers is very important. We can do a lot but by the end of the day, if we do not communicate the right things, we cannot engage and encourage consumers towards sustainability.
It is important to have clear metrics on how to evaluate progress towards sustainability. By 2020, L'oreal aims to improve social impact and environmental sustainability by 100%. High targets need to be set and clear metrics will help measure the impact of products on sustainability.
Dr. Harvey Neo speaks on his opinion towards the complication of measuring cost benefits of sustainability. He gives the example of organically grown meat versus conventionally grown meat. Organic meat would be 30% more expensive and people think they are paying for less environmental impact. But that need not be necessarily the case, there are some studies that show conventionally farmed meat turns out to be less environmentally harmful. The calculus of cost benefits sounds messy just looking at food alone, especially having to take into account the cultural and ethical issues involved as well. Thus, he feels that this makes it very much complicated to measure how sustainable we actually are.
Environmental policy evaluations are often hindered by a lack of consistent metrics to compare the costs and benefits of policy changes.
There are hundreds of certifications and philosophies regarding measuring sustainability. The panelists discuss some of their views on measuring sustainability.
Dr. Fabien feels that the state of measurements are a bit complex and it depends on the industry you are in. For the beauty industry, what's interesting is that there is a clear understanding from the consumer point of view of what that means. Consumers now proactively make a choice when buying certain products and the certification becomes a 'level' to meet their standards. The certification represents a certain achievement, as consumer's understanding gets better. Companies have to make a conscious effort to know where improvements should be made and change to be more sustainable.
Ultimately, Dr. Fabien highlights that the packaging of products is the biggest thing that needs improvement. That is what represents the biggest impact on sustainability and that is what consumers see. On the other hand, the certifications that talks about ingredients may not be the best way to emphasize the contribution to sustainability. This is as compared to the certifications that highlight the huge progress in sustainable packaging.
Metrics can help us realize where improvements can be made. To add on, the right certification can show that improvements have been made. Consumers understand and make choices based on these certifications. Sustainability may come with costs, but this should not be what deters us. We should create new opportunities with innovation.
Dr. Harvey mentions that it is important that we get the data and facts right. People are now getting better at measuring environmental impacts. On the other hand, there are many things we think we can predict with data and facts but somehow reality proves us wrong time and time again. What is problematic is the facts and data that revolves around human feelings. That is challenging to define. People are fickle-minded and they change moods quickly. It is difficult to account for the sentiments of people in terms of the way they look at the future and sustainability. He thinks that this is one of the major challenges in understanding how we should move or where we are heading towards sustainability.
Sustainability is becoming more important for all companies across industries. Thus, businesses are embracing sustainability and recognizing the need to act towards sustainable development.
The panelists share what their respective companies can offer to those passionate about sustainability.
Dr. Wilaiporn mentions that SCG has quite a good size in their Research and Development group. They currently have 1600 people working towards the innovation of sustainable development. With a total of 54,000 people working in SCG, they are constantly recruiting for people that believe in sustainable development.
Dr. Fabien tells us L'Oréal's participation with a fund in China which focuses on sustainability and helping new ideas in start-up to take off. This is one of L'Oréal's mechanisms to help innovation and practice collaboration. Today, they are opening communication to all kinds of partners and start-ups to help generate a new concept or a new idea to help drive their innovation strategy.
Dr. Harvey talks about opportunities in Lee Kuan Yew's Center for Innovative Cities. He is looking for people to work in their projects in Southeast Asian cities. All they need is someone that has curiosity, eagerness to learn and preferably knowledge on a Southeast Asian language. It does not matter whether you are looking to be an intern, research assistant, research associate or research fellow, drop them a line and they are happy to answer any kind of enquires.
Sustainability is a dependable route to high economical performance. It is not clear what our sustainable future will look like but with more and more companies heading toward sustainable development, people can now expect sustainability to be a core value in our society.