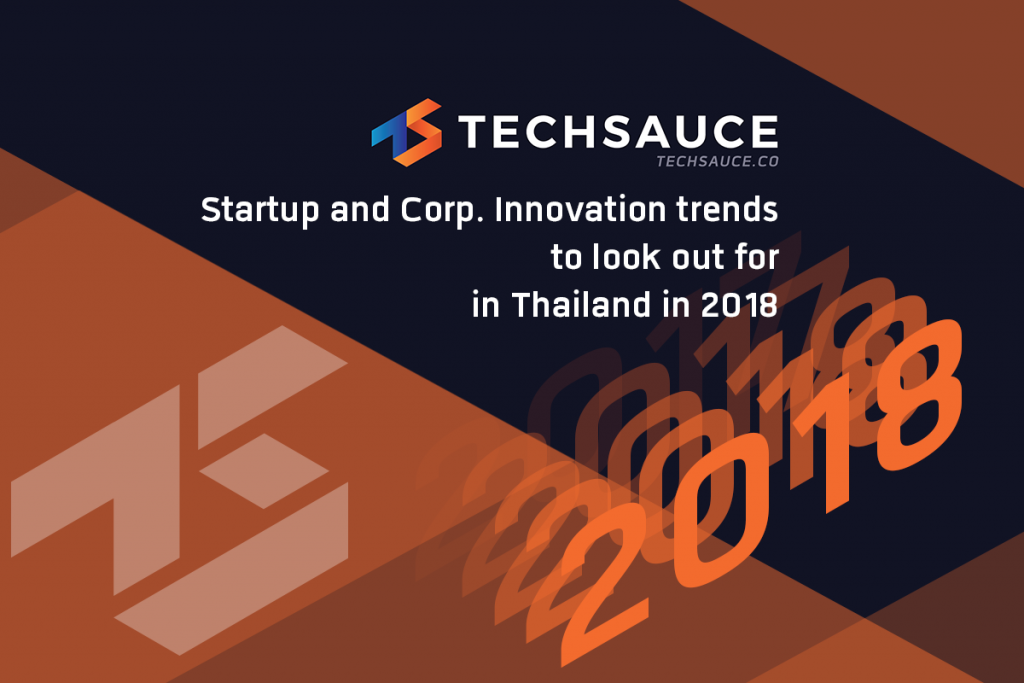 As we step into 2018, Teachsauce wants to give you a glimpse into what trends are on the way for startups and corporate innovation. Techsauce's own co-founder Oranuch Lerdsuwankij (Mimee) has summed up 9 trends heading our way and one more thing that we wants to see happen in 2018.
Article in Thai Language : https://techsauce.co/country/thailand/trends-of-startup-corporate-innovation-tech-in-2018/
1. Cryptocurrency and Bitcoin are evolving past Early Adopters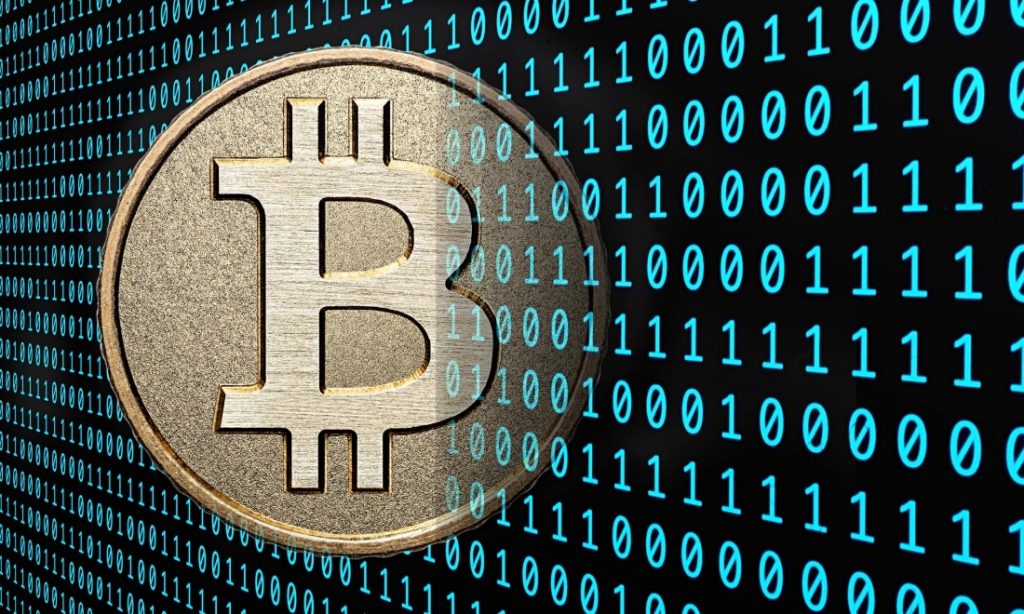 The word Bitcoin has gained much attention from Thais in 2017. This was especially seen in the third and fourth quarter, towards the end the year when the price shot up and crashed.
High interest remains in 2018 with the word "Bitcoin" and interest is expected to spread to other coins. This rings true for investors interested in high returns. Thai mainstream media has already reported on this.
Yet there are few who truly understand and appreciate various projects that utilize the benefits of Blockchain technology.
In 2018 you will start seeing courses pop up more on how to invest in Bitcoin. You can easily see this happening on Facebook. Have you ever seen the ads on it? There will be new "local gurus" too, focusing on how you can make money from Bitcoin, similar to stock market investment courses by local gurus that we have see in the past decade.
As for entrepreneurs, there is an increasing interest in investment for Initial Coin Offerings or ICOs, should it prove its ability to utilize the benefits from Blockchain technology to address problems. However technology and tools are like swords. If they are used in the wrong way, there is a lot of danger and vice versa. At present and in 2017 there has not been a committee set up to look into this. We have seen many entrepreneurs from overseas with bad intentions who have used this loophole to come up with funding as an ICO scam. So if you are looking to put your money with any entrepreneur you need to do your homework and do a background check. Find out about the history of the consulting team and what drives the brand or product. Do not just be lured by just the shiny white paper.
At the end of the day remember the famous Thai warning: "Investing comes with risks. Investors should research before making a decision."
2. Big organizations have more experience and know what to do next
We forecast in 2018 that new Corporate Accelerators in Thailand may not pop up as much as in the past. Various projects in Thailand are entering the experimentation stage of seeing what works and what does not.
Most big organizations are starting to see that not all businesses need to have an Accelerator and if they do have one, it would have to target the specific knowhow needed in that particular business. They may instead look at the regional level of Multinational Corporations or MNCs and select startups from other countries to join their own projects instead.
We are starting to see organizations asking and getting answers that are clearer in terms of what they want from startups. At the end of the day how beneficial is it to have an Accelerator? Some organizations may benefit from startups extending their companies successfully while others see direct investment more profitable than setting up an Accelerator.
There are many aspects that contribute to Corporate Innovation. Corporations have to make preparations within their organizations and search for new cultures from outside. This new year will probably not only see big corporations expressing interest in this, but middle-sized organizations as well, that are becoming aware of disrupters in their market. The most important thing is leadership must always be on the alert. It gets really scary when a company does not think that anyone can disrupt it and are not on the lookout.
3. Big organizations are searching for DeepTech overseas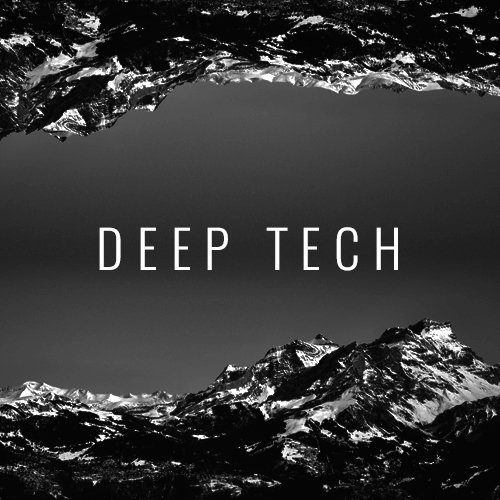 DeepTech is receiving a lot of interest in various business sectors, whether it be in AI, niche Data Analytics, or loT. Many organizations in 2018 are searching for technology from overseas to add on to their businesses and help them compete in their markets.
There are hardly any startups in Thailand seeking new innovations by themselves in terms of technology from 0 to 1. That is why we are seeing large corporations seeking that innovation overseas. It might be in the form of investment in a fund that focuses on DeepTech to learn and use Proof of Concept in their organization.
For those who want to see the latest DeepTech in 2018, head to Techsauce Global Summit 2018 from 22-23 June 2018 at Centara Grand at Central World. Book your tickets at a special price at https://summit.techsauce.co/
4. Startup mergers and corporations beef up by acquiring startups
E-commerce and logistics will continue to be hot in 2018. We may see small startups with similar businesses merge together to go against big players from overseas entering the Southeast Asian market.
Meanwhile we will still see big corporations from overseas looking to step into markets in this region acquire local players with great potential either in the region or within individual countries. This is a way to expand quickly and at the same time cut off possible competitors in the market.
5. Watch out for the Chinese invasion in Thailand and the consumer data in their hands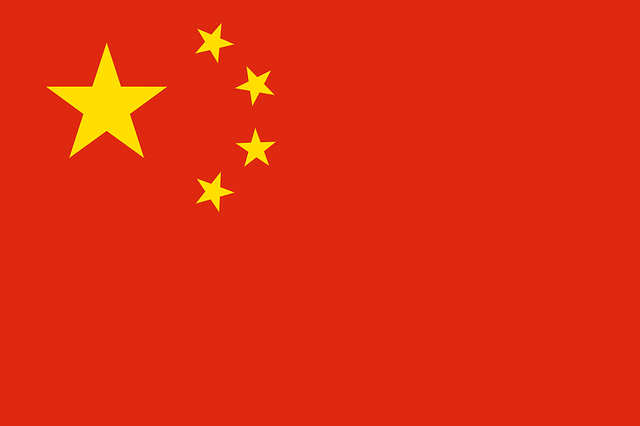 It is already a huge invasion! Actually, the presence of big brother China is not only felt in Thailand, but across Southeast Asia or SEA. The Chinese are not only in the e-commerce sector, but in the FinTech sector as well. Actually it is more about being king of consumer information as it all flows through their platforms whether it is through selling or buying. Consumer data in the region has now fallen into their hands. It really started a year ago, but this year is when we will see the fruits of that data collected being fully utilized.
We will see Consumer Insight being used to adapt service to cater more directly to customers in this region from big solution-finding players like Alibaba, JD, and Tencent in the past year to others such as those in the Bike Sharing market with Ofo and Mobike in 2018. We must look out for other types of businesses entering Thailand because their arrival will have an impact that is either positive (with some markets) or negative on the Thai businesses that cannot not be avoided.
6. Data is important, but value is in Insight
Various Thai organizations acknowledge data is important, but in 2018 the search for insight from data will continue to be a challenge. Big corporations will still search for Data Scientists, especially in business dealing with finance, banking, e-commerce, and energy for instance. Many times bright Thais are scouted from overseas. Once those are hard to find, some companies go out of their way to create communities starting at the university level to develop potential students who are about to graduate. When they graduate they are then invited to join the companies where they will receive further training.
Data Visualization has also gotten a lot of attention as a tool to get Insight easily and faster. Examples are Tableau, Nugit, and Google Data Studio.
7. Will AI take my job?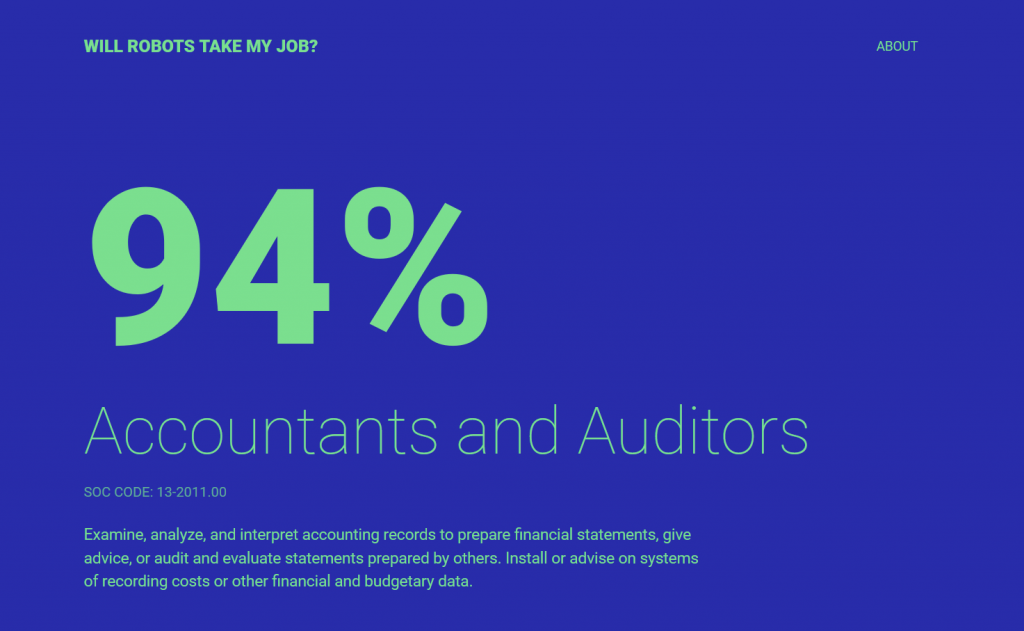 It's a question in everyone's minds, no matter what industry you are in. Will AI or robots take my job? This question is being asked more and more by everyone.
According to statistics 94% of careers related to numbers or anything using history for analysis such as accountants and auditors will replaced by robots. As for market research analysts and marketing specialists, 61% of the jobs in the sector will be replaced. 43% of economist positions will be replaced by robots as well.
In addition we found out careers dealing with liberal arts, literature, or work that uses fine artistic skills have not had much impact from AI or robots because this work involves more complicated processes than work that can be done systematically. However there is a need to support creative thinking especially for those in this industry.
If you want to know the percentage of the likelihood that you will lose your job to a robot, you can check out the website "Will Robots Take My Job?" for fun. Don't get all stressed yet. ?
8. VR helps Corporate Training
VR (Virtual Reality) was created many years ago. In 2016 and 2017 many companies started to use VR to a certain degree. However what we often see is VR commonly being used in sectors such as real estate, hotels, tourism, and entertainment/gaming. Many still view it as technology that is not yet accepted by the masses as it still seems like an extra body part that you don't really have a real need for. It has not really solved a problem for consumers in any sector.
However this perception may change for the those in corporate training as VR may prove to be vital in certain forms of training. For example,
Training that involves extreme danger such as factory or construction work
Work that involves long travels and needs to cut costs in this area
9. Organizations are starting to have CDO positions
Some may think CDO stands for Chief Data Officer (which is correct), but we are actually talking about Chief Disruption Officer.
Many big corporations overseas are starting to have positions such as that of Chief Disruption Officer that play the role of researching what businesses are in trend, what businesses are about to fail, what businesses pose a threat to the company, and what technology may replace or threaten the company. This is all to prepare the big companies.
It reflects how businesses are seeing the significance of Disruption or the chance of business more.
Editorial Note: Thais should innovate to support growth in rice and food industry
What to look for in the business sector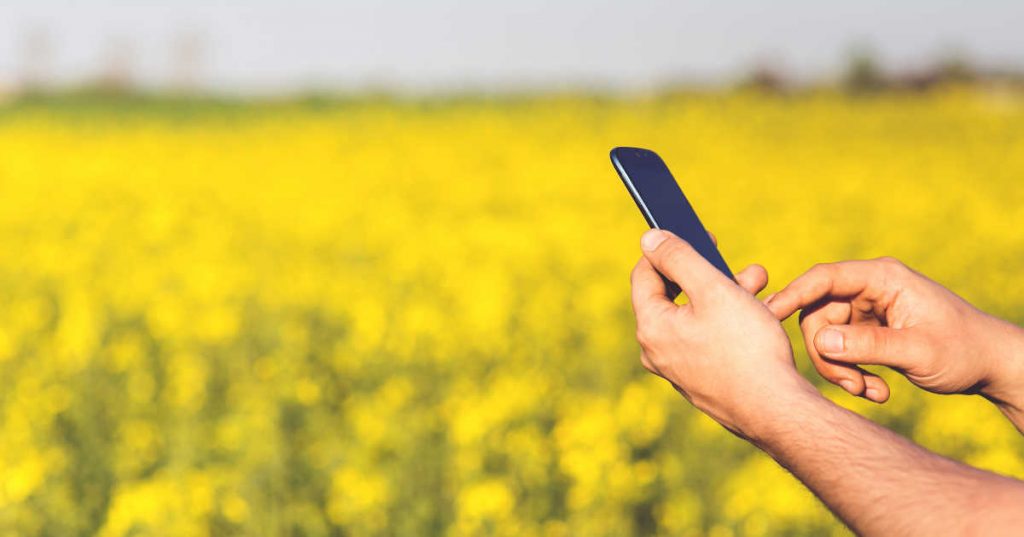 What we want to see and support various organizations in our country is new innovations and the adding of value to the agriculture industry. For example many people have realized that AriTech and Foodtech actually deals with Thailand's main resources. Foreigners have just been able to adapt it and sell it to us, and at an expense price too!
We want see support and creation for Thai businesses that use technology to sincerely assist society and help support important foundation of our country more.
We also want to see innovation in Thailand's HealthTech to improve the quality of life and lower the inequality in society. We want more access to doctors in various forms of communication and more usage of technology, starting with small departments of the system adapting to change to big organizations.
From Little to Big things : Adopting with Technologies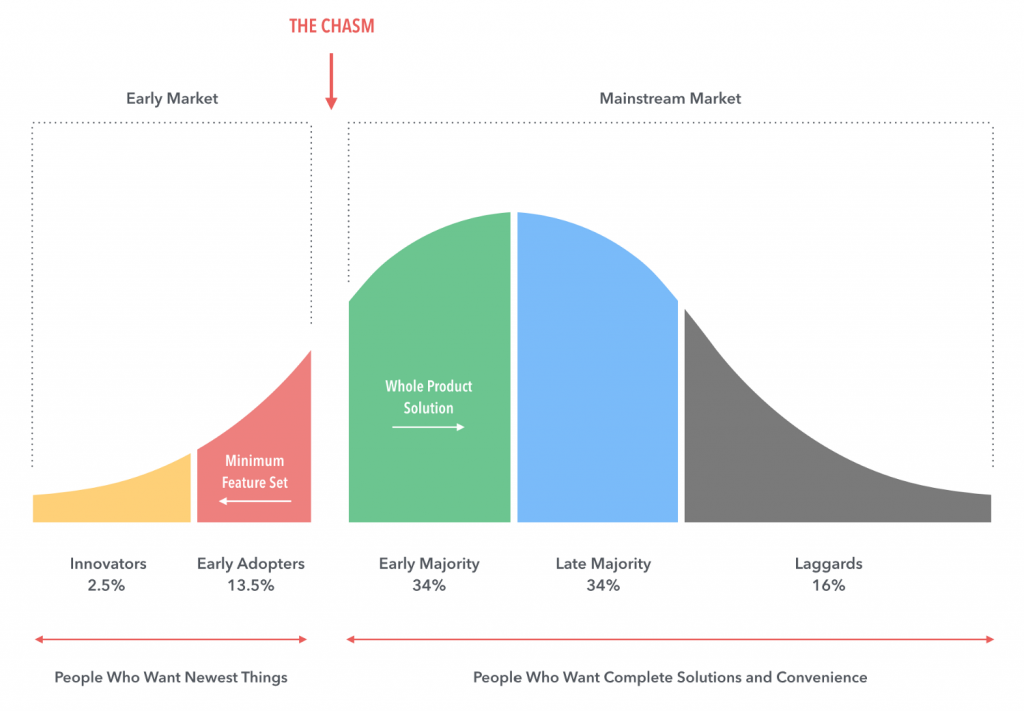 If we look at future technology (or what people are now talking a lot about, for example Blockchain and many other new terms such as Hashgraph and IOTA) we cannot avoid saying "Diffusion of Innovation". It is when a type of technology will be fully adopted by society and when society will see no use for it.
The Innovator group (those who experiment with new innovations) should know technology and various innovations. This is good, but that does not mean that there should be never-ending release of new innovation because many technology are unable to cross over the Chasm to be adopted by the masses.
We believe many organizations are starting with Proof of Concept (PoC) or are patiently waiting and monitoring trends to see if they have potential for growth or not, which is the appropriate way to go. They search for innovations around the world and even if they are successes overseas, the innovations may not always fit with Thai consumer behavior. If there is innovation that truly solves a problem, it should have limited effects in changing the consumer behavior. It is never too late to start small, test the waters, and learn what kind of an impact the innovation will have before implementing it at a larger scale.
Happy 2018 everyone!