As many of you may know, Thailand's Land Transport Department has already decreed that apps like Uber are illegal, and in the latest crackdown on the car-sharing app last week, the agency even announced that it might propose the use of the government's absolute power under Section 44 of the Interim Constitution to ask the military junta to crack down on Uber and close it and other such car-sharing apps like Grab within Thailand.
This news apparently shook Thai netizens to the core and went viral throughout newsfeeds last Tuesday. You may be wondering if this situation is unique to Thailand. What's the lowdown on situations faced by Uber in other countries? Here's a quick roundup of Uber's current progression (or regression) throughout the region.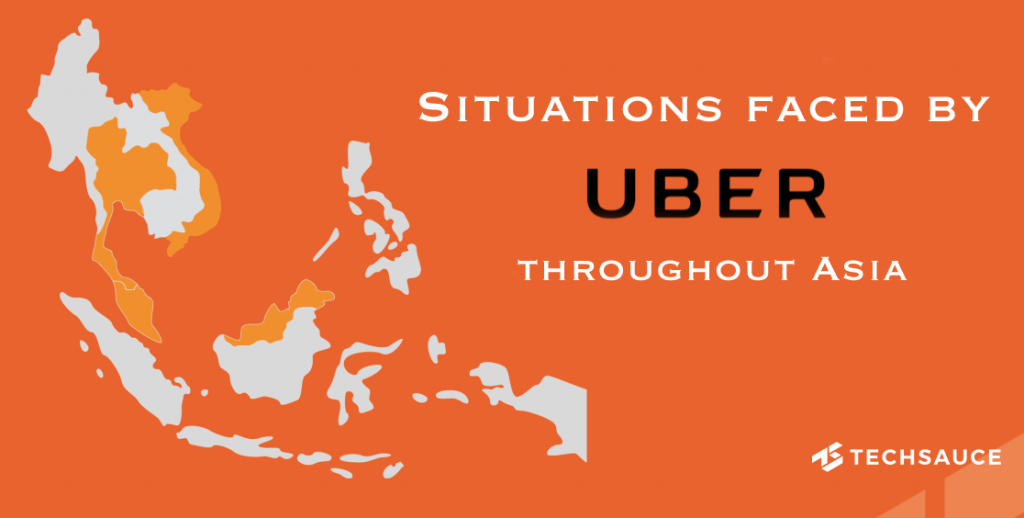 Countries that love uber
Uber legalized in the Philippines since 2015
In May 2015, it was reported that the Philippines was the first country to allow Uber to operate legally in every area. The Secretary of the Ministry of Transport of the Philippines once stated, "We look at technological innovation. It is a progressive driver especially in the communications industry that must be developed to provide increased security and convenience throughout the services. An influx in the use of the app's reservation services reflects the increased demand for mobile travel in a rapidly growing urban society."
Malaysia almost banned Uber, but changed its mind in 2016
The country revealed its change of heart in August 2016 stating that the about-face came from a need to reform the country's taxi industry. Malaysia's Department of Land Transport revealed its plans to revamp the entire industry, going so far as to license car-sharing apps like Uber and Grab which the country had actually tried to suppress back in 2013. This represents a huge shift in the agency's mentality and stance towards such car service applications.
Singapore: An Uber-friendly country
The little red dot has always been a space that supports apps like Uber and Grab very well, with many new services getting their launch there. However just this month, in a push to level the playing field between taxis and private hire cars, the country's Land Transport Authority now requires all current and future self-employed drivers of Uber and Grab to obtain a vocational driving license through a 10-hour course at the Singapore Taxi Academy.
Countries that have Uber in tears
Uber was defeated in China and finally sold to Didi Chuxing
Back in 2015, Techsauce Thailand reported that Uber exhibited very slow growth in China, when compared to competitor Didi Chuxing which is a China-owned app. Finally, in August of 2016, Techsauce Thailand also reported as soon as the news came out that Uber was forced to sell 80% of its business to its rivals such as Didi Chuxing – a crushing blow for one of the sharing economy's pioneers, especially since the Chinese government announced that it was going to open the legal pathways for car-booking apps to license their businesses just months after in November 2016.
Uber recently suspended its services in Taiwan
At the beginning of February, Uber announced that it would suspend its services in Taiwan from February 10 onwards. This move came after the Taiwanese government reported that Uber had been registered under the wrong type of company license and slapped on fines of over T$329 million (over $10 million USB) on Uber and its drivers, which the company said were the highest in the world. The government had also requested cooperation from Apple's App Store and Google' Play Store to remove Uber's app from its stores in Taiwan since way back in November 2016.
Uber faces myriad obstacles in India
For Uber in India, the main problem is not government regulations. In November 2016, there was news of a rally to legalize Uber and its rival Ola in India. But Uber in India has often faced other problems. In most countries, Uber's image is secure. In India, it's not – there has been news of rapes and crimes. In 2015 news of a female passenger being raped led to Uber's ban in New Delhi. Also, Uber has also been a victim of hacking when an Indian hacker was reported to have hacked into the app to provide himself with a lifetime of free Uber rides.
This is just a rough overview what of what Uber has faced in six countries throughout the region – stay tuned for more updates in this article as more of Uber's developments surface.