UK-Thailand Fintech has now begun with a brief overview of the Fintech landscape in Thailand to explore the 4 main areas of Fintech from a professional expert as well as to learn insights about the financial sectors in a panel discussion session to clearly point out the importance of Thailand's Fintech industry.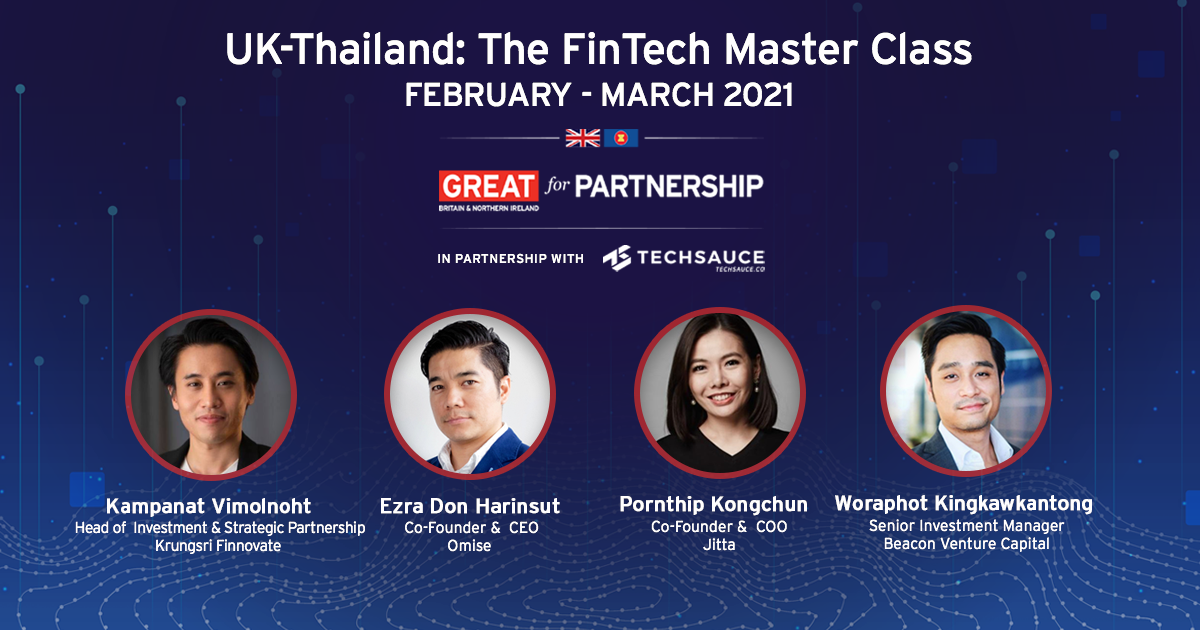 Brief overview of the Fintech landscape in Thailand
Kampanat Vimolnoht, a head of investment & strategic partnership at Krungsri Finnovate has given us the brief summary of how Fintech is currently positioned in Thailand's market. To start, Thailand is the second largest growing economy in SouthEast Asia following Singapore with the highest number of Facebook users and high penetration of social media ranking. The e-commerce in Thailand accounts for 52% with the major players like Shopee, Lazada, and Facebook. In terms of Thai Fintech startups, there are a total of 97 startups coming from the main industries including payment, blockchain, insurance, wealth, and accounting.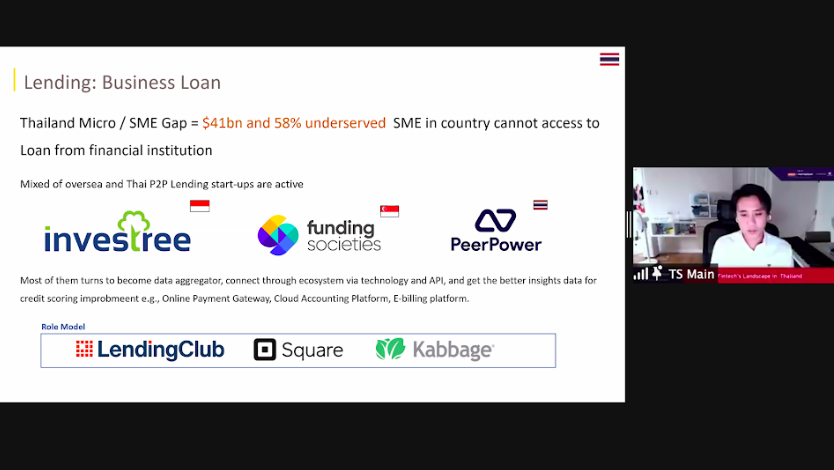 These industries are trying to tackle the financial solutions in Thailand by facilitating payment systems. Clearly, KBank stands at the top banking institution in Thailand dominating the e-payment for Thai mass consumption followed by เป๋าตัง, SCB, and True Money Wallet, which is a nonbank service. This year, e-payment has increased rapidly with the coordination of the big financial firms, for example, Grab has joint with Citibank, KBank, and Krungsri to facilitate credit card and loan payment via online system and also Shopee has connected with KBank and SCB for a similar purpose. Most companies have their own ecosystem with payment systems, for instance, Shopee Pay, Lazada Wallet, Grab Pay Wallet, LINE Rabbit, and LINE BK. With these massive ecosystems by the big firms, it is difficult for new entrants to enter the market.
Speaking of SME and loans, although the SME market is at $41 billion in Thailand, 58% of them cannot access loans from financial institutions and, surprisingly, 40% of total household debts are shark loans. Many startups are currently trying to assist these people from being a target from shark loans by creating new platforms like Noburo, the B2B2E lending for blue collar employees to help people repay their debts with the use of HR payrolls system integration as well as seek for alternative solutions for non-bank customers.
Unfortunately, many of them have shifted towards Tech startups and data-driven platforms to gather data for the future revenue. Recently, the fundraising round in startup Thailand has reached Series C and Series E mainly in the fintech industry like SYNQA omise, an online payment and blockchain solutions that received an investment for $80 million in 2020 and 2C2P platform, which obtained $52 million in 2019.
The macro picture of the Fintech landscape in Thailand.
The second session is a panel discussion discussing the importance of the Fintech industry in Thailand and providing solutions for new startup entrants to create a future impact for Thailand with the suggestions from C levels and leaders of Thailand financial sector. The speakers for this session are Pornthip Kongchun, Co-founder COO of Jitta, Woraphot Kingkawkantong, Beacon VC and Ezra Don Harinsut, CEO and Co-founder of Omise.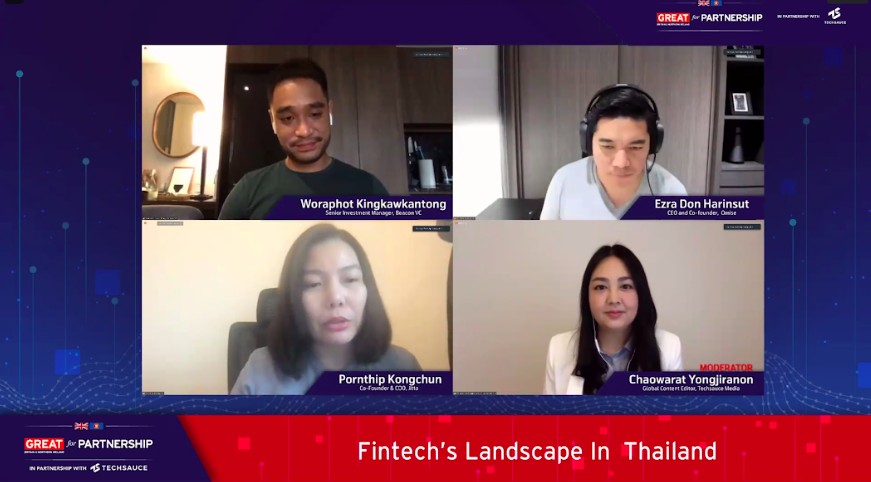 Before COVID-19 pandemic, the incoming of e-commerce and online payment has an upward trend with the coming of the digital world. However, the pandemic has spread and upscale for the digital currency and technology creating new demands of customers to use the products and services. Thailand is one of the countries in SouthEast Asia that adapted quickly to the global challenge. One thing that concerns Thai economy is the lack of developers in Thailand as Thailand is the 8th ranking of outsourcing talents in a region. Many investments in Thailand are from Corporate Venture Capitals rather than the Angel investors and crowd-fundings. However, the three prominent leaders have suggested that "we need to educate the investors that there are many startups that are in the seed stage in order to welcome and open doors to them".
Before ending the final round of discussion, three of them have given some advice for Thai Fintech startups that there are a lot of opportunities for Fintech to grow as many customers are hoping for fintech solutions and most big players in a market will be much more appreciated to work with future startups.
There are more sessions that can't be missed next week! For more information about this event, visit https://ukfintech.techsauce.co/.