It's coming almost towards the end of the panel discussion of UK-Thailand Fintech Master Class. The panel guests today include the government representatives from Bank of Thailand and Thailand Board of Investment and Baker & McKenzie partner and CEO of Hubba to talk about the possibility of Fintech in the Thai market and some challenges faced by the foreign financial businesses in Thailand. Each panelist has made an important point about what are the things that foreign companies should concern when entering the Thai market while emphasizing various organizations and associations that are all willing to facilitate those processes for foreign companies.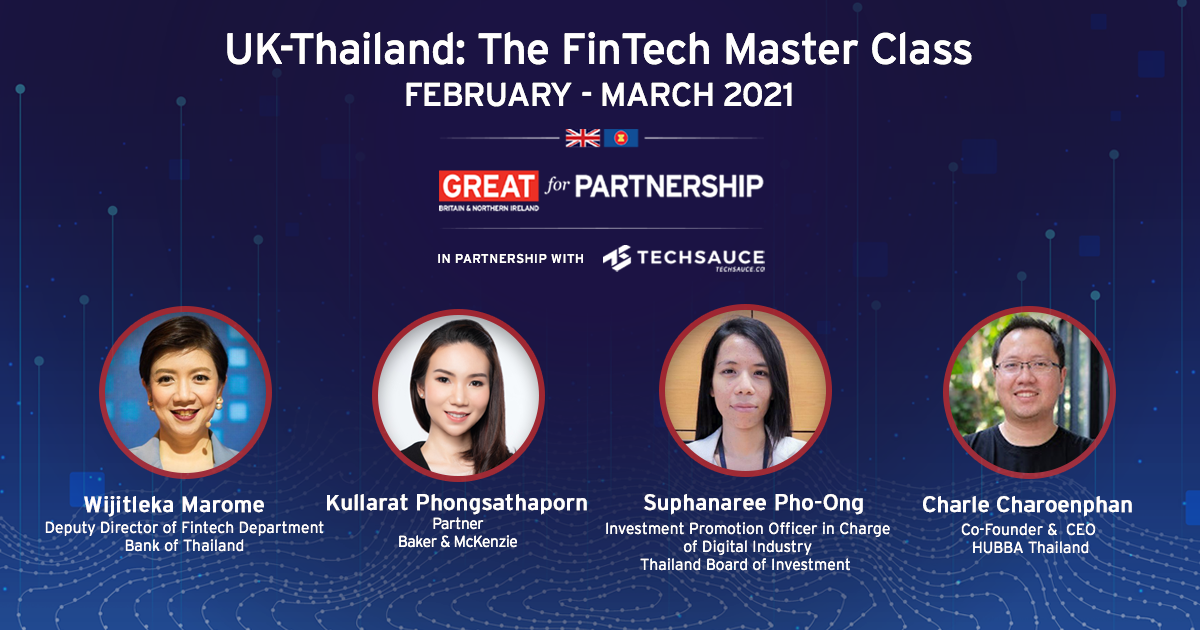 The foremost steps for foreign companies before entering Thai market
Every business in all industries needs to consider its structure, such as the operation and target customers. Whether it fits business fits into the Thai market and Thai customers. It is important to plan out beforehand to make a business sustainable. Next, every panelist's understanding of the legal framework agrees with foreign companies to operate in Thailand. Due to the complicated laws and licenses in Thailand, foreign firms need to do some research about which legality framework is suitable for their businesses to avoid further problems if the business grows exponentially. There are various regulations under the Foreign Business Act (FBA) regulated by the Bank of Investment of Thailand, such as outsourcing regulations and implementation guidelines. Last but not least, finding the local partner is one of the alternative options to get the license in Thailand. Foreign companies may select Thai company partners who already have a license to do a business to perform business in Thailand easier.
Here is the summary of the three main points made by each panelist:
Understanding the company's structures
Researching Thai legal framework especially in Fintech industry
Obtaining local Thai partner or Thai license
Main challenges for foreign companies
As Fintech is quite dynamic and grows rapidly in recent years, some startups and companies have overlooked a crucial step to get the license before operating. The Bank of Thailand representative, Khun Wijitleka, suggested that most companies launched their products and services in the market without getting a license, which is wrong as the Thai government concerns about the legality and regulations. Moreover, Charle, CEO and Co-founder of Hubba, gave advice that team is one element that drives the company to be successful. He mentioned that some global brands experienced managing and communicating with teams or partners in Thailand due to language barriers or different goal settings. So, he, then stressed that finding the best local team in Thailand is important.
Where to find potential talents in Thailand?
Kullarat, the partner of Baker and McKenzie, suggested that both Thai and foreign companies find the right partner who can drive the Fintech industry. She mentioned that many associations and clubs act as a talents pooling in Thailand, including:
Thai Fintech Association
Digital Asset Association
Hubba, a co-working space full of entrepreneurs and innovative startups
Universities and clubs
Before ending the session, Khun Suphanaree, the Bank of Investment representative in Thailand, clarified to many foreign entrepreneurs that it is important to find who to talk to and who will be giving the best advice as entering the Thai market is not easy. Three main separate regulators will help the foreign companies to do business in Thailand, so it is necessary to get in touch with those regulators and get the license.
There are more sessions that can't be missed next week! For more information about this event, visit https://ukfintech.techsauce.co/.