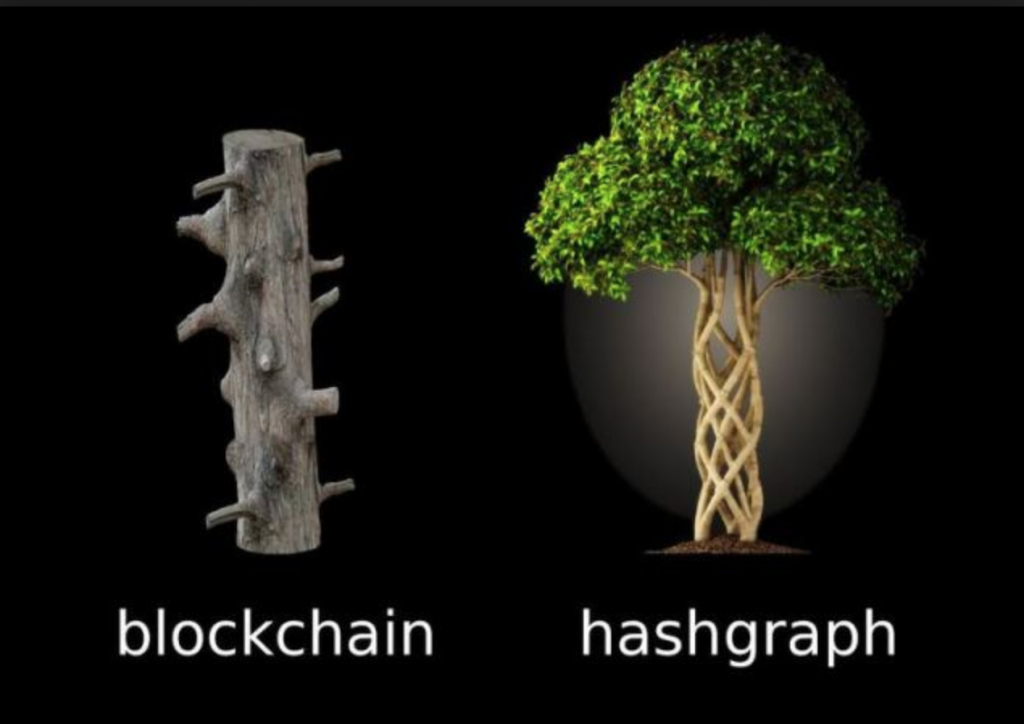 Hashgraph is a superior distributed ledger technology system that reduces the energy consumption, unlike Bitcoin and Ethereum which use a considerable amount of computation and unstainable energy.
Hashgraph could take over the market as every member can create transactions and containers whenever they want.
Swirlds is a software platform that has developed the hashgraph consensus algorithm: an entirely new distributed ledger technology that is much more cost-effective with 50,000 times the speed, is much safer and is architecturally more simple than blockchain.  Viruses don't care about your money but with hashgraph, it is protected the most as is the safest out there in terms of internet and decentralized technology.
This form of technology is a completely revolutionary consensus algorithm which is a complete data alternative to the Blockchain. Its mathematically proven to be fast, fair and is now implemented in software, it's not vaporware anymore.
With the collapse of the banking institutions in 2008 blockchain and other forms of technology have emerged which proposed a new monetary system that is a decentralized peer - to - peer electronic cash system designed specifically for the digital realm.
Hashgraph specifically is said to be a more robust system than blockchain. It uses two specific techniques, Gossip about Gossip and virtual voting.
Gossip about Gossip basically means attaching a small additional amount of information to this Gossip, which are two hashes containing the last two people talked to. Using this information, a Hashgraph can be built and regularly updated when more information is gossiped, on each node. Once the Hashgraph is ready, it is easy to know what a node would vote, since we are aware of information that each node has and when they knew it. This data can thus be used as an input to the voting algorithm and to find which transactions have reached consensus quickly. (Co - creator, Mance Harmon)
Unlike the other systems, Hashgraph is proven to be fully asynchronous Byzantine. This means it makes no assumptions about how fast messages are passed over the internet. This capability makes it resilient against DDoS attacks, botnets, and firewalls. Bitcoin is not Byzantine.
No mined block ever becomes stale. Whereas in the blockchain, transactions are put into containers (blocks) that form a single, long chain. If two miners create two blocks at the same time, the community will eventually select one and discard the other, resulting in wastage of efforts. In Hashgraph, every container is used and none are discarded. (Mance Harmon)
It will be interesting to see if Hashgraph takes over from Blockchain and if this decentralized, non-regulative option from the centralized banking system will take effect globally. Security is, of course, the most crucial aspect that has to be scrutinized, amended and constantly updated in order for it to take effect.
For more information on Hashgraph head over to Swirlds.