The New Reality of Business
During this unprecedented time of uncertainty, SAP is committed to helping you with the myriad of challenges that we are all facing. Our virtual event – Forward Together 2020 will provide you with relevant industry insights, intelligent solutions and innovative technologies to guide and to support businesses, governments and communities with the challenges ahead across South East Asia.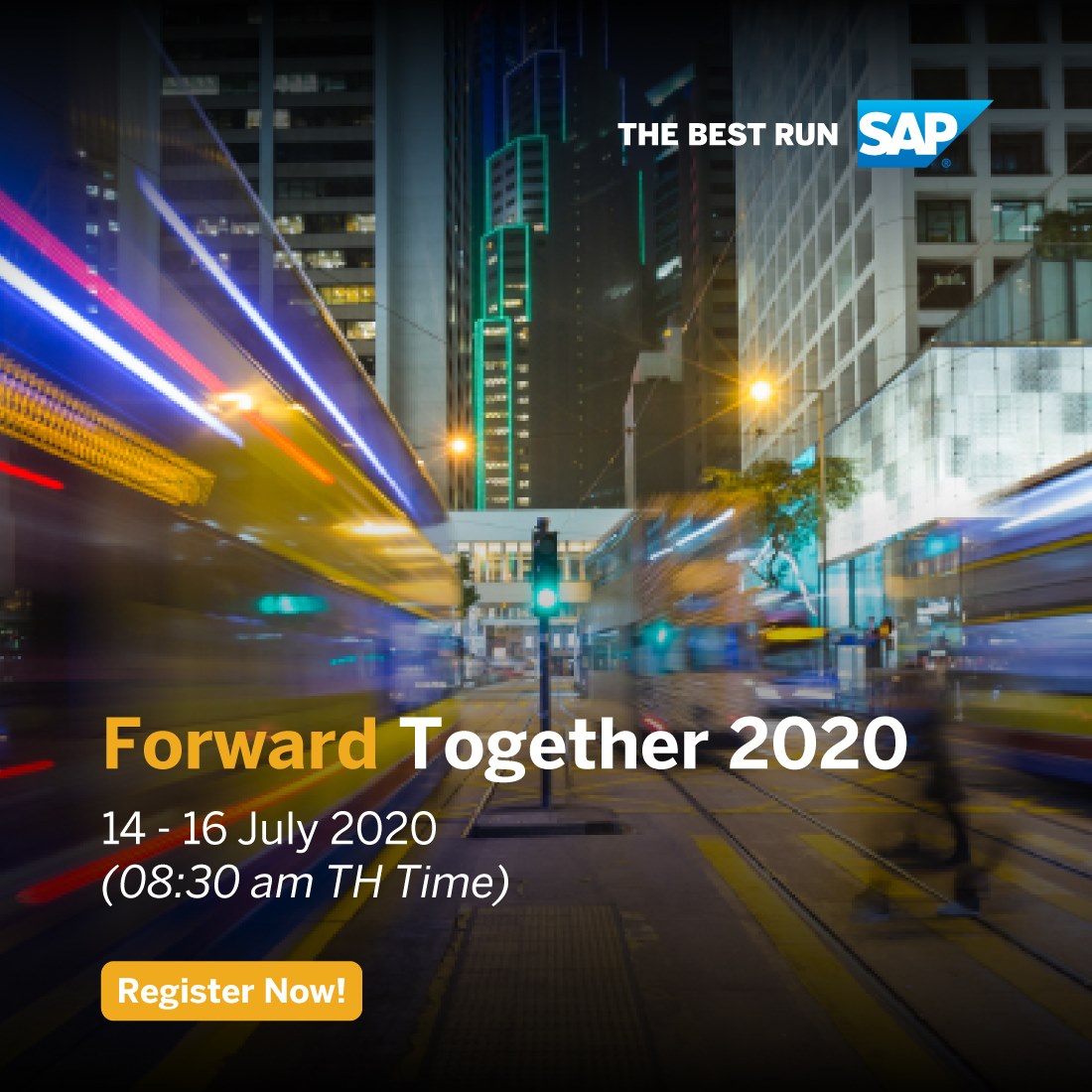 Why attend Virtual FORWARD TOGETHER 2020?
MOST IMPORTANT VIRTUAL PLATFORM IN SEA: Expect likeminded peers across our base of customers, prospects, and partners from 6 countries – Singapore, Thailand, Indonesia Malaysia, Philippines & Vietnam. This makes FORWARD TOGETHER 2020 the foremost virtual platform for insights, networking, and learning.
TAILORED LEADERSHIP INSIGHTS: Designed with business and functional leaders in mind, FORWARD TOGETHER 2020 provides decision-makers with the most relevant insights to immediately strengthen the business.
CROSS-INDUSTRYPERSPECTIVES: There's something for everyone to take away regardless of your industry or company size. Industries covered at FORWARD TOGETHER 2020 include manufacturing, consumer, financial services, energy & natural resources, and public services.
IMMERSIVE 3D EXPERIENCE: Get ready for a fully immersive 3D experience across all 3 days of FORWARD TOGETHER 2020 at our conference & interactive tradeshow!
Don't miss out on the key takeaways spanning across the 3 days!
Day 1: Leadership Executive Sessions

Collective Leadership Creativity: Forward Together
Curated for Business Leaders, this day features:
Thought-Provoking Live Discussions on tough business decisions the executive leadership needs to make NOW. Including how our partners and customers can stabilize operations, revitalize revenue streams, and renew the business through SAP technology.
Expert Perspectives from Guest Speakers on navigating the way forward.
Day 2: Industry Focused Sessions – TechTalks!
Deep Industry Insights: Technology & Ideas Collide
Whether you are in Banking, Insurance, Manufacturing, Consumer Products, Retail, Oil and Gas, Utility, Public Services, or other industries, you'll leave with INSPIRED INDUSTRY INSIGHTS to stabilize, revitalize, and renew your business. Including new business models and processes for your industry in the way forward.
Day 3: Business Function Sessions
Applied Innovation: Drive Targeted Business Outcomes
For both the C-Suite & Functional Leaders: Sessions covering 8 pillars – Digital Workforce, Customer Experience, Intelligent Finance, Intelligent Spend Management, Resilient Supply Chain, Innovate to Thrive, Digital SMEs and Collaborative Ecosystems – will help weave resilience into every aspect of your business NOW.
Who will be attending?
By Job Functions: Finance, Human Resource, Operations, Digital Transformation, Procurement, Operations, Supply Chain/Logistics
By Industries: Manufacturing, Public Services, Financial Services, Energy & Natural Resources, Consumer Products
By Job Level: C-suite, Vice Presidents, Directors, Head of Departments, Managers, Business Owners
For more information: SAP