AddVentures by SCG announces investments in Baania and GetLinks whilst building strategic ties with Builk, HG Robotics and Ralali for prospective investments, further growth opportunities, as well as looking to alleviating Pain Points of its industrial, B2B and enterprise partners. The company will join with a global startup innovations platform Plug and Play, based in Silicon Valley, to foray into the global startup landscape for a long-term venture opportunity.
Dr. Joshua Pas, Managing Director of AddVentures by SCG, said AddVentures has completed investments in two startups including 1.Baania, an integrated online real estate platform, and 2.GetLinks, a tech talent hiring platform. At the same time, the company has instigated strategic partnerships with three more startups namely; 1.Builk, a construction business management platform currently operating in five countries, 2.HG Robotics, an unmanned drone & robotics company for industrial & agriculture, and 3.Ralali, an Indonesian online B2B Marketplace connecting buyers and sellers.
"All the five startups have some common features which are that 1.They have an outstanding operational model that resolves Pain Points in businesses and in their industries, 2.Each has an experienced team who are highly proficient, and that 3.They focus on industrial, B2B, and enterprise solutions that are in line with the investment criteria of AddVentures. As for the other 3 strategic partners, potential investments are under negotiations, which we hope will soon yield positive results," Dr. Joshua said.
The measure of deliberation to invest in a startup has been to abide by the 'You Innovate, We scale' vision, which indicates an investment in a startup that possesses technology and innovation relating to reducing difficulties of customers who are involved in Industrial, B2B and Enterprise functions. AddVentures helps enhance growth opportunities for startups through providing knowledge, funds, professionals with various expertise, and partnership networks of SCG across ASEAN.
Additionally, AddVentures has established collaboration with Plug and Play, a Silicon Valley-based accelerator & a global innovation platform for startups and multi-national corporations. Moreover, they were one of the first investors of Google, Paypal, and Dropbox. The collaboration will enable a closer connection for AddVentures with many other global startups, allowing with long-term opportunities for future investments and other forms of partnership that may occur.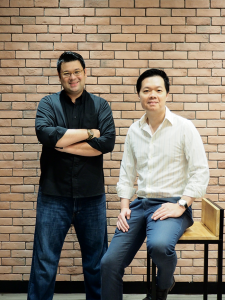 Mr. Dusit Chairat, Corporate Venture Capital Fund Manager of AddVentures by SCG, said the startup companies that were invested in have special features that are advantageous to both business and consumer sectors, whilst can also be incorporated into SCG's business units. For example, Baania's capacity in Data & Analytics and Big Data can be applied to SCG especially in the Cement - Building Material business unit by utilizing the data that Baania had recorded to enhance better understanding of customers and to better respond to the needs of customers.
"The investment in GetLinks will help solve a tremendous amount of problems in most organizations that are transitioning to cope with the era of Global Disruptive Technology. The partnership will become an integral part in uplifting the startup ecosystem in Southeast Asia. It will also help SCG's business partners to discover tech talents and to strengthen digital business operations," Mr. Dusit said.
As for the strategic partnership with Builk, AddVentures will support the network of construction material manufacturers and to integrate SCG's customers across Asean to become dealers and customers on Builk's platform. Furthermore, the partnership aims to work together to educate the use of the online platform in various markets in order to bolster future growth and expansion to new markets.
Regarding the collaboration with HG-Robotics, the partnership will hope to encourage 'Open Innovation' and foster robotic developers to help increase efficiency and safety for SCG and the industrial sector. Also, working with Ralali will not only support the growth of e-commerce in Indonesia, but to increase sales and online marketing channels for SCG in Indonesia.
In the past, AddVentures invested directly with one startup called GIZTIX, along with proceeding in venture capitals with two Fund of Funds; Wavemaker and Vertex Ventures.
AddVentures by SCG was formally launched in mid 2017 to invest in startups domestically and globally. Such investment will help SCG adopt new innovations in order to boost its competitiveness and provide better products and services to consumers. They plan to invest in Funds of Funds and also directly invest in startups in Thailand, the Asean region and global technology hubs such as Silicon Valley in the United States, Tel Aviv in Israel and Shenzhen in China. They give priorities to three verticals, which are Industrial, B2B and Enterprise that goes in line with the three core businesses of SCG, comprising of Cement-Building Materials, Chemicals and Packaging.