AIS has taken its Aunjai CYBER program to represent Thailand, as the only Thai corporate entity able to win an international sustainability award, while also making the top five ranking of 1,800 programs around the world. The Champion of WSIS Prize 2023 was presented at the WSIS Prizes 2023 in the category of programs using technology for building confidence and security in use of ICTs, hosted by the International Telecommunication Union (ITU) and the United Nations (UN). The award once again validated a proactive approach to addressing cyber issues sustainably. AIS is committed to leverage the potential of its digital networks to develop tools to intervene, alongside up-skilling Thai people's digital skills, so they can be more aware, and inhabit the digital world safely and responsibly through the AIS Aunjai CYBER program.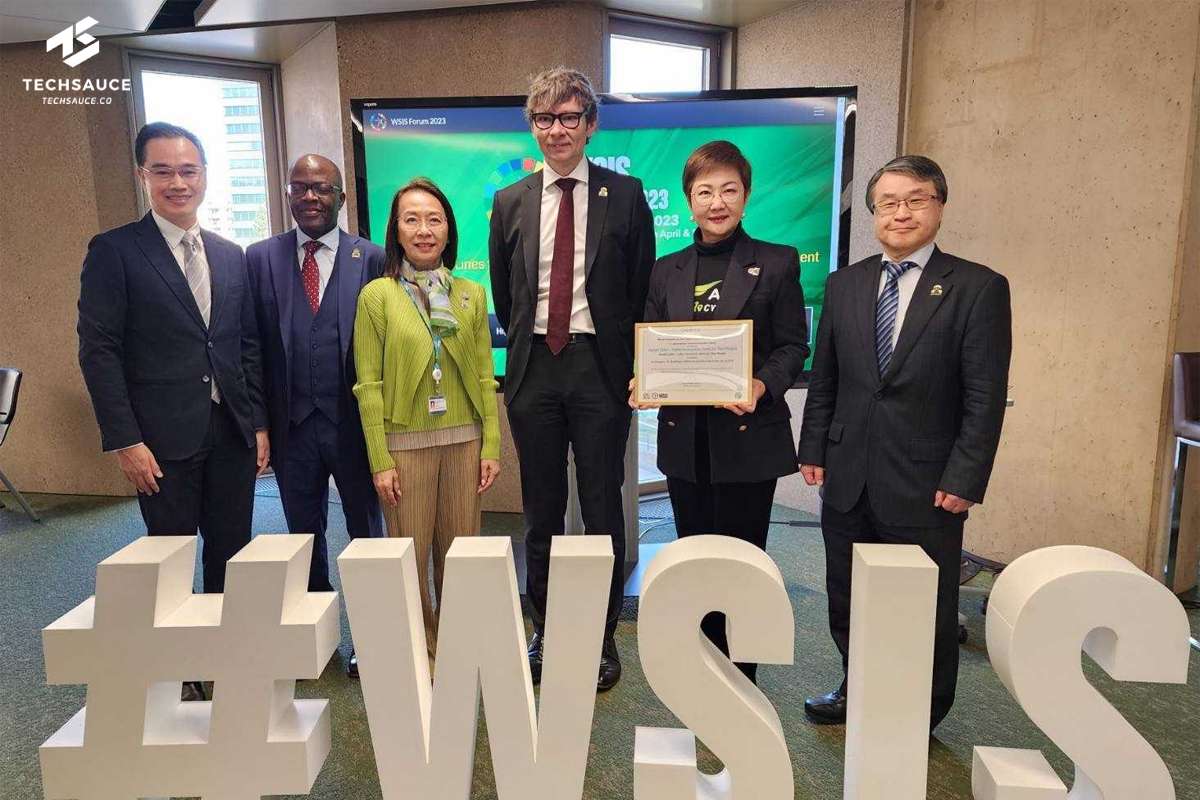 Saichon Submakudom, Head of PR at AIS, said, "All members of the AIS teams wish to thank the International Telecommunication Union and the United Nations for recognizing AIS' commitment to this issue, by ranking the Aunjai CYBER program in the top five of 1,800 sustainability programs entered from around the world. We were also graciously presented with the Champion of WSIS Prize 2023 for Building confidence and security in use of ICTs.
"AIS Aunjai CYBER program was initiated in 2019, at a time when the usage of Internet and social media had increased at a the rapid rate, but various kinds of social problems had arisen. We were then the first network service provider to stand up and be counted as a social hub for building networks through the efforts of our partners, as a united front to address the issue of cyber threats sustainably. We wanted to promote society to use digital tech creatively, securely and responsibly, to benefit people at large."
Mrs. Suphatra SRIMAITREEPHITHAK Ambassador Extraordinary and Plenipotentiary/ Permanent Representative, congratulated AIS on winning the Champion of WSIS Prize 2023 for its Aunjai CYBER program, which is a big boost to Thailand's reputation. "This program has the objective of consistency with the "Thailand 4.0" policy, which has the aim of upgrading digital know-how for the Thai population and protecting Thai users from cyber-threats. it promotes a safe online society and builds digital immunity. It also fulfills the United Nations' Sustainable Development Goals under Goal no. 4, Guaranteeing a Quality Education for all, and supports opportunities for lifelong learning."
Saichon added, "Aunjai CYBER was conceived as a program under the United Nations' Sustainable Development Goals (SDGs), SDG no. 4, Guaranteeing a Quality Education for all. This is aligned with our strategic plan for sustainable operations, which is to support the responsible use of digital networks, while promoting digital literacy and citizenship for Thai people in general. Today, the Aunjai CYBER program has been expanded into many other forms, so it has become a hub of safe and secure Internet usage."
"The Aunjai CYBER syllabus for cyber-immunity was the first of its kind in Thailand to be certified by the Ministry of Education as being compliant with Thai curricular standards. The syllabus itself was a joint effort between the state and private sectors, and it has been upgraded and rolled out to students at 29,000 schools around the country affiliated to the Office of the Basic Education Commission (OBEC).
"Previous AIS programs such as Aor Sor Mor Online, Smart Kids Brave Hearts, and "Work Wizard" technology for the disabled, have also addressed sustainability issues and won the WSIS Prize. Winning the WSIS Prize 2023 is an achievement of which AIS teams are all immensely proud. We are the only Thai corporation to successfully win an award at the Champion level. We would like to reaffirm our intentions to continue ushering in positive and sustainable change to Thai digital society," concluded Saichon.