Do you have what it takes to become the next big FinTech Startup?
If your answer is YES, we would love to invite you to our Startupbootcamp FastTrack event held on the 7th February 2017 in Bangkok, Thailand! Simply apply here.
If you are one of the 10 selected teams, you will have the opportunity to present your startup ventures to our established mentors, business partners and investors. Afterwards, you will get to meet at least 5 Startupbootcamp mentors for 20 minutes 1-1 feedback sessions.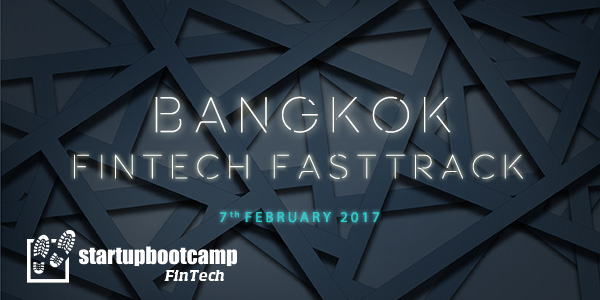 We've spent years perfecting our system for accelerating startups, and the FastTrack's are a bite-sized glimpse into the value of Startupbootcamp programs and its wide network.
What can a FinTech FastTrack offer you?
Receive valuable feedback from our mentors, investors and subject experts.
Engage with Startupbootcamp FinTech's global community. Meet with the industry executives and be exposed to worldwide opportunities.
Be added to our watch list, which gives you higher chances to be selected for the program.
Want all these benefits? APPLY NOW
Who is eligible to apply?
This event is open for everyone – just answer these questions about your startup. Any startup thinking of joining the Startupbootcamp program is encouraged to apply to pitch. We are especially looking for startups in:
Security & Authentification
Crypto-currencies and blockchain
Financial Inclusion
Asset Management
Capital Markets
Peer to Peer
Insurance
Lending
Payments
and everything else FinTech
If your team is flying in especially to pitch, you can request for an early evaluation to better accommodate your travel schedule. We'll inform you at least 2 days in advance if you've been selected for our FastTrack event.
Apply now and we look forward to seeing you at the event!
Get Shortlisted for the Program
FastTrack aside, you can apply for the Startupbootcamp program starting November! Simply click the APPLY button on our program's page, fill in your startup details and you are good to go!
If you have any questions, feel free to drop us a line at [email protected]
FinTech Social Bangkok
On the 7th of February, we will be holding a FinTech Social night in Bangkok as well. Calling all startups, finance experts, and FinTech enthusiasts to join us for a night of panel to discuss Fueling FinTech in Bangkok. This is followed by a networking session with our partners, members of the finance community and startups.
This event is open to the public. For further details and to register for this event, please head over to our Fintech Social Eventbrite page.