Beacon VC, a corporate venture capital arm of Kasikornbank (SET: KBANK), leads a funding round of $6.5 million for Jitta, Thailand's leading WealthTech startup that offers high-tech solutions for investors worldwide. The funding round, which is the biggest pre-series A round for a Thai startup, will help promote innovation in the country's WealthTech industry and prepare Jitta for global expansion.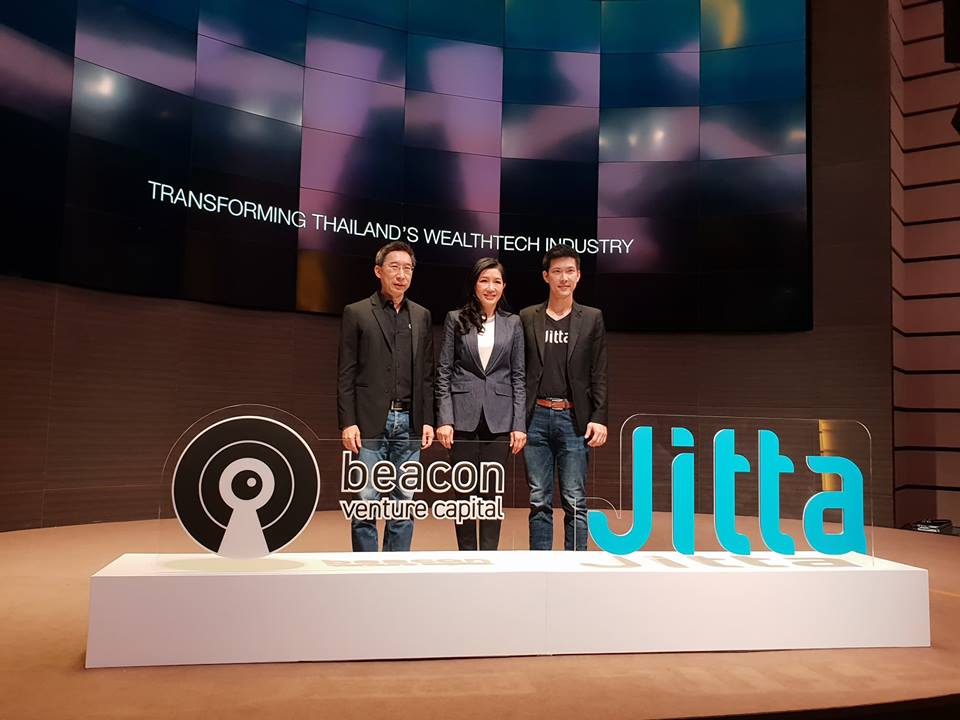 VC sees a lot of growth potential for wealth-management technology, or WealthTech, as it plays an increasingly important role amidst low interest rates. Jitta has exhibited the most outstanding capability to develop such technology, with its proprietary stock-analysis algorithm that's been proven to help investors beat the market in the long run, as well as a steadily growing user base. The expertise of Jitta's co-founders and team and, particularly, their strong commitment to bring genuine value to their customers give us confidence that Jitta will be able to transform the industry and achieve tremendous growth."
"Jitta is one of the very few Thai startups with a highly scalable product, meaning it can launch and solve the same problem in any foreign market in a very quick and efficient manner. We believe this local startup star has all the potential to bring about an investment phenomenon that hugely benefits the society as well as putting Thailand's startup community on the world's center stage," Mr. Thanapong added.
Beacon VC is one of Thailand's most active venture funds, with a portfolio of 5 startups in both Thailand and overseas. The firm focuses on investing in high-potential startups that can deliver real value to KBANK's customers or can contribute to the bank's business expansion.
This new investment round, led by Beacon VC, marks the biggest pre-series A funding for a Thai startup to date. Beacon VC will support Jitta in expanding its services in Thailand and abroad, enabling broader access to Jitta's simple-yet-effective investment solutions so more people can build long-term wealth with minimal effort, which is in line with KBANK's direction.
Mr. Trawut Luangsomboon, CEO & co-founder, Jitta, said, "Our vision is to make sure that investors benefit the most from what we do. We develop technology to help people access highest-quality investment information so they can achieve better returns efficiently and effortlessly. Through this partnership with Beacon VC, who not only funds us but also opens doors to more opportunities, we can raise our innovative capabilities and become a leading WealthTech company. To do that, we have plans to hire more developers to incorporate artificial intelligence (AI) into our technology. We'll also make accessible stock-analysis data of 95% of the world's stocks from 16 territories. Lastly, we're getting ready to launch a new service and expand it to Singapore and India this year."
Jitta is a leading WealthTech startup in Thailand with a strong development team. The company has built unique big data technology to analyze business financials and automates portfolio management based on Warren Buffett's value investing approach: "buy a wonderful company at a fair price." Jitta's stock-ranking algorithm, dubbed Jitta Ranking, boasts index-beating backtested return. Consequently, a number of asset management firms have offered the Jitta Ranking investment strategy to their clients. There is a total of Bt2.2 billion worth of assets managed using this strategy.
"Additionally, we're launching a new service called Jitta Wealth, a technology-based fund that uses the Jitta Ranking strategy and aims to provide index-beating returns in the long run. This long-term investment alternative will be operated by Jitta Wealth Asset Management, currently in the process of obtaining a private fund license from the Securities and Exchange Commission (SEC), and will tentatively begin operating in the second quarter of this year. We believe Jitta Wealth will receive a lot of interest from retail investors, due to the fuss-free service, the low management fee of 0.5% per year and fair performance fee of 10% of the profits, and better returns through the use of technology. Investors can also diversify their investments across Thailand, Vietnam, and the U.S. with ease as everything can be done online, making it simpler for anyone to invest," Mr. Trawut concluded.
According to the BCG Global Asset Management 2018 report, global assets under management (AUM) reached $79.2 trillion in 2017, growing at 12%, the strongest rate in a decade thanks to growth in China and the U.S. Meanwhile, in Thailand, total AUM was about $190 billion, growing at 7.6%, and has been increasing every year. This suggests strong demand for asset management services, especially WealthTech alternatives that cost less, help diversify risks, and deliver higher profits in the long run—the perfect answer to modern investors' needs.
About Jitta
Founded in January 2014, Jitta is a Thai WealthTech startup whose mission is to develop technology allowing investors worldwide to access quality investment insights that help them make profitable decisions, earning better returns through simpler methods. Jitta's technology include Jitta.com, a fundamental analysis platform covering stock markets in 16 countries with over 200,000 users in 128 countries, and Jitta Wealth, an automated stock investment platform that uses Jitta Ranking strategy to deliver higher returns at lower fees and risks. The Jitta Ranking strategy has been used by partnered asset management firms to manage over Bt2.2 billion worth of assets.