Launched in 2016, Bellugg aims to disrupt South East Asia's USD 1.2 Bn tourism industry by refining tourist's journey through tailored logistics services. The company tackles the primary pain points in tourism, leveraging on technology to eliminate commuting time and provide a hands free traveling experience for its users. Currently the company offers Luggage Delivery, Luggage Deposit / Pickup at various service points and Tourist Commerce services that delivers selected products directly to the airport or hotel.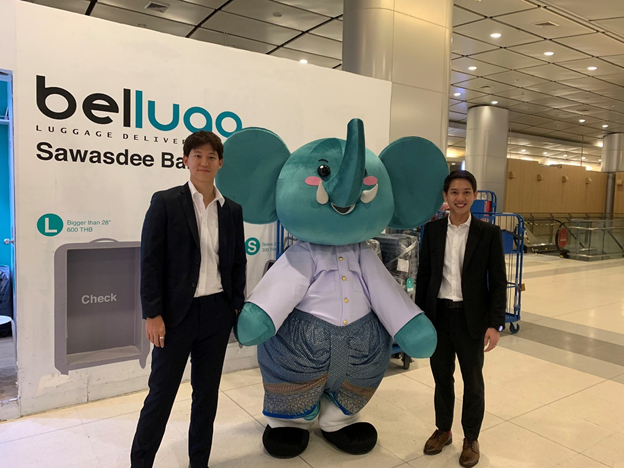 "Travelers will spend more in experiences and not just physical things. Bellugg is a leading platform that capture data across tourist's journey. Utilizing insights from the tourism industry, brands can offer products and experience personalized to each traveler. We believe that Bellugg will become a convergence of travel and commerce sectors" says Anix Lynch, Partner of Expara Thailand.
The market opportunity for Bellugg is substantially enormous as tourists are rapidly shifting from Group Inclusive Tour (GIT) to Free Independent Traveler (FIT) which is Bellugg's main customers. The company is very active in educating the market, building brand awareness and expanding its presence by partnering with major hotels, airlines and travel agencies in Asia. Currently, Bellugg has successfully secured partnerships with leading companies such as Thai Airways, Air Asia, Bangkok Airlines, Minor Hotels, St. Regis, The Peninsula, HIS Travel and JTB. The company aims to use Pre-Series A proceeds to ramp-up its revenue, expand its market presence, invest in technology R&D and hire talent that helps drive their business.
"Thailand will always be one of the top destinations for travelers around the world. We foresee the amount of inbound tourist to increase 10-12% annually" says Sipavich Dhumrongvaraporn, Co-CEO, and Co-Founder of Bellugg. "
"We have a unique technology that can leverage our resources to expand our services to other geographical areas" says more Sithi Nerngchamnong, Co-CEO and Co-Founder of Bellugg. "To ensure transparency and security, we provide an interactive tracking system and insurance that covers up to 50,000 Baht per luggage to alleviate our customers' concerns and maximizes travel experience. We strongly believe that the luggage delivery service will soon be a standard practice for the tourism industry."
"We have seen tremendous growth from Bellugg and its strong founding team since backing them in their previous seed round. By leveraging technology with a customer-centric mindset, Bellugg has been able to offer great value to travelers through their different delivery and pickup services. We believe logistics for tourists is an industry that will continue to grow at exceptional pace and Bellugg is well-positioned to take advantage of this growth" Krating Poonpol, Managing Partner at 500 TukTuks added.