Central Group, a leader in Lifestyle and Services, has announced 5 years of success with strong growth in every direction, both in Thailand and abroad. A new strategy will bring about "New Central, New E-conomy" to become the first Market Leader in Digi-Lifestyle Platform. The company has also partnered with leading global companies to strengthen its business and has developed people and communities to grow sustainably with Central Group.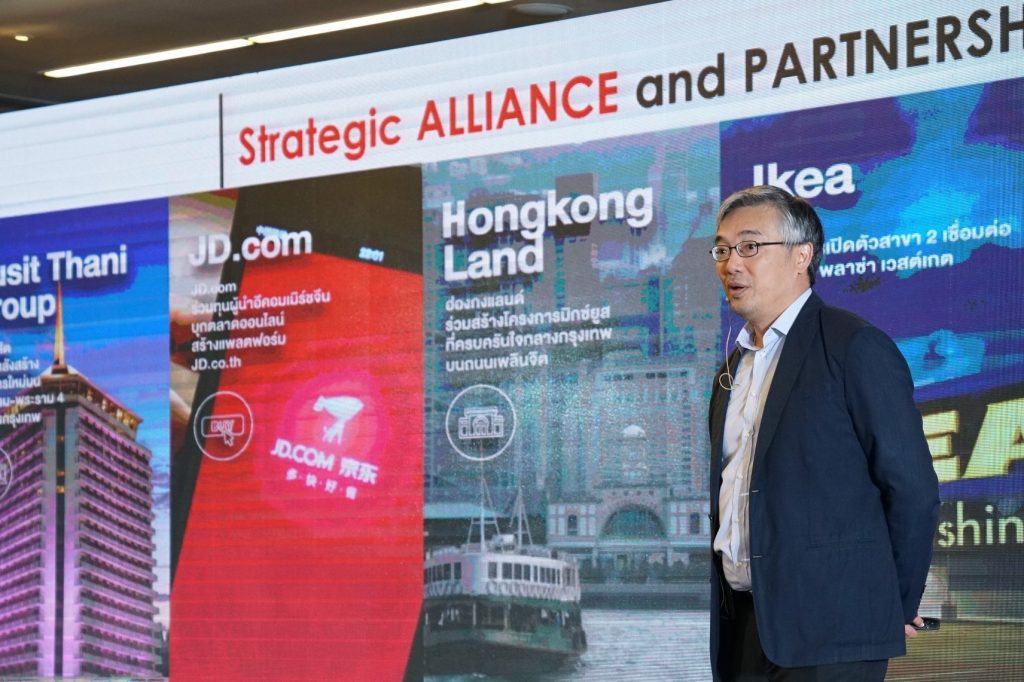 Central Group Executive Chairman and CEO Tos Chirathivat outlined the three Key Strategic Foundations which have been used by Central Group to operate its businesses for many years.
Be Retail Leader in Lifestyle and Services
Expand Businesses beyond Thailand
Strengthen Businesses by Merger & Acquisition
By pursuing this strategy, Central Group has achieved significant average growth of 11% over the last five years from 2013-2017, while the revenue mix of 2017 breaks down to Thailand 72%, Europe 15% and Vietnam 13%, showing the success of Central Group in all of Thailand, Europe and Vietnam.
Thailand achievement
Central Group is a leader across multiple retail categories including department stores, consumer goods, construction materials, home décor, electronics, shopping malls and property, stationery, books and online, hotels and resorts, international brands and beauty, and restaurants.
In 2017, Central Group had store penetration of 4,970 stores in 38 provinces. In the next 5 years to 2022, this will grow to 7,509 stores in 52 provinces.
Central Group is not only expanding stores in Bangkok - it is also growing in the provinces. Five years ago, the Bangkok to upcountry mix was 80 to 20, but now it is 54 to 46.
Central Group has also achieved success with strategic partnerships with world class partners who have trusted Central Group, such as Dusit Thani with the mixed-use project on Rama IV Road and JD.com, to create the new e-commerce platform JD.co.th and E-Logistics systems. Central Group has partnered with Hongkong Land to create the mixed-use project on Ploenchit Road, and Ikea, with the new store to open a connecting passage to Central Westgate this March 15.
 For continued strong growth, Central Group President Yol Phokasub has emphasized a new 5-year strategy for 2018- 2022 to make a New Central, New E-conomy. The group will be the first Digi-Lifestyle Platform leader in Thailand delivering superior customer experiences to inspire lifetime loyalty. The Digi-Lifestyle Platform will be developed as a best in class common e-Commerce platform across businesses, as well as assisting the creation of new businesses through three Building Blocks:
Data: Put all extended data from all business units into a Data lake on the Cloud to create a single view of customer for deep insight into customer behavior, able to give a superior experience to customers.
Loyalty & Personalized experience: Through The1 New Lifestyle Platform to tighten customer relationships which are more deeply personalized.
Omnichannel Platform: Developing Central Group's businesses with a true Omnichannel Platform to seamlessly connect offline and online shopping, anywhere, any time.
 Central Group has also formed a 17,500 MB joint venture with Chinese e-commerce giant JD.Com to establish JD Central. The new Marketplace at JD.co.th is a new shopping channel for Central Group's customers to facilitate Digi-Lifestyle platform more quickly and comprehensively. The website JD.th.com will be ready to provide service in May, as a platform to bring Thai products and SMEs to the World.
The joint venture with JD.com is not just creating a new Marketplace, but two new businesses with huge potential for Central Group:
E-Logistics: Central Group will become a leader in E-Logistics in Thailand for integrated on-demand services to meet the needs of customers.
E-Finance: Central Group will set its sights on becoming a full Fintech company with a one-stop integrated financial system covering E-Payments and E-Finance for customers and suppliers.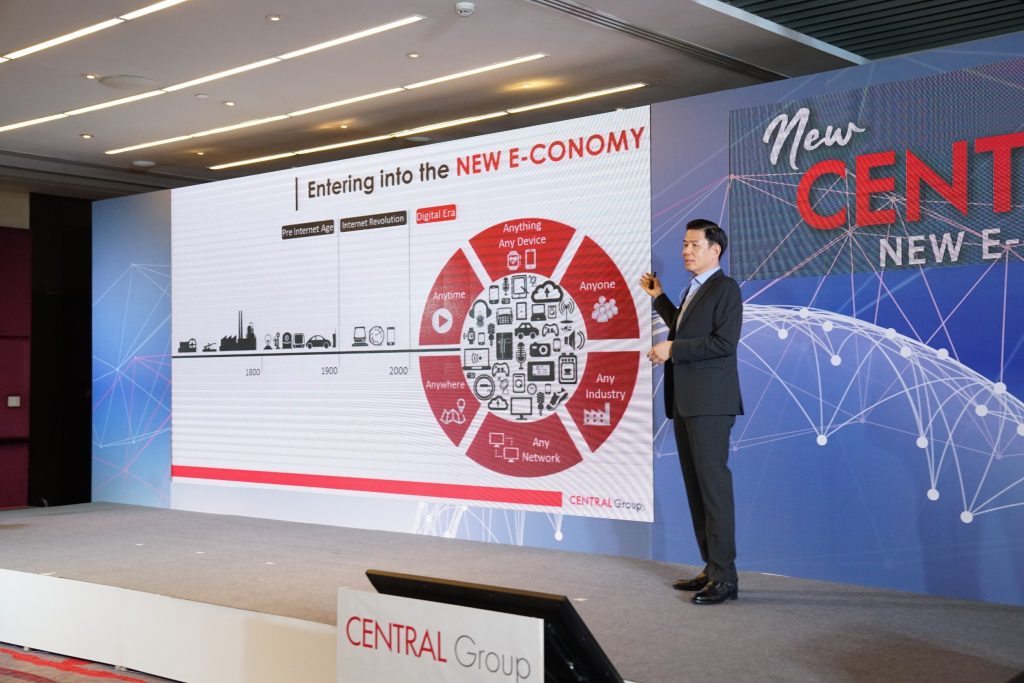 To more completely develop its Digi-Lifestyle platform, Central Group gives priority to four main components to deliver Lifestyle on-demand needs of customers, and achieve the target of the New Central:
Alliance: Central Group has partnered with world-leading companies such as Dusit Thani, JD.com, Hongkong Land, Ikea and many other leading partners in the near future.
Technology: Central Group aims to become a top Technology Company, led by technology in every aspect to serve customers and stimulate the national economy, for instance with:
Building the best e-commerce platform for every business unit of Central Group to create efficient mutual synergy.
Data lake on the cloud bringing together customer information from every business unit of Central Group and other useful sources to analyze for deep insight into customer behavior to give a personalized response to customer needs.
A new platform for The1, for seamless engagement with customers for a superior lifestyle experience.
Investments in logistics and modern distribution centers to uplift customer service, such as the cutting-edge OfficeMate automated logistic and distribution center with an investment of 1 billion baht, to create a complete E-Logistics system.
People: Central Group is the largest job creator in Thailand, generating over-220,000 jobs including over 700 disabled people. The company promotes talent and ability to fuel its digital ambitions. Leadership and culture are rebooted with programs like Life Reimagined to support "No Hierarchy", Coaching and Reverse Coaching, where ambition never sleeps, creating inspiration and good experiences at work, and redesigning workspaces for work-life harmony to thrive. Staffs are supported to develop their potential through the CG Challenge program to empower young talent to show their skills and creativity in creating new store concepts for amazing new customer experience.
Community: Central Group gives priority to Creating Shared Value (CSV) under the project CENTRAL Tham which has four main pillars of people, communities, Environment, Peace and culture.
Creating jobs, Creating careers: Central Group creates occupations for people in communities, starting by instilling in schoolchildren real work such as farming or handicrafts, setting up learning centers for the disabled, applying knowledge to occupations, to provide for themselves or their families.
Central Group also supports farmers with planting, helping to add value to product and supporting distribution channels from Central Group of community products such as vegetables from Ban Nam Duk Tai community.
Central Group currently assists 481 communities who have developed over 4,500 community products to generate income of 967 million baht to provide sustainable income for over 10,000 households.
Improving quality of life: Central Group has provided water filters for schools to provide clean water for children, as well as conserving the environment and supporting clean energy. This includes solar roofs on Central malls to reduce power consumption, the installation of a plastic bottle recycling plant at Central World and charging stations for electric cars in many car parks.
Many other social projects include raising money to build Ban Ping Pak to help disadvantaged female cancer victims and improving the toilets in Lumpini Park.
Central Group Executive Chairman and CEO Tos Chirathivat concluded that in 2018, Central Group would fully implement its strategy to become New Central, New E-conomy, to make Central Group a best in class Tech company and a leader in Digi-Lifestyle Platform. The company will continue growth in every direction as in previous successful years.
This year, the company has a sales target of 397,308 MB, representing growth of 14% on 2017, and plans investment of 47,500 MB (27.8% growth from 2017), to expand investment in both Thailand and overseas. The company will develop its new business model to meet every customer demand, with plans to open new shopping malls and hotels.
An additional 459 new stores will be opened in Thailand and Vietnam throughout the year.