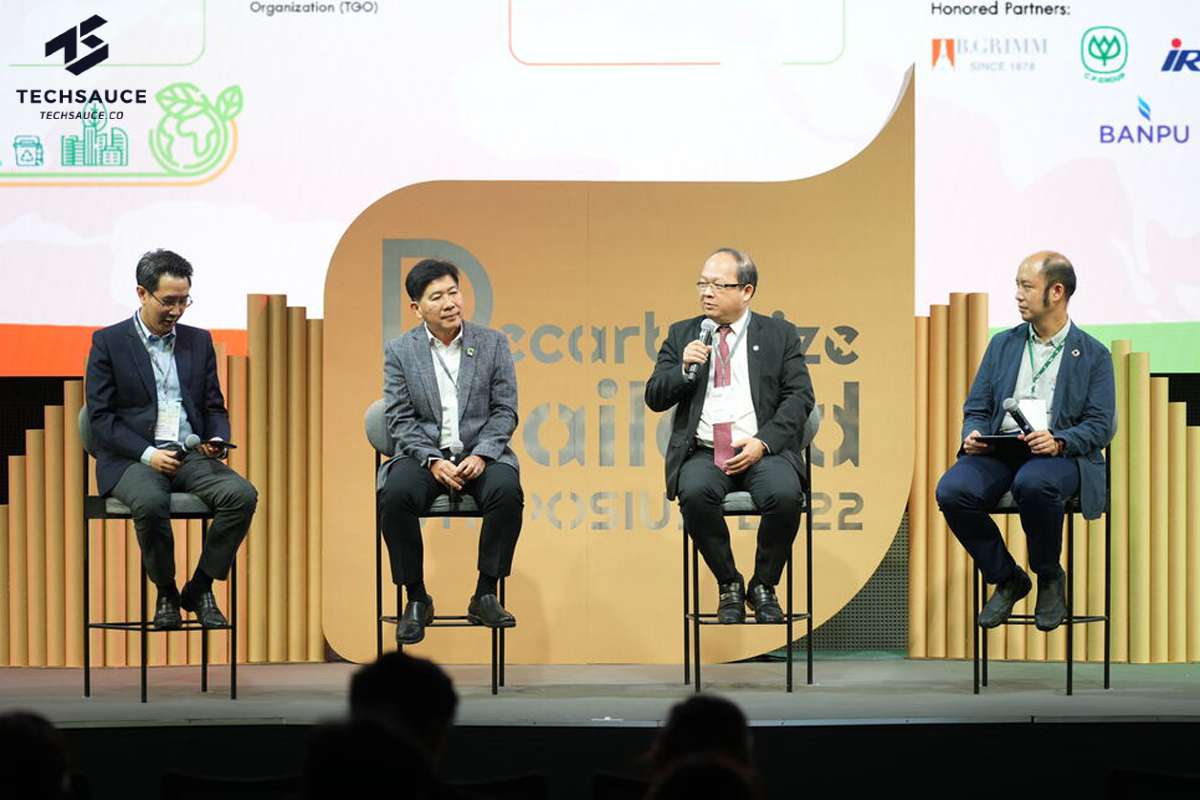 This year's most significant energy seminar "Decarbonize Thailand Symposium 2022" solidifies collaboration between different parties involved in driving the decarbonization agenda forward, via knowledge sharing on panel discussions, hands-on workshops and an exhibition where you could meet the entrepreneurs with their innovations.
Thailand's most significant energy seminar "Decarbonize Thailand Symposium 2022" is an opportunity to combine efforts from all agencies concerned, experts from various fields and thought leaders in the energy, transport, agriculture, and industrial field to scale and apply solutions for carbon neutrality in Thailand by 2050, net zero emissions of greenhouse gas by 2065 in line with the government's policy, and to create Thailand's Zero Carbon Economy. The Decarbonize Thailand Startup (DTS) Symposium took place on November 24, 2022, at True Digital Park's West Grand Hall.
Kiatchai Maitriwong, Executive Director at Thailand Greenhouse Gas Management Organization said, "Many countries across the world have made the reduction of greenhouse gas emissions and keeping global warming to be under 1.5 celsius their missions. Following Thailand joining COP26, Thailand has announced its goal to achieve carbon neutrality by 2050 and net zero emission by 2065. Thailand and the Ministry of Natural Resources and Environment have a policy to plant more trees, mangrove forests and green spaces and collaborate with relevant sectors to reduce greenhouse gas emissions from energy consumption, transportation, industries and agriculture.
Achieving carbon neutrality requires the synergy of various sectors while the government sector takes the lead in providing know-how, the standard of measurement and evaluation and introducing supportive or restraint regulations to encourage the private sector to invest more in greenhouse gas emission reduction. This also provides opportunities for businesses dealing with technology and innovation to support the private sector to make their emission reduction more cost-effective.
The carbon credit market in Thailand is a trading of carbon credits in the Thailand Voluntary Emission Reduction Program (T-VER) and the overall value continuously increases. During the first eight months, the carbon credits trade in T-VER increased by 425% compared to the volume of the entire 2021. This amount accounts for 0.3% of Thailand's total annual emissions, which continues to grow yearly. As for the overall outlook on the global carbon credit market, its value currently stands at 400 million USD or 12 billion baht. It's predicted that the global carbon credit market will rise up to 25 billion USD in value or 750 billion baht by 2030. Therefore, the support provided to the private sector through projects and other activities including a seminar such as "Decarbonize Thailand Symposium 2022" will help Thailand achieve the set goals in the long run.
Dr Tarit Nimmanwudipong, General Manager at True Digital Park (TDPK), said, "'Decarbonize Thailand Symposium 2022' gives rise to more energy startup models and it's likely that there will be more energy startups every year in line with higher demand for sustainable technology and energy from various industries across the world. TDPK also plans to support more than 100,000 startups in the long run.
"Decarbonize Thailand Symposium 2022" is a joint effort, led by True Digital Park and New Energy Nexus, with sponsorship of eight leading companies in Thailand namely B.Grimm, Charoen Pokphand Group, IRPC Public Company Limited, PTT Public Company Limited, True Corporation Public Company Limited, Banpu Public Company Limited, Denso International Asia Company Limited and Tact Social Consulting. The highlights include a symposium from a collaboration between private and state sectors in achieving net zero emissions by the Thailand Greenhouse Gas Management Organization, the Ministry of Energy and The Federation of Thai Industries. New Energy Nexus reveals trends in the world's energy industry and support for energy startups. Solutions will be presented by leading executives from B.Grimm, Charoen Pokphand Group, IRPC Public Company Limited, PTT Public Company Limited, True Corporation Public Company Limited and eight startups who participated in the "Decarbonize Thailand Sandbox" project. Last but not least, Bangkok Metropolitan Administration will present the vision and plan to alter Bangkok and inspire Bangkokians to achieve net zero emissions.
Stanley Ng, New Energy Nexus Thailand's Program Director for Southeast Asia, concluded that startups and their innovations are the key puzzle piece in providing flexible niece solutions with potential for scaling. 8 startup- corporate pairs participated in the "Decarbonize Thailand Sandbox 2022" after a rigorous business matchmaking had received support and resources throughout the project's period through masterclass workshops and corporate mentors. The eight finalists, both Thai and international startups are ANNEA, PAC Corporation, ETRAN, Alto Tech, Thai Carbon, Krosslinker, ReJoule and TIE-con. They present innovations and success stories that result from participating in the "Decarbonize Startup Sandbox" project at the seminar.
Moreover, workshops are held to focus on relevant topics such as Decarbonize Strategy and Climate Tech as a forum to brainstorm insights from experts, scholars and representatives from the private sector. The other highlights include startup showcases from 20 teams and the networking reception which provides a social space to foster the exchange of knowledge in an informal atmosphere to realize emission reduction in the future.