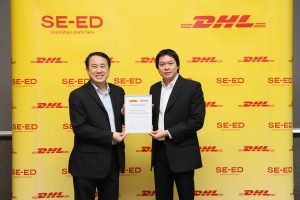 Expanded DHL ServicePoint model is now available in 150 SE-ED locations across Thailand, bringing the total number of ServicePoints to over 500 locations
Partnership to expand to all 394 branches by 2018
Shoppers will be able to select a DHL ServicePoint as an alternative and convenient collection point
DHL eCommerce, a division of the world's leading logistics company, Deutsche Post DHL Group, has partnered with SE-ED Book Center to provide greater choice and convenience for sellers and consumers in Thailand. Through this partnership, ServicePoints will be available at 150 SE-ED Book Center locations in Bangkok and across the country; and will be rolled out at all 394 branches by this year. This collaboration is in line with DHL eCommerce's focus to provide the best customer experience in Thailand and its plan to expand the DHL ServicePoint network to over a thousand locations in the coming months.
Operating as a 'shop-within-a-shop', the ServicePoints are equipped with state-of-the-art technology where parcels can be processed within seconds and customers will receive immediate shipment confirmation via SMS or email.
"We have witnessed amazingly strong growth since the launch of our domestic delivery network in Thailand two years ago. We stay committed to enhancing our existing solutions; for instance the introduction of the DHL ServicePoint network to serve the growing SME and C2C markets' unmet demands," said Kiattichai Pitpreecha,
Managing Director, DHL eCommerce Thailand & Southeast Asia. "We are pleased to be partnering with SE-ED Book Center to offer more parcel drop-off and collection points, all of which are located at major malls or at easily accessible sites to provide a fantastic customer experience. The process at the ServicePoint is quick and hassle free, with no need to stand in long queues."
"We are truly delighted to be working with DHL eCommerce to enable greater choice and convenience not only to the e-commerce community but also our very own retail shoppers. We are convinced with the reliability and affordability of DHL eCommerce's delivery service and we believe this collaboration will benefit both merchants and shoppers to a large extent," said Thanong Chotisorayuth, Managing Director, SE-EDUCATION PUBLIC COMPANY LIMITED. "The plan is to extend this partnership to over 70 provinces in Thailand by the end of this year and in keeping with Thailand's 4.0 initiative, we want to do our part to enable more Thai citizens to embrace e-commerce as much as SE-ED has by bringing our store online. Since the launch of our online store in 2007, we have seen steady increase in sales and we are confident that as long as there's reliable delivery at the backend, e-commerce adoption will rise further."
In addition, consumers will soon be able to use SE-ED Book Center outlets as an alternative delivery address for their domestic e-commerce orders. "It is all about keeping the customer at the center of all that we do, and this is another great example of how we are simplifying their lives," Kiattichai said.
"E-Commerce will continue to grow in Thailand and we are committed to enabling a better e-commerce experience for both our sellers and shoppers. As such, we will continue to offer more access points, more payment options and a truly integrated service delivering the highest quality to enable easier and simpler access to the rapidly growing Thai e-commerce ecosystem," added Kiattichai.
DHL eCommerce, operating in Thailand since 2016, is part of Deutsche Post DHL Group. In Thailand, DHL has been present since 1973 with its other divisions DHL Express, DHL Global Forwarding and DHL Supply Chain.
For more information on DHL eCommerce ServicePoints, visit:
Thai: http://www.dhl.co.th/th/ecommerce/business_customers/domestic_delivery/servicepoints.html
English:
http://www.dhl.co.th/en/ecommerce/business_customers/domestic_delivery/servicepoints.html
For more information on DHL eCommerce Domestic Delivery, visit:
Thai: http://www.dhl.co.th/th/ecommerce/business_customers/domestic_delivery.html
English: http://www.dhl.co.th/en/ecommerce/business_customers/domestic_delivery.html