Tech start-up Eatigo, the leading yield management and restaurant reservation platform in Thailand and Singapore, announces today a Series B investment from TripAdvisor which brings total funding of the company to date to USD $15.5 million.
Know more about Eatigo
Eatigo, an interface company who seats a diner every 3 seconds, does not hold or manipulate any inventories but simply connects empty stomachs with empty tables. No coupons or pre-payment of any sort is required.  A pioneer of restaurant reservations with time based discounts, all of its 700 partner merchants offer discounts all day, every day and all of the merchants offer 50% discounts on all food items at some time during the day.  This makes for an inventory that is unique in the world and is at the core of Eatigo's success and rapid growth.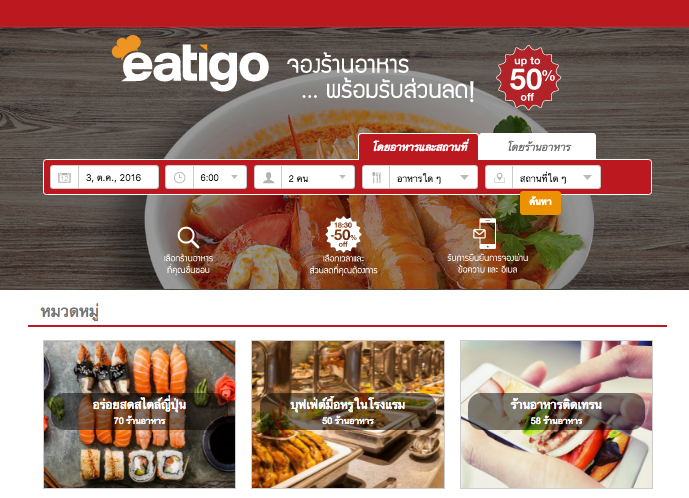 The Series B investment comes just 9 months after raising a Series A investment
The round will support Eatigo's expansion into several new markets across the region in the quest to become the leading player in South East Asia. The investment was made through TripAdvisor's global restaurant reservation brand, TheFork.
Eatigo co-founder and CEO Michael Cluzel said "We are excited about the vote of confidence behind this investment. It will provide Eatigo not just with required funds but also other forms of support that will help us achieve our goals!"
Pumin Yuvacharuskul co-founder and CEO of Eatigo Thailand told us that Thai market will continue to be their main market and see a significant ramp up in investment still. They will also explore adding more locations outside of Bangkok for better coverage.The investment from TripAdvisor opens a whole lot of possible synergies to help them scale and expand and create a better experience for their users.
The Series B investment comes just 9 months after raising a Series A investment in December 2015 and was driven by continued dynamic MoM growth of over 20% on both reservations and revenue. This combination of capital and MoM growth has allowed Eatigo to achieve a leadership position in its alpha markets, and should go a long way towards enabling it to be at break even in new markets within the next two years.
"As the leading restaurant reservation website in Europe we are excited to be expanding our interests into Asia with this strategic investment" said Bertrand Jelensperger, co-founder and CEO of TheFork. "We share with Eatigo a common vision on discovery and yield management in the restaurant industry. We have also been impressed by this fast moving innovative business and by their ambition to quickly grow and scale the brand into other markets across South East Asia."