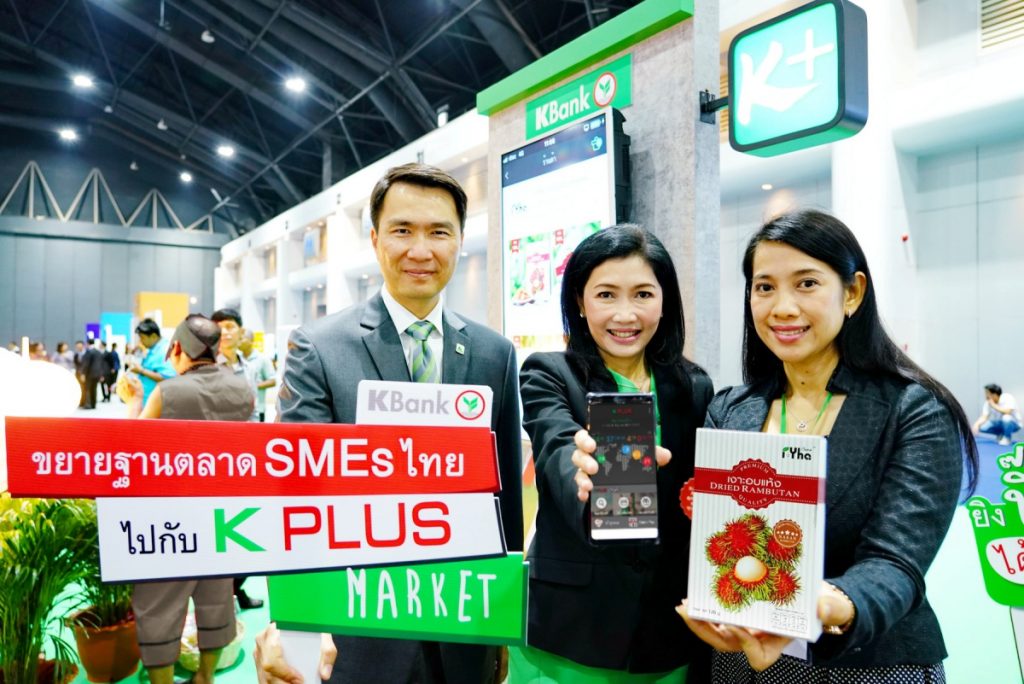 To reemphasize its digital banking leadership, KASIKORNBANK (KBank) has integrated products and services of small businesses into K PLUS MARKET, which is the e-marketplace platform under K PLUS application. With a large customer base of more than 8.1 million buyers and over 1 million small businesses, it is expected that the number of products on K PLUS MARKET will exceed 30,000 items by this yearend, and the transaction value will total THB630 million.
Ms. Kattiya Indaravijaya, KBank President, revealed that K PLUS MARKET serves as an online marketplace for small operators including farmers, community enterprises, SME customers and those using K PLUS SHOP service. Eligibility must be registered shops that sell products certified by the Food and Drug Administration (FDA), Thai Industrial Standard Institute (TISI) or other organizations determined by the Office of the Consumer Protection Board (OCPB) or other public agencies; they must also have consistent production capacity and delivery service available. Qualified operators are eligible for a waiver of fee for selling goods on K PLUS MARKET; no space rental or advertisement fees are also charged.
In the latest development, KBank has also worked with the Ministry of Industry to create marketing opportunity for small and community enterprise operators in response to the prevailing trend of online shopping. Products from the so-called Creative Industry Village (CIV) and related shops will be offered on K PLUS MARKET platform. For instance, dehydrated rambutan under the brand "i-Yha" is now on sale via our e-marketplace. KBank acts as an intermediary between the buyer and the seller, collecting products or services from CIV to ensure greater convenience, speed and security in trading.
An outstanding feature of K PLUS MARKET is the use of technology to analyze data with the results integrating into a machine commerce system. This enables the system to analyze goods and services so that sellers can market them to meet the needs of specific customer segments at the right time. This is part of KBank's efforts to offer the most satisfying service experience for buyers when using K PLUS. Currently, our customers can purchase goods and services via the Hot Deals menu on the first page of K PLUS MARKET by just selecting the merchandise and the number of item to be purchased, then press confirm to instantly settle the bill payment.
"K PLUS MARKET will form a large online flea market network connecting buyers and sellers who are SME entrepreneurs wishing to expand their e-commerce presence. The platform will match KBank's small business operators with over 8.1 million K PLUS users, whereas the number will rise to 10.8 million by the yearend.  KBank aims that, by the end of 2018, more than 30,000 items of merchandises will be distributed via K PLUS MARKET platform with the total transaction value of THB630 million," said Ms. Kattiya.