Kejora Ventures, one of Southeast Asia's most active private venture capital (VC) firms, announced the opening of its office in Bangkok, Thailand, adding to its presence in Indonesia, the Philippines and Singapore.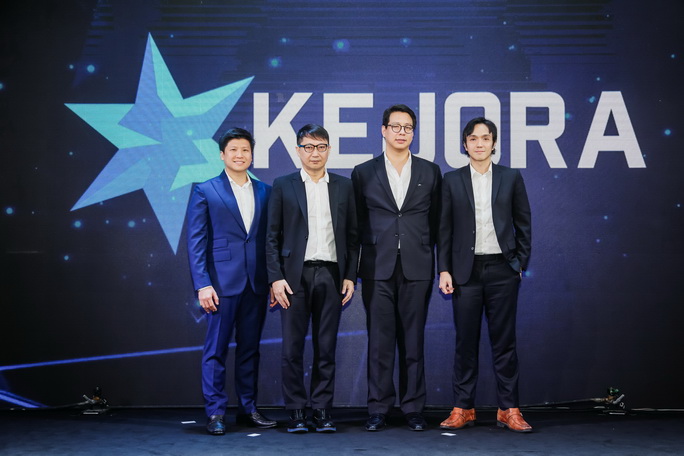 The Bangkok office will strengthen Kejora Ventures' goal of helping entrepreneurs succeed in the technology arena by expanding their access to strategic partners and investors in Southeast Asia. Thailand, the second-largest economy in Southeast Asia after Indonesia, is well-placed to take advantage of a global digital wave transforming economies and societies.
The Thai government is supporting the startup ecosystem with a 20 billion baht venture fund that it announced last year. Half of the amount will go towards technology startups.
"We see a lot of potential in the tech startup scene in Thailand and want to be at the forefront of supporting corporate innovation in the country," said Mr. Sebastian Togelang, Founding Partner of Kejora Ventures. "Thailand is a natural extension of our vision of setting up a tech community that will work together to share our knowledge."
"In the year of 2017 there will be more consolidations happening. It is time for the leading companies and corporates in ASEAN countries to join forces and together support building regional leaders in the tech sector. With our strong network in Southeast Asia and its robust economy, we want to help make it happen," Mr. Togelang added.
Kejora Ventures' Bangkok office launch was inaugurated by Mr. Chatchaval Jiaravanon, Advisory Committee of Kejora Ventures and Member of the Board of Directors, True Corporation, PCL. andKejora Ventures Founding Partner Mr. Togelang. The event was attended by over 100 regional investors.
The venture capital firm recently announced it has raised about one-third of the target fund size of US$80 million at the first close of the Kejora Star Capital II Fund, drawing strong strategic investors such as the Barito Pacific Group, the Charoen Pokphand Family and Hubert Burda Media. The Kejora Star Capital II Fund has already invested in six high-growth startups – C88Fintech Group, Qareer Group Asia, Etobee, Investree, Pawoon and MoneyTable.
Founded in 2014, Kejora Ventures has one of the largest technology ecosystems in Southeast Asia. Kejora Ventures' Fund I is currently performing at a 200% IRR. Kejora Ventures, headquartered in Jakarta, has over 29 investments in its portfolio.
About Kejora Ventures
Kejora Ventures was set up in 2014, with the commitment to build one of the largest Internet platforms and tech ecosystems in Southeast Asia. Kejora Ventures focuses on investing, building and growing highly scalable businesses to create the leading companies from the region. With a sound management team, Kejora Ventures works actively in connecting startups with important decision makers in the region enabling faster growth and expansion. The firm has offices in Indonesia, Thailand, Singapore and the Philippines.
About the team
Sebastian Togelang, Founding Partner
Sebastian Togelang has been a serial entrepreneur since the age of 22 with over 15 years of operational experience in digital enterprise and startups in Europe and Asia. Other than founding Kejora Ventures, he's the co-founder of technology incubator Ideabox and an investor in more than 30 international companies. He also co-founded the FinTech Association and acts as the Secretary General of the Indonesia Venture Capital and Startup Association (Amvesindo). Sebastian started his career at Deutsche Bank and Deutsche Boerse, the German stock exchange. He studied Economics and Computer Science at the Goethe University in Frankfurt.
Andy Zain, Founding Partner
Andy Zain is a successful entrepreneur and a pioneer in the Internet and mobile industry in Southeast Asia. Over the last 20 years, he has launched the first mobile banking and mobile value added service in Indonesia and helped several global brands to set up presences in the region. His exemplary track record includes listing two tech companies in Indonesia and Australia. Deeply rooted in the startup ecosystem, he has launched several accelerator programs in Indonesia and Myanmar.
Eri Reksoprodjo, Managing Partner
Eri Reksoprodjo is a senior finance professional with 26 years of experiences in investment banking and principal investment. He has worked with various international banks in Indonesia, Singapore and the US.  He was also a partner with a leading Indonesian PE firm and a senior advisor for a Singapore-based PE Fund where he led the origination and execution of buy-out deals in the consumer, infrastructure and natural resource industries.
Chatchaval Jiaravanon, Advisory Committee of Kejora Ventures
Mr. Chatchaval Jiaravanon is a serial investor and a member of Board of Directors of True Corporation PCL, one of the largest companies listed on Stock Exchange of Thailand. He holds several top executive positions in prominent major public and private corporations in Thailand. He is also the CEO of Charoen Pokphand Indonesia, Finansia Syrus Securities PCL, Chairman and the founder of Charoen Energy and Water Asia Co., Ltd.