The Board of Directors of Bank of Ayudhya Public Company Limited has approved the Bank's business expansion into the Philippines by acquiring 50% of the total issued and paid-up shares of SB Finance Company, Inc. (SBF), one of the fastest growing finance companies in the Philippines, from Security Bank Corporation (SBC), through the Bank or its subsidiaries. The transaction, subject to regulatory approvals, is expected to be completed by 4Q/2019.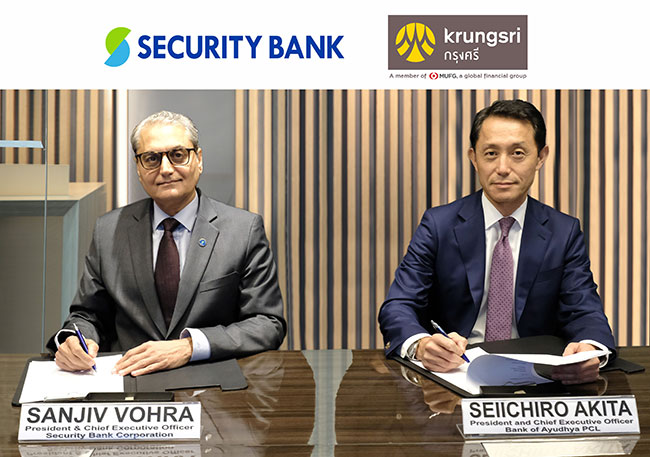 The joint venture is envisaged to build on the strengths of Krungsri and SBC in the unsecured personal loan segment with plans to jointly explore opportunities in other areas including credit cards, auto loans, motorcycle loans and insurance.
Mr. Seiichiro Akita, Krungsri President and Chief Executive Officer, said, "We are very pleased to partner with a leading financial institution like Security Bank. Together, the two banks will join hands in developing and delivering quality consumer finance products to people in the Philippines. With expertise and experiences from both sides, the collaboration between Krungsri and SBC will enhance SBF's business competitiveness while penetrating and serving the Philippines' high growth consumer finance market."
"This transaction will give Krungsri an opportunity to expand its consumer finance business to the next level while emphasizing the Bank's strategy in its inorganic growth plan. With MUFG's extensive global network, Krungsri holds a robust position in extending its foothold to leverage its strength in retail banking and consumer finance to cover countries in the region beyond CLMV." Mr. Akita added.
Security Bank President & CEO Mr. Sanjiv Vohra said, "SBC and Krungsri are both committed to accelerating customer-centricity in banking. By localizing the strategies that propelled Krungsri to become Thailand's market leader in consumer finance, SBF is well positioned to scale the business faster, launch better and more innovative product variants, serve more customers and, in effect, substantially grow its market share in retail business."
The joint venture will strengthen the relationship between Krungsri and SBC, both of which are strategic members of Mitsubishi UFJ Financial Group (MUFG), Japan's largest financial institution and one of the world's largest and most diversified financial groups.