Monstar Lab, Inc., a Japanese global sourcing firm that engages in digital product planning, development, and management, with engineers and creators located throughout the world, has established a new office in Bangkok, Thailand and launched operations in the coworking space business called Monstar Hub. With the opening of this new office, Monstar Lab now has 21 offices in 12 countries worldwide as the company continues its quest to be the top digital product development company in the world.
Behind Monstar Lab's move to launch its coworking space business
In each country where Monstar Lab operates, the company has mainly focused on its global sourcing business, with top-level teams around the world for the planning, development, and management of digital products.
Monstar Lab decided to launch its coworking space business, Monstar Hub, to create community hubs involving freelance engineers/creators, start-ups and large companies. This platform is to make additional opportunities to provide talented resources to meet the projects of ML client companies and shares innovative insights to its members of startups to global companies.
In light of the recent trend to "refine the way people work" which has become a trend not only in Japan but throughout the world, Monstar Hub will also offer new concepts in office environments, built with creativity and versatility to match the settings needed for startups, freelancers, satellite offices, and more.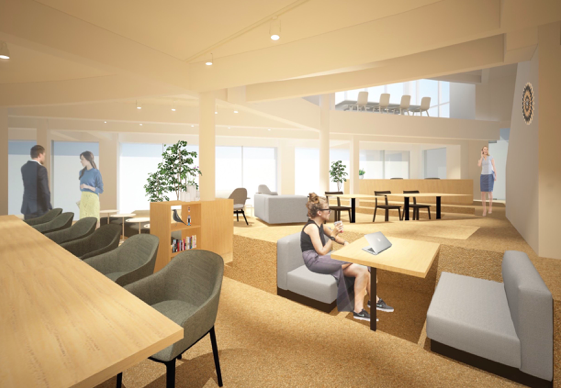 Expansion in South/Southeast Asia
Monstar Lab will expand its coworking space business to the following emerging cities currently experiencing high economic growth, assisting digital enterprise clients with market creation by taking on contracted projects including localization for local startups and global companies, while aiming to capture new markets.
【Scheduled country of co-working space business】
1. Bangkok (Thailand · 2018)
2. Manila (Philippines)
3. Dhaka (Bangladesh)
4. Ho Chi Minh City · Vietnam
5. Kuala Lumpur (Malaysia)
6. Jakarta (Indonesia)
In partnership with design firm FLOOAT and design furniture company Vitra
FLOOAT aims to create the most comfortable work spaces in Bangkok and has undertaken the planning and design of many innovative offices in Japan.Through the partnership with FLOOAT and Vitra, Monster Lab aims to become a place to gather for both international and local companies in Bangkok. Not just for established IT businesses but also for new startup ventures as well.
【World base of Monstar Lab】
■ Monster Lab Base (Established Year or Acquired Year)
1. Tokyo (Japan · 2006)
2. Chengdu (China · 2011)
3. Singapore (Singapore · 2014)
4. Matsue (Japan · 2014)
5. Qingdao (China · 2014)
6. Da Nang (Vietnam · 2015)
7. Shanghai (China · 2015)
8. Dhaka (Bangladesh · 2015)
9. Osaka (Japan · 2016)
10. Hanoi (Vietnam · 2016)
11. Manila (Philippines · 2016)
12. Cebu (Philippines · 2017)
13. Beijing (China · 2017)
14. Copenhagen (Denmark · 2017)
15. Arhus (Denmark · 2017)
16. London (UK · 2017)
17. Manchester (UK · 2018)
18. Amsterdam (The Netherlands · 2018)
19. Prague (Czech Republic 2018)
20. Berlin (Germany · 2018)
21. Bangkok (Thailand · 2018)
About FLOOAT,Inc.
Based in Tokyo, Japan, FLOOAT, Inc. is a creative unit founded in August of 2011 by four team members each exceeding in their different areas of expertise. The firm specializes in a wide range of projects including office, retail and residential space planning and interior design as well as sales promotions and directions. 
With each member's unique strengths in varying areas of specialty, they carry out each project according to its needs by utilizing a combination of various skill sets.  They value the importance of sharing the common vision with their clients, and to that end, aim at providing a clear concept which comes from their accumulated past experiences. They pursue the simple design that creates a positive impression where activities are intuitively induced.
Awards include winning Commercial Business Division (2015) and People's Choice Award (2015) at the Liveable Office Award sponsored by Herman Miller Asia Pacific.
About Vitra
Vitra is a Swiss company dedicated to improving the quality of homes, offices and public spaces through the power of design.
Our products and concepts are developed in an intensive design process, which brings together our engineering excellence with the creative genius of leading international designers. It is our goal to create interiors, furniture, and accessories that are functional and inspiring. Longevity of materials, construction and aesthetics is our leading principle, as demonstrated by our Classics – many in continuous production since the 1950s.
Initiatives like the Vitra Campus architecture, the Vitra Design Museum, workshops, publications, collections, and archives are all integral elements of Vitra. They give us the opportunity to gain perspective and depth in all our activities.
URL :www.vitra.com
About Monstar Lab, Inc.
Headquartered in Shibuya-ku, Tokyo, Monstar Lab, Inc. provides digital product development, music distribution, and mobile game development and management services from offices in 21 cities in 12 countries throughout the world. With "global sourcing" as the foundation for all of Monstar Lab's activities, the company has a team of 200 engineers and creators in Japan and roughly 1000 worldwide serving customers with the optimal resources from the optimal locations.
As of June 2018, Monstar Lab, Inc. has offices in Tokyo, Osaka, Matsue, Shanghai, Beijing, Chengdu, Qingdao, Hanoi, Da Nang, Singapore, Dhaka, Cebu, Manila, Bangkok, Copenhagen, Aarhus, London, Manchester, Amsterdam, Prague and Berlin. Visit Monstar Lab's global site at https://monstar-lab.com/global/.
Takeshi Heta, Monstar Lab Thailand Managing Director
Graduated from Department of Industrial and Management Systems Engineering, Graduate School of Waseda University.
After graduation, Heta joined PwC Consulting (currently IBM Japan) and was mainly involved in central government operations improvement projects. He then joined a real estate company in Tokyo, where he was involved with setting up new businesses and managing Japanese language schools that accept international exchange students.
In 2010, Heta started up businesses in Bangkok, Thailand to support market entry for Japanese companies and for rentals of business offices. There, he assisted a total of over 400 Japanese companies in their entry to the Thailand market. In 2018, he joined Monstar Lab assigned the role of Managing Director in Thailand.