Asia's largest smart city event, the Selangor Smart City & Digital Economy Convention 2018 (SDEC 2018), will be returning for the third time at the Malaysian International Trade and Exhibition Centre (MITEC), from 13 - 15 September.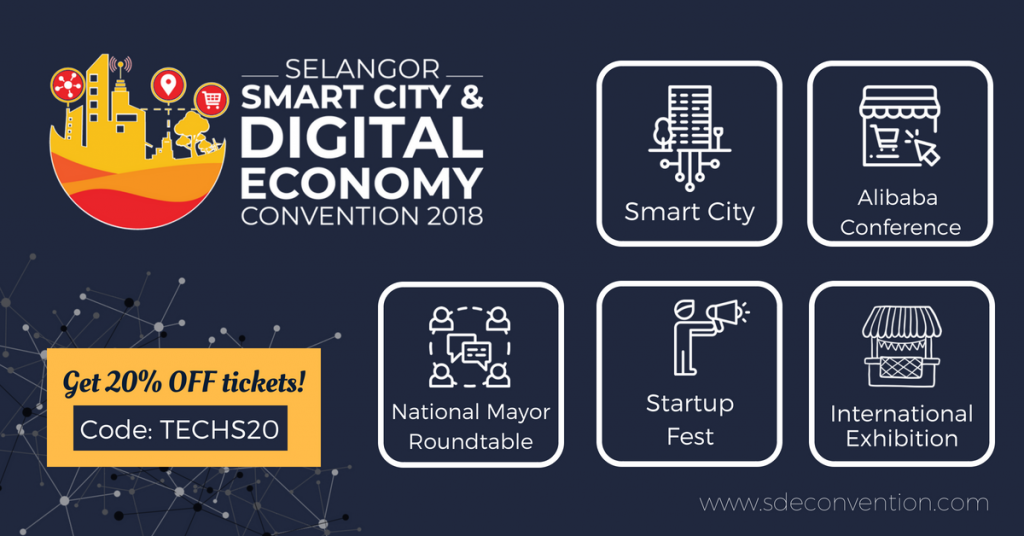 Co-organised by the Selangor Information Technology and E-Commerce Council (SITEC), Menteri Besar Incorporated Selangor (MBI), Smart Selangor Delivery Unit (SSDU), and Invest Selangor Berhad, it is part of the Selangor International Business Summit 2018, and is set to be an 8-in-1 event covering three themes - Smart Manufacturing, Retail Revolution, and Startup Fest.
Aside from free entry to the international exhibition featuring exhibitors such as Huawei, Microsoft, Axiata, MaGIC, and more, attendees will find massive value from participating in the carefully curated sub-events such as the Smart City forum; a National Smart City Mayor roundtable and a startup forum.
Additionally, attendees can experience the Selangor International Pitch (SIP), an on-stage international pitching competition by top startups in ASEAN and a live demo show by the top ten finalists of the Selangor Accelerator Programme 2018, where the top five will proceed to pitch at the SIP.
Digital Economy stakeholders and industry practitioners will find the Mandarin workshop on cross-border e-Commerce by Alibaba Group and the third edition of the Top E-Commerce Merchant Awards ceremony beneficial as well.
A business-matching session will also be accessible to all registered delegates, opening opportunities to partner and network with local and international investors, organisations, companies and governments.
Top international city leaders will converge to explore strategic approaches for building smart cities in the city discussion session, with speakers from smart cities Hangzhou, Singapore, and Jakarta. Other topics include AI, fintech, blockchain, machine learning, and Industrial Revolution 4.0, with speakers from the UK, China and even Razer-Molpay.
The National Mayor Roundtable, officiated by Housing Minister YB Zuraida Kamaruddin, will be attended by mayors and leaders (YDP) of local councils in Malaysia. The invitation-only session will explore the topics of Traffic and Mobility; Communications and Connectivity; and Smart Waste Management.
Alibaba-Taobao University will also be bringing its first unique cross-border conference specially to the Klang Valley. Conducted in Mandarin, it will explore topics on penetrating the China market, fulfillment and logistics, and enhancing SME work productivity.
Tickets are on sale, with early bird promotions until 31 August. For more information, visit www.sdeconvention.com