ORZON Ventures, L.P. ("ORZON Ventures"), a venture capital fund that was launched in October 2021, has announced its first five investments in startups which aim to deliver new experiences and convenience to consumers in the mobility and lifestyle sectors.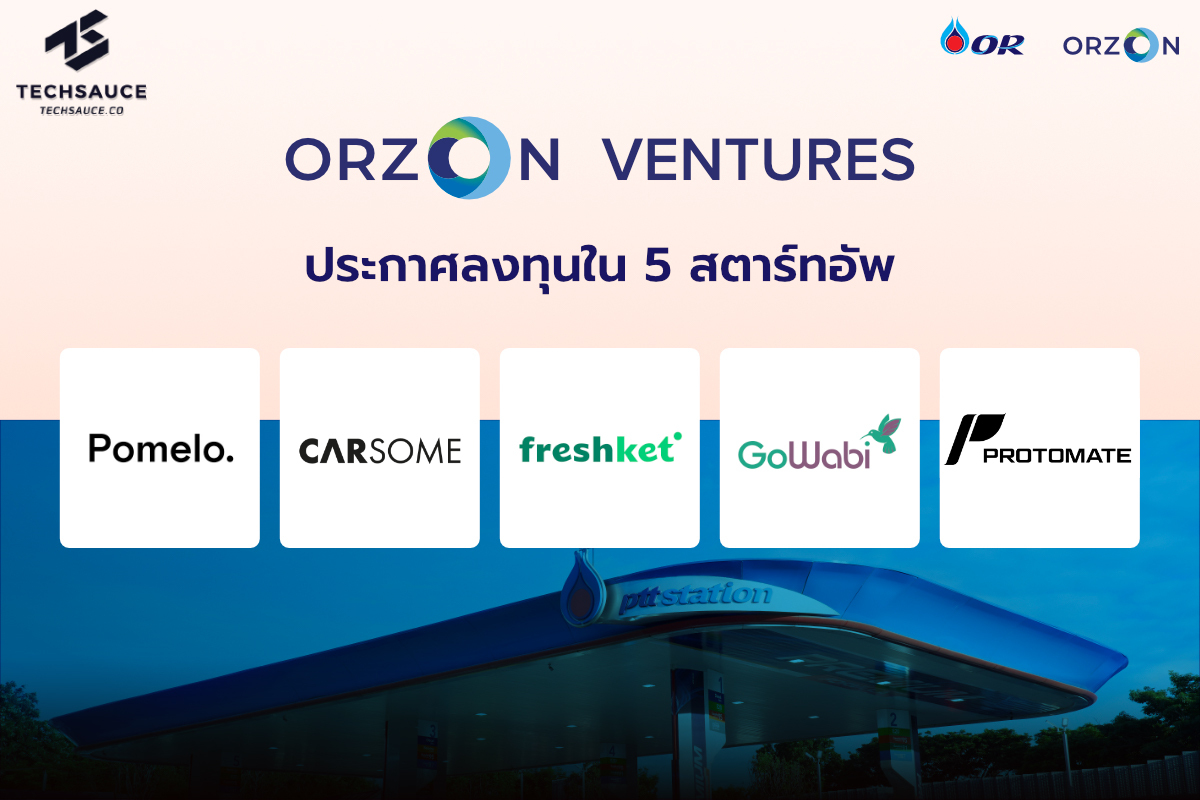 Ms. Jiraporn Khaosawad, Chief Executive Officer and President of PTT Oil and Retail Business Public Company Limited ("OR"), shared that OR is investing through ORZON Ventures to support early-stage startups (Series A - B) in both OR-related businesses areas and in new businesses in the mobility and lifestyle sectors, in order to strengthen the businesses and create long-term growth. By investing in startups through ORZON Ventures, OR seeks to thrive beyond the oil business, realizing startups' strengths in the use of technology and their adaptability to the rapidly changing economic landscape. This collaboration with 500 Global, the manager of ORZON Ventures, is an opportunity for OR to potentially develop synergistic projects with startups in Thailand and the region.
Today, ORZON Ventures is pleased to announce its investments in 5 fast-growing startups in Thailand and the region: 'Pomelo', 'Carsome', 'Freshket', 'GoWabi' and 'Protomate'. Besides providing new retail experiences, ORZON Ventures believes that these startups' missions are in line with OR's business direction, aiming to bridge opportunity gaps and achieve inclusive growth.
According to Mr. Krating Poonpol, a General Partner of ORZON Ventures and the 500 TukTuks funds, ORZON Ventures is proud to support all 5 startups which he believes have talented founders who have shown resilience by creating growth despite the impact of COVID-19. Mr. Krating believes that we are in the golden age of startup investing in the region, and is optimistic that more unicorns are emerging in the region. Mr. Krating believes that ORZON Ventures is ready to pave the way with a flexible, fast-moving structure, aiming to be agile as an independent venture capital fund, while providing startups with the opportunity for synergy with OR, a major benefit of corporate venture capital funds .
Details of the first 5 startups in ORZON Ventures portfolio are as follows:
Pomelo
Pomelo is a leading fast fashion brand and platform in SEA. The unique "Tap Try Buy" concept allows customers to order online and try in-store or at home before making the purchase. Pomelo also serves as Omnichannel enabler for brands – now offering more than 500 brands locally and globally on its platform.
Carsome
Carsome is a leading online platform for buying and selling used cars in SEA. With the aim to digitalize the region's used car industry by reshaping and elevating the car buying and selling experience, Carsome provides end-to-end solutions to consumers and used car dealers, from car inspection to ownership transfer to financing, promising a service that is trusted, convenient and efficient.
Freshket
Freshket is an online food supply chain platform for HoReCa businesses and consumers, offering a variety of more than 7,000 items of fresh and dried food from quality suppliers. Through technology, Freshket aims to create transparency in the food supply chain which will result in fairer pricing to support all parties in the food supply ecosystem. With the focus on quality, freshness, convenience, and delivery speed, Freshket now has over 10,000 HoReCa customers
GoWabi
GoWabi is Thailand's leading platform for discovering and booking health and wellness services online, which matches OR's direction of creating a lifestyle ecosystem for customers. By being a one-stop destination for all health and wellness services, users are able to easily search for services, compare prices, find discounts, read reviews and ratings by other customers, and book and pay online. GoWabi also offers a SaaS tool for their thousands of providers to help manage and optimize their business.
Protomate
Protomate is a hardware-AI startup focused on creating great consumer electronics products
and services in the emerging technology areas. Protomate is founded by Thai engineers with intensive industrial experiences at top tech companies in Silicon Valley, such as Apple, Waymo, and UC Berkley. The co-founders' vision is to enhance the transportation and logistics industry for the ultimate safety, high productivity, and seamless user experience. Their innovative solutions match well with OR's mission to uplift mobility experience for customers.
In addition to capital investment and support from relevant business experts, startups in ORZON Ventures' portfolio are encouraged to work with OR to expand their businesses, creating the potential for exponential growth through OR's large ecosystem of customers both in Thailand and abroad. The startups also have access to the global VC network of 500 Global and 500 TukTuks, and business consultation from ORZON Ventures' general partners, namely Mr. Krating Poonpol, Mr. Natavudh (Moo) Pungcharoenpong, and Ms. Pahrada (Mameaw) Sapprasert.