SCB 10X is hosting the upcoming "SCB 10X OPEN HOUSE IN METAVERSE", to unveil our virtual headquarter in The Sandbox for the first time. SCB 10X will be the first banking group entity globally to develop the headquarter in The Sandbox, a blockchain-based virtual world platform. Furthermore, the virtual event will feature discussions and workshops by leading Metaverse leaders across the globe, to discuss the infinite opportunities possible in the Metaverse. Those interested can join "SCB 10X OPEN HOUSE IN METAVERSE" online live sessions free of charge on March 11, 2022, from 9.45 am – 6.40 pm (BKK Time).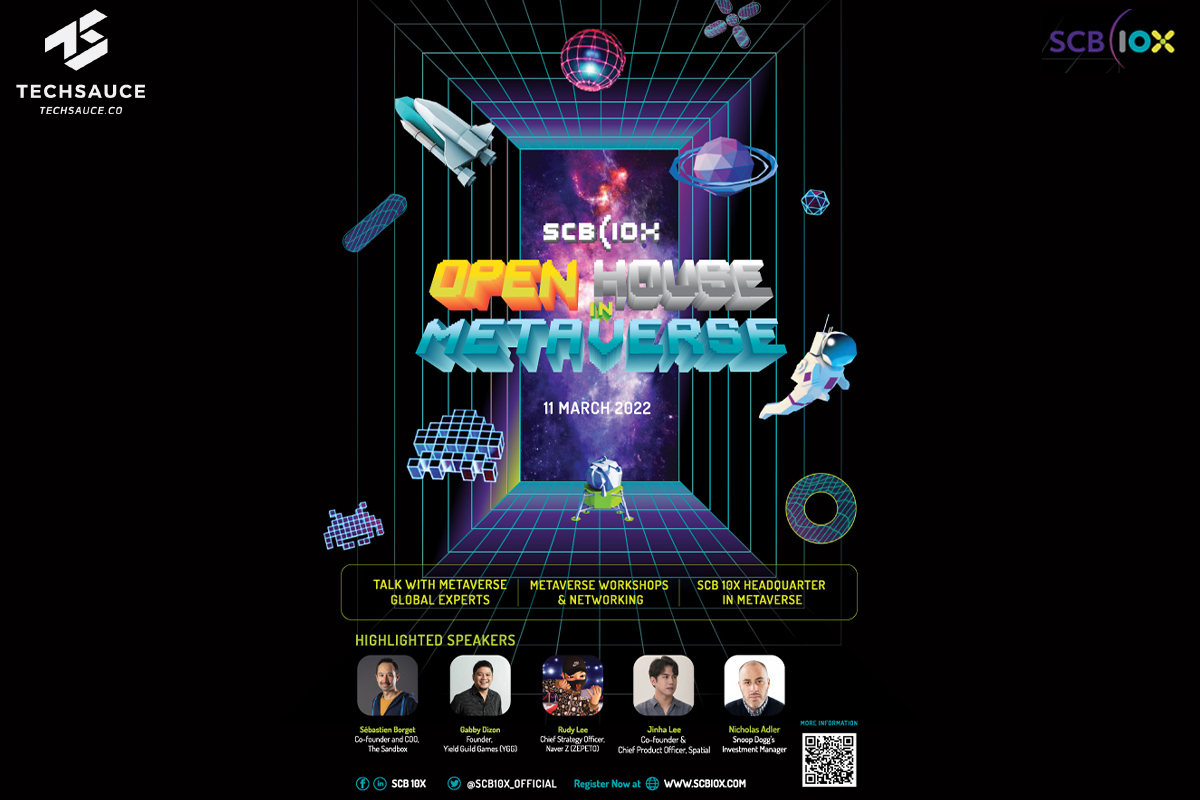 According to SCB 10X Chief Venture and Investment Officer, Mukaya (Tai) Panich, "SCB 10X continues our mission to achieve exponential growth through venture building and investing in disruptive technology startups worldwide. Financial technologies of the future, such as Blockchain, Digital Asset, DeFi and Metaverse, are core areas of interest for us to explore. We believe that Metaverse will play an important role, enabling infinite creations in a digital world, shaping new frontiers for the economy of the future. An upcoming "SCB 10X OPEN HOUSE IN METAVERSE" celebrates the debut of SCB 10X's virtual headquarter in The Sandbox, highlighted by a panel discussion with SCB 10X's creator team on the concept and design. In addition, we are bringing together global Metaverse leaders to share the insights and perspectives on the opportunity in the Metaverse in the fireside chats and workshop sessions. The event's objective is to encourage deeper understanding, cooperation, and development in the Metaverse community. The event should spotlight SCB 10X's capabilities not only as an investor but also as a builder in the innovative areas such as the Metaverse"
"SCB 10X aims to play a meaningful role in building a strong foundation of the Metaverse ecosystem alongside our global partners, as well as grow the Metaverse community in Thailand and regionally, by inspiring collaboration, development, and exchange of ideas." added Mukaya.
Highlighted Speakers at the "SCB 10X Open House in Metaverse" include:
Arak Sutivong, Siam Commercial Bank (SCB) President and SCB 10X Chief Executive Officer

Mukaya (Tai) Panich, SCB 10X Chief Venture and Investment Officer

Sébastien Borget, Co-founder and Chief Operating Officer (COO) at The Sandbox, a virtual world platform where users can build, own, and monetize the digital assets, including NFT, using SAND, the utility token of the platform.

Gabby Dizon, Co-founder at Yield Guild Games (YGG) and a game industry veteran with over 18 years of experience. YGG is a "Play-to-Earn" gaming guild, providing opportunity for players all over the world to access NFT gaming and earn rewards.

Rudy Lee, Chief Strategy Officer at ZEPETO, a global 3D avatar platform based in South Korea with over 200 million users worldwide.

Jinha Lee, Co-founder & Chief Product Officer at Spatial, virtual spaces that allow users to collaborate from anywhere in VR, AR, Desktop and Mobile, users are able to create a life like avatar, view 3D models, presentations, videos and photos on the platform.

Jatuporn Phummai also known as "Univoxel", the founder of Univoxel page and Youtube channel. He is a Voxel Artist in the creator fund of The Sandbox with expertise in voxel art, Game Maker software and graphic design. Univoxel won 5th place at VoxEdit Weekly contest in 2021.

Krutomm Gamer, a game creator, and an art lecturer. His notable game developments include "ZOMBIE THE DEAD SURVIVOUR", Top 10 winner of the Sandbox's TWD Game Jam contest, and "KONGKY 21 PTS", the winner of Round21 GJ contest.
Free registration for "SCB 10X OPEN HOUSE IN METAVERSE" at https://www.zipeventapp.com/e/scb10xopenhouseinmetaverse. More information at www.scb10x.com