ServisHero, the Malaysian-based local services App in Southeast Asia, launches in third South East Asian country, Thailand, after completing a USD $2.7 million Pre-A round led by Golden Gate Ventures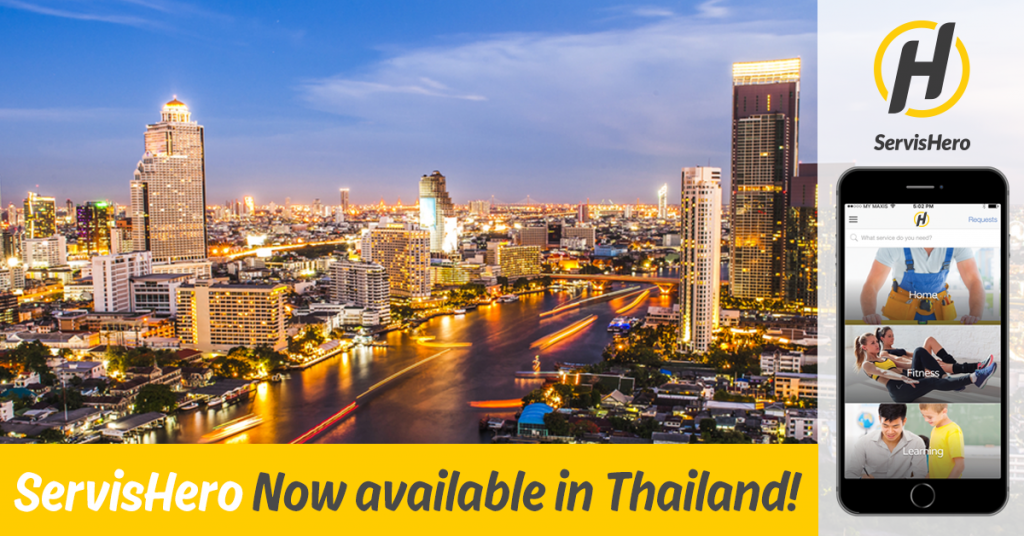 21st March 2016 – ServisHero, the online marketplace that connects users with service providers, has officially launched in Thailand. Described as the "GrabTaxi" or "Uber" for the local services industry, ServisHero simplifies the way customers find and hire service providers for their home and office needs. It offers a tailored marketplace that pairs customized jobs with the most relevant service providers. Launched in June 2015 in Malaysia, ServisHero has since received over 50,000 downloads and the business has experienced double digit percentage transaction growth every month. Today thousands of local service providers in Malaysia, Singapore and Thailand use ServisHero App to source new customers, uplifting their income levels whilst showcasing their credentials and reviews to consumers.
The launch in Thailand is in line with the company announcing the completion of a USD $2.7 million Pre-A round, led by Golden Gate Ventures, with participation by Cradle Seed Ventures (a Venture Capital fund related to the Malaysian Government). The Pre-A financing builds on an exceptional year for ServisHero, which saw a rapidly growing roster of service providers and customers in Malaysia and Singapore. ServisHero plans to use the funds to keep up this momentum by launching in Thailand as well as rapidly expanding its geographical footprint in South East Asia. Starting this month, the people in Bangkok can easily find home maintenance workers such as cleaners, plumbers, aircon servicing professionals and more by downloading the ServisHero app on their phones or by submitting a job request on the ServisHero website. To drive and grow local operations, ServisHero has appointed local Sasin (Thailand's leading business school) graduate Noppol Toochinda, who previously worked at Maersk, and Proctor & Gamble, and also founded a local recruitment company, as Country Manager. "During our testing period in Bangkok we saw phenomenal demand for ServisHero, so we are looking forward to cementing ourselves as an indispensable tool for all service providers in Thailand" said Noppol Toochinda.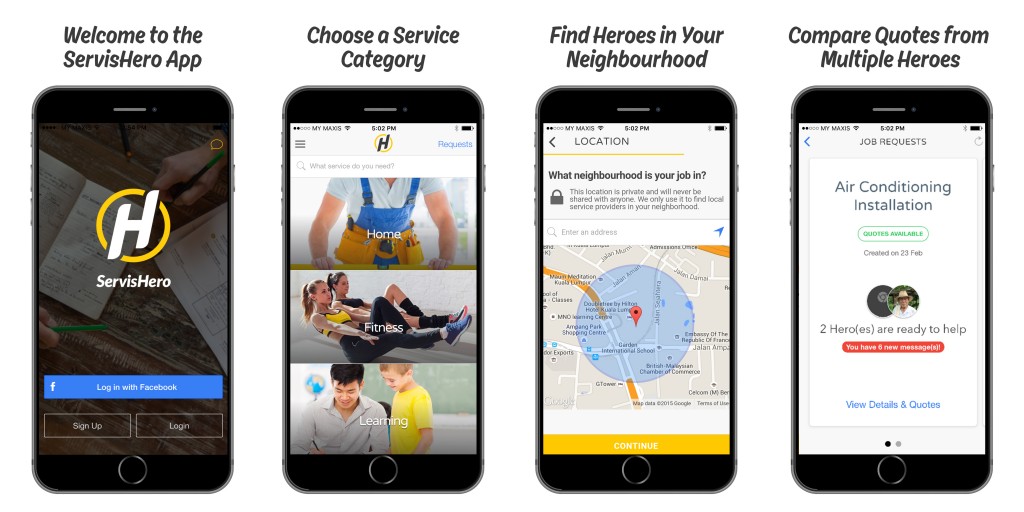 The launch in Thailand marks an important milestone, as it also commemorates the launch of the multilingual interface for the App. This means that users can now submit job requests and interact with service providers in languages such as English, Malay, Mandarin and Thai. "As an industry we're just scratching the surface of how powerful technology can be when used to help small business owners commercialize their skills", said Karl Loo, CEO of ServisHero. "Having the financial support from some of South East Asia's leading venture capital funds will help us execute our vision even more rapidly and broadly. We believe the market will continue to grow as users increase their reliance on mobile efficiency and community reviews."
Thailand as an important regional market
Establishing a formal presence in Thailand is an important step for ServisHero as Thailand is one of the most important Southeast Asian markets with its high mobile savvy population especially in its major cities. In addition to the market-readiness of the country, ServisHero believes the Thai tech-ecosystem to be at a tipping point. This gives rise to a lot of potential for partnerships with other rising technology start-ups to help raise awareness for ServisHero.
'ServisHero's entry into Thailand is well-timed with the rapidly increasing demand for solutions that extend beyond the traditional directory', said Karl Loo, CEO of ServisHero. 'The maturity of our operational system in Malaysia and Singapore has allowed us to grow rapidly – we wanted to introduce our acclaimed service to Thailand which experiences similar problems to Malaysia when it comes to price, quality and transparency for local services'.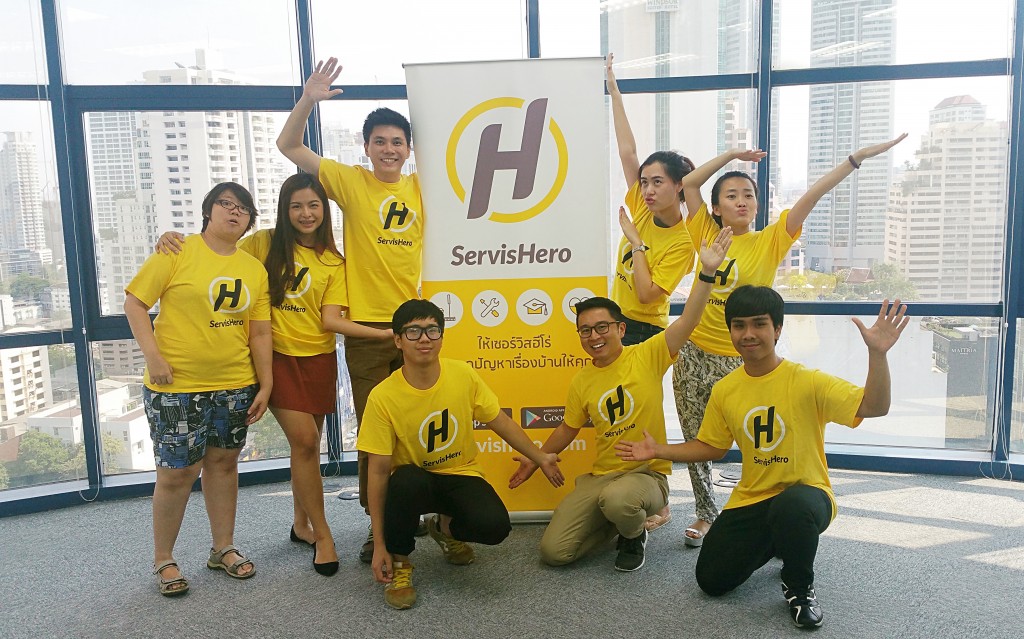 Efficiency in the local services industry in Thailand
ServisHero is addressing a real problem with the fragmented local services industry in Thailand. With users becoming increasingly busy with their modern lifestyles especially those living in metropolitan Bangkok, many are turning to more effective ways to run their household and personal lives. In addition, service providers are also looking for easier ways to find customers. ServisHero aims to address these particular pain-points for the Thai market.
The local service provider's space in Southeast Asia has been in a state of perpetual disarray for a long time. At present, local service providers are not easily discoverable online and similarly, the search for new customer leads through digital marketing can be complex for local service providers used to more traditional forms of advertising. ServisHero providers a solution to quickly find and compare quotes from reliable service providers. A safe and trusted environment for users is created through community sourced reviews.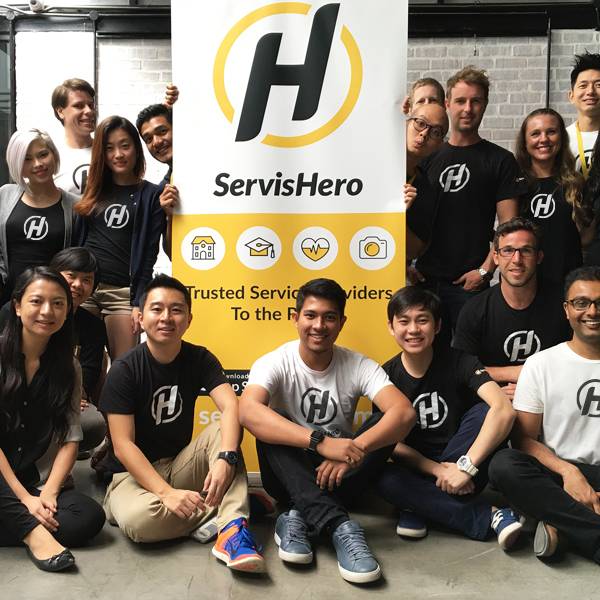 About ServisHero
ServisHero is the trading name of Business Pixel Sdn Bhd. ServisHero is the largest and fastest growing local services marketplace app in South East Asia. Users make service request via the proprietary mobile app and/or website and are connected with thousands of local service providers who submit custom quotes to complete a job. The company was founded by Karl Loo (CEO), Jason Kang (CFO) and Paul Copplestone (CTO) in March 2015, and is operational in Malaysia, Singapore and Thailand. ServisHero completed a Pre-A round of funding led by Golden Gate Ventures with participation from Cradle Seed Ventures. Previous investors include YTL Group (MYX: 4677, TYO: 1773), Lelong.my (Interbase Resources Sdn Bhd), and the former COO of Groupon International.
Try ServisHero
ServisHero can be downloaded from the App Store and Google Play Store. Users can also make a job request directly off the website – http://www.servishero.com (Malaysia and Singapore) and http://thailand.servishero.com (Thailand)