Pagaya, a global financial technology company using AI to reshape the asset management and institutional investment markets, today announced a $14 million Series B funding round co-led by Oak HC/FT (a premier venture capital fund) and Harvey Golub, former chairman and CEO of American Express. A diverse group of world-class investors participated in the round, including GF Investments (a New York-based family office), Siam Commercial Bank (one of the largest banks in Thailand, through Digital Ventures), Clal Insurance Ltd. (one of the largest insurance companies in Israel), and Pagaya's seed investor, Viola Ventures (a leading Israeli FinTech investor). As part of the investment, Golub will join the company's board as well as Dan Petrozzo, Venture Partner at Oak HC/FT, former Partner and Global Head of Investment Management Technology at Goldman Sachs, and former Chief Information Officer of Fidelity Investments.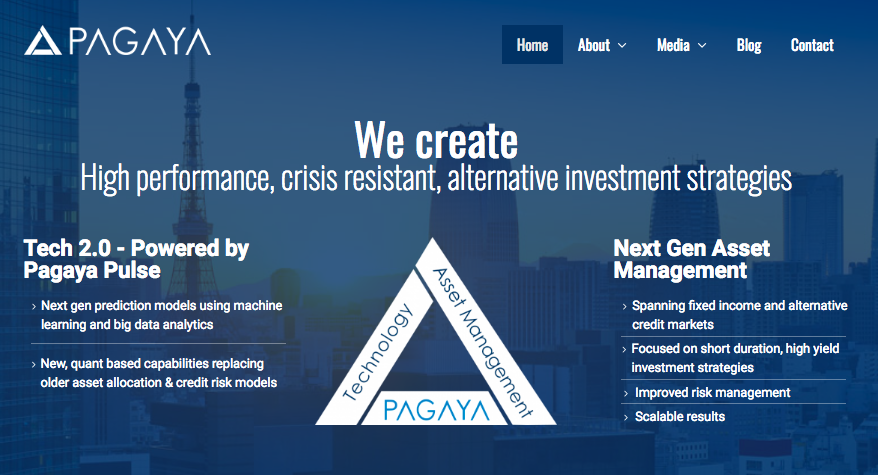 Co-founded in 2016 by Yahav Yulzari, Avital Pardo and Gal Krubiner (CEO of Pagaya), Pagaya has successfully opened new investment markets for sophisticated institutional investors with its AI-based asset management. This funding fuels Pagaya's scalable, tech-driven approach to asset management and will help further the development of its proprietary algorithm to enter new data-rich asset classes. Pagaya will also use the funding to grow its 20-person-strong investment team of high-caliber data scientists and AI specialists, build a global sales force and launch new investment strategies in the coming year.
"The investment validates the strength of Pagaya's technology, and it's an honor to work with investors and bring on new board members who believe in our long-term vision," said Krubiner. "We can't wait to put this funding to work and continue to reshape how technology is used in asset management.
" With its technology, Pagaya manages institutional money by investing in market opportunities previously inaccessible to the asset management industry. The company has a diverse client base that spans banks, insurance companies, pension funds, asset managers and high net worth investors.
"AI will be a massive part of institutional finance in the future, and the top-notch team at Pagaya has developed the most advanced approach to implementing AI in investment management," said Petrozzo. "We're excited to be on board as their vision and solutions lead the industry forward." Pagaya's algorithm analyzes millions of data points to assess risk in different financial instruments, identify emerging alternative asset classes and generate an excess return in those sectors (such as the multitrillion-dollar consumer credit lending market) for institutional investors. "Even today with an increase in the use of technology in underwriting, there's a gap between institutions and good borrowers which limits consumer access to the right capital. Pagaya is closing that gap with their AI," said Golub. "I'm thrilled to join them as they modernize our global financial ecosystem."
"We backed the Pagaya team since the company's inception because we are tremendous believers in the way they're disrupting the asset management industry," said Avi Zeevi, the Founding General Partner of Viola Ventures and Pagaya's Chairman. "We're honored to be joined by such marquee investors to continue supporting the Pagaya team and their growth." The funding comes on the heels of a banner year for the company, as Pagaya closed a $75 million debt-financing deal with Citi, and hired Ed Mallon (a 20-year BlackRock veteran) as its Chief Investment Officer. Pagaya manages $250 million in capital (principally from institutional investors).