NTT Startup Challenge is back virtually for startups in Southeast Asia for the 4th year. This event is undoubtedly an event that all startup enthusiasts around the world have been waiting to enjoy.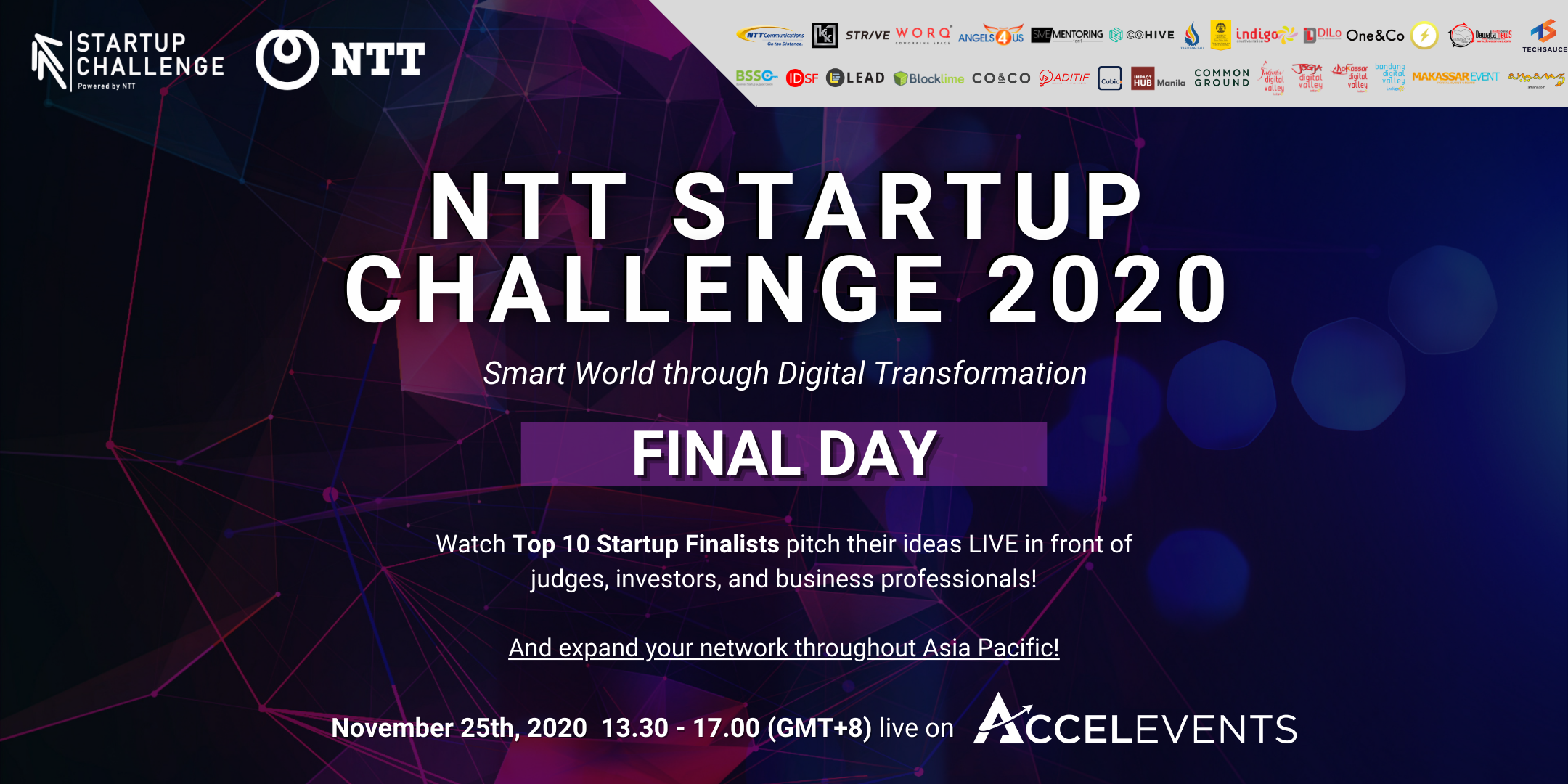 With the theme "Smart World through Digital Transformation", the NTT Startup Challenge 2020 will discuss how digital innovation changes the world for the better through pitching competitions and speaker sessions. This event's winners will get access to global investors, NTT investor networks, cash prizes, strategic collaborations, and other prizes.
Yasunori Kinebuchi, NTT Startup Challenge program founder, says, "We are excited to pivot this year's event into a virtual format, opening up to more outstanding startups in Southeast Asia. Since the commencement of registrations in September 2020, we have seen over 500 startup applicants from various verticals. These include Gaming, Artificial Intelligence, Fintech, Shipment & Delivery, Health-Tech, BioTech & MedTech, Edtech, E-Fitness, Salestech, CRM & Work Collaboration Tech, and E-commerce. Across this wide spectrum of industries, we look forward to fresh ideas and innovative business models. We hope that these ideas will inspire and accelerate the startup ecosystem in Southeast Asia."
Last year, NTT Startup Challenge 2019 provided a cash prize of USD 10,000. The first winner was Nodeflux, the second winner was Modal Rakyat, and the third winner was AwanTunai. Also, Outside won the Panasonic Game Changer Catapult Award and Modal Rakyat won the Orange FAB Award. They can use the IT infrastructure for free by NTT.
As its main highlight, we will feature the top 10 startup finalists from across Southeast Asia to present their startups on Final Day (November 25th, 2020) in front of a panel of judges from various backgrounds, including investors and business experts. Here are the top 10 finalists at NTT Challenge 2020:
Doctor On Call (Healthcare), from Malaysia. It is an online Medical Consultation via Chat, Video, or Phone Call connecting them to Drs through a virtual online platform.

Cashlez (FinTech), from Indonesia. It provides an online/ offline Payment Aggregation System for Retailers and Merchants.

HarukaEDU (Education), from Indonesia. It provides a turn-key solution to enable universities to offer quality online education with minimum investments and risk.

TukangSayur.co (Food), from Indonesia. It is a mobile-based grocery ordering and delivery platform.

Gorry Holdings (Healthcare), from Indonesia. It supports people living healthier, smartly, and sustainably.

Sales Candy (Sales), from Malaysia. It is a real-time lead management system that instantly routes to the salesperson's phone via its mobile app.

Block (Security), from Singapore and India. It focuses on harnessing the potential of Blockchain technology to counter growing Cybersecurity challenges in bold new ways.

JobHop (HR), from Vietnam. It connects reputable companies and the most suitable talents in SEA, starting with Vietnam.

Assemblr (AR), from Indonesia. It enables users to create an AR project or upload a custom 3D model from existing 3D software. Users can access & share AR content anytime, anywhere, seamlessly.

Simplify (Wi-Fi), from Malaysia. It is a peer-to-peer Internet sharing platform that allows you to sell your excess Wi-Fi or 4G mobile data to other Simplify users.
The top 10 finalists will present their startups in front of the respected judges and audience. Therefore, be one of the lucky witnesses in the selection of the three best startups this year. Register yourself to be one of the audience for the event; click here.