Techsauce, the leading technology platform, reinforces its image as Thailand's Tech Ecosystem Builder by announcing its vision at "Beyond Techsauce Global Summit 2023" to drive Thailand towards a "Digital Gateway" that will be Southeast Asia's digital business hub and the region's open door while revealing the action plan for the initial phase in forming the collaboration with leading companies in Thailand. This action will foster trust among business sectors and global technology organizations that share the mutual goal of advancing the Thai digital economy sustainably as well as provide opportunities for SMEs and Startups to expand their business opportunities globally. The flagship technology conference, "Techsauce Global Summit 2023," will play a key role in connecting all domestic and international sectors from 16th – 17th August 2023, at Queen Sirikit National Convention Center.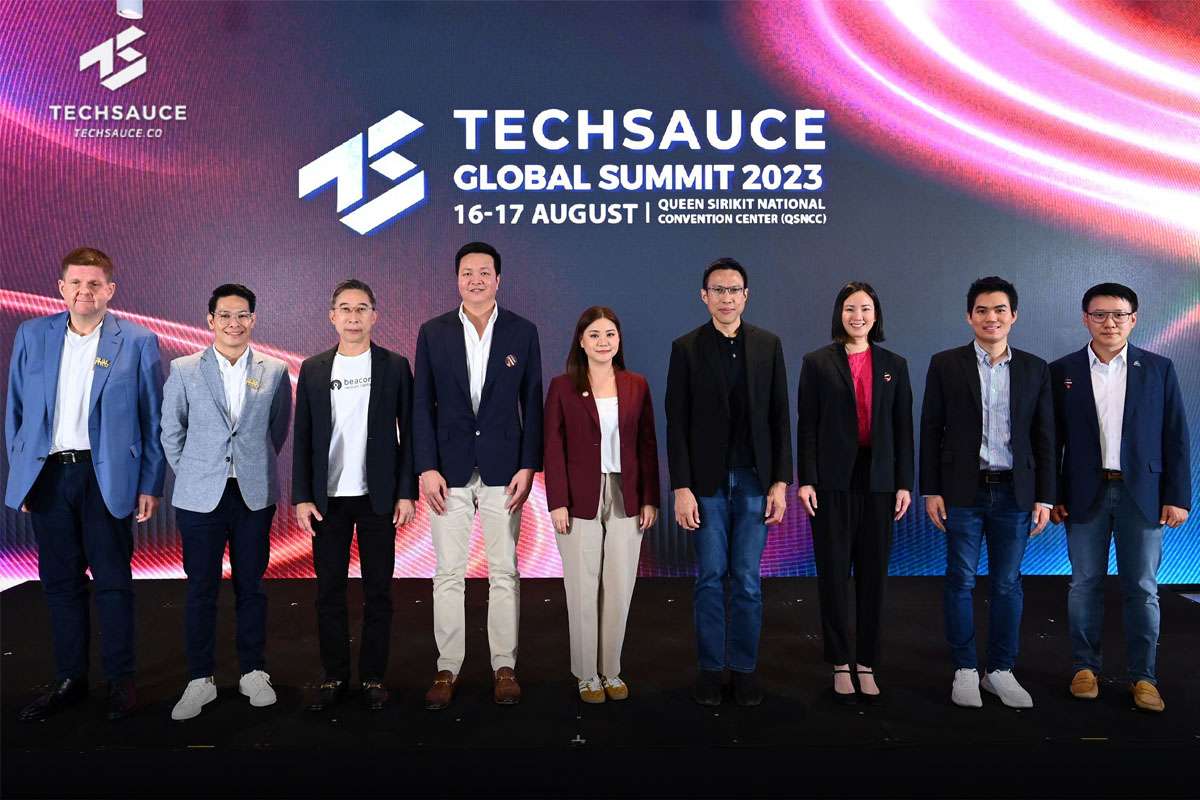 According to Oranuch Lerdsuwankij, Co-Founder and CEO of Techsauce Media, "Techsauce Global Summit 2023 will be a major milestone for our partners and Techsauce who share an ambition to propel the growth of the Thai Technology Ecosystem every year. As the leading technology platform, Techsauce's vision in the next 3-5 years is to make Thailand the 'Digital Gateway' of the Southeast Asia region. Engaging in collaborations with the leading Thai and international organizations who share the same ideology as us, we will advance toward sustainable Digital Economy growth from various perspectives leveraging their specialty and contexts.
To push Thailand become the Digital Gateway of the Southeast Asia region, it's essential to stimulate as well as contribute to inbound investments that will drive the Thai digital economy. Additionally, Techsauce will also collaborate with both public and private sectors to accelerate the exportation of Thai innovation to the global market and foster collaborations with other Southeast Asia partners to establish the region as the hub of new innovations, influencing outbound investments, while targeting Scandinavia as the first market to expand to."
During last year, Techsauce launched the Thailand Accelerator to upskill Tech Startup entrepreneurs. The program has connected entrepreneurs and investors around the world who seek to expand their business and production base to Southeast Asia. This initiative is part of the action plan in achieving the vision to drive Thailand towards becoming the "Digital Gateway".
Techsauce announced the first phase of collaboration with partner companies such as SCG - The Siam Cement Public Company Limited, Beryl 8 Plus Public Company Limited, and Accenture Thailand which possess the expertise and readiness to provide support in various aspects. This partnership is the first big step in driving Thailand towards becoming a Digital Gateway of Southeast Asia.
Apirut Vancha-am, Chief Digital Officer, SCG, reveals, "This collaboration between Techsauce and SCG starts from a shared vision of technology and business directions, as SCG highly values and always supports the growth of SMEs and Startups, which can be seen from our pilot projects like Product Smart Home Solutions and Smart Living Solutions. Moreover, the "Born in Thailand" campaign from the SCG WEDO team showcases the importance of Thai innovation that needs to be "rising" and has the potential to export. Soon SCG and Techsauce will be launching an initial pilot project together."
According to Apisek Tewinpagti, Chief Executive Officer of Beryl 8 Plus Public Company Limited, "As a strategy and technology consultant, we are committed to continually developing business solutions. We firmly believe that Digital Transformation is the crucial key for Thai entrepreneurs to grow. We embrace the vision of Techsauce in driving Thailand towards becoming the Digital Gateway of Southeast Asia, and we are pleased to be part of this partnership as we mobilize the sustainable digital economy of Thailand together."
Patama Chantaruck, the Country Managing Director of Accenture Thailand, reveals, "In this era, where the digital economy is expanding, business transformation and technology development are at the heart of reinventing business to be ready for change. Accenture Technology Vision 2023 will unveil the upcoming trends where the reality and digital worlds merge, for example, the relentless development in Generative AI. So, that makes Techsauce Global Summit 2023 a conference that should not be missed by representatives from business sectors and entrepreneurs, where attendees will be able to exchange knowledge and enter the new edge of digital world"
"To drive Thailand towards becoming the Digital Gateway of Southeast Asia, Techsauce believes that it is necessary to encourage cooperation from every sector, both public and private to develop the Digital Economy in sustainable fashion. Techsauce Global Summit 2023 serves as a platform to support all sectors to showcase their innovation and foster creativity. Moreover, Techsauce Media will help to amplify and create awareness" Oranuch concluded.
The new phase of "Techsauce Global Summit 2023" is just around the corner. The Asia biggest technology summit will create the opportunities and ignite business collaborations from public and private sectors, SMEs, and startups in every level under the theme of 'Social Impact, Climate Tech, Cutting Edge Technology', emphasizing the variety of contents. This conference will be packed with speakers from leading organizations like SCG - The Siam Cement Public Company Limited, Beryl 8 Plus Public Company Limited, Accenture Thailand, Axon Company Limited, Beacon Venture Capital Company Limited, Muang Thai Life Assurance Public Company Limited, True Digital Park Company Limited, Krungsri Finnovate Company Limited, Siam Piwat Company Limited, and many more from Thai and International leading companies.
Techsauce Global Summit 2023 will be hosted on 16-17 August 2023, at Queen Sirikit National Convention Center. For more information, please visit https://summit.techsauce.co/